About Jabra
Jabra engineers technology that makes life look and sound better. Their world-leading headsets, intelligent video technology, and advanced earbuds make sure life and work stay wonderfully in tune. Jabra makes technology for life's new rhythm. 
---
Welcome to Hybrid Working With Jabra
Discover Jabra - The Professional's Choice
Give your employees a professional-grade experience with high-quality sound and vision, with a suite of certified products that work out of the box and are easy to use and remotely manage.
---
A Jabra Solution for Every Location
Whether you are working from home, from the office or on the go, Jabra has a solution that is optimized for your location. 
Jabra Audio and Video Solutions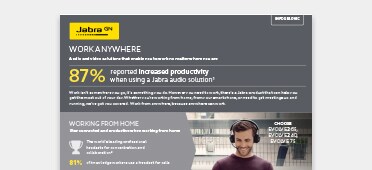 Jabra Gets Work From Home
See how Jabra enables you to work from home with world class headsets and video conferencing solutions.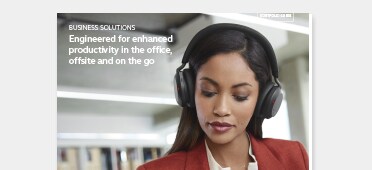 Jabra Portfolio Guide
Check out Jabra's offerings of premium headsets, speakerphones and cameras.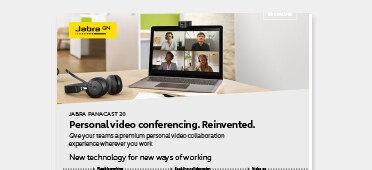 Boost Well-Being with Hybrid Work
Learn why you want to upgrade from a webcam to an intelligent personal camera.