Increase Network Uptime with Paessler PRTG Network Monitor
We'll help you simplify your network management, no matter how complex your IT infrastructure is.
Increasing adoption of IoT and cloud, coupled with growing security threats, means managing your network is no longer simple. You need to be able to respond to downtime and application issues at any time, in any place.
PRTG monitors your IT infrastructure 24/7 and alerts you to problems before users notice. Contact Paessler to set up a 30-day trial of PRTG Network Monitor and experience what it's like to work smarter, faster, better.
Virginia Tech Maps Out Problems with PRTG
With PRTG, Virginia Tech found the solution its IT department needed for an organized and comprehensive overview of its network.
5 Questions to Help You Find the Right Unified Monitoring Solution
High-performing IT infrastructure has become a necessity, but one size does not fit all. What do you want your network monitoring solution to do for you?
---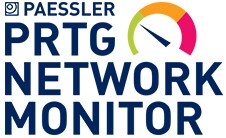 ---