About Polycom
Polycom unleashes the power of human collaboration, helping millions of people around the world defy distance to increase productivity, accelerate innovation, provide better customer service, expand education and save lives.
---
Polycom VoxBox
Polycom VoxBox sets a new standard in ultra-compact speakerphone performance. Now you can experience Polycom's legendary conference quality anywhere, anytime, and with more devices. VoxBox combines a portable design with Bluetooth wireless pairing and USB connectivity and packs it with Polycom HD Voice quality. Polycom NoiseBlock technology automatically mutes the microphone when you stop speaking, silencing noises that can interrupt the conversation. Give your ears the quality they deserve.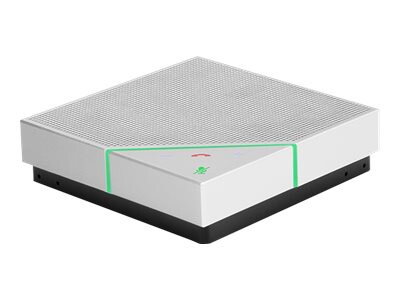 Hear Everyone with the VoxBox
The VoxBox is designed and built for group conversations, so discussions are interactive and everyone is clearly heard. Simply pair to phones using Bluetooth, or plug in via USB, and hear the difference in your conversations with four microphones and the high-quality, low-distortion speaker.
---
Polycom Trio™ 8500
Polycom Trio 8500 is the new standard in conference collaboration for mid-sized conference rooms. Marrying our legendary voice quality, modern intuitive interface and the broadest interoperability in its class, Polycom Trio makes deployment and usability simple. Future-proof options for video and content ensure the freedom to expand collaboration on leading unified communication platforms, today and tomorrow. Get more details.
Future-Proof Options for Video and Content - Trio 8500
Polycom Trio™ 8500 takes the ordinary conference call experience to the next level. Getting conference calls started shouldn't be hard, frustrating or timeconsuming. Now with Polycom Trio 8500 in a Skype for Business environment, they won't be anymore.  Learn More
---
---
Polycom Pano
Polycom Pano is the easiest way to connect and share content at work. From the moment you walk into the room, Polycom Pano invites you to connect from your personal device with a simple touch —  no special pucks, cables or apps required. Simply connect Pano to any monitor and then cast up to four simultaneous streams of high definition content to easily compare and contrast your work. Get more details.
Easily Connect with Polycom Pano
With Polycom Pano, connecting your PC, tablet or phone is simple and familiar. When you first enter a Polycom Pano-enabled room, an on-screen guide walks you through the connection process. See the Benefits
---
Polycom Pano FAQs
This document describes the initial release of Polycom Pano along with the companion app.  View FAQs
---
Video Conferencing and Collaboration

The amazing potential of collaboration is transforming everything about the way we do business. Together, Polycom and CDW are enabling a workforce that can connect, share and collaborate from any location with anyone, anywhere. Welcome to the workplace of the future.
Top Five Benefits of Video Conferencing
Based on conversations with customers, analysts and value-added resellers, Polycom has compiled a list of the top benefits video conferencing delivers to most organizations. See the Benefits
---
Webinar: Six Trends to Empower Your Collaborative Workforce
David Smith, Research Director and Lead Analyst for Aragon Research, and Greg Pisano, Sr. Product and Solutions Marketing Manager for Polycom discuss six game-changing trends driving the collaborative workplace of the future and how your company can take advantage of them. View the Webinar
---
Polycom® RealPresence® Medialign™ Version 2
RealPresence Medialign is the only all-in-one video collaboration solution with an innovative "no tools required" modern design that provides an unmatched user experience.
---

---