Case Study
University of California, Irvine


Unplugged:
Dorm Life Leaps Forward
IN 2012, during his freshman year at the University of California, Irvine, Mitchell Wong connected to the Internet through an Ethernet cable on his computer. Other students used the same method or brought routers for Internet access. Often, their connections were slow and tenuous. 
By the time Wong became a resident adviser in UCI's Mesa Court community, little had changed. Students were still bound to their rooms, patching into the overloaded personal routers of their hallmates.
We needed a state-of-the-art network that would hold us for years to come.
— Kevin Ansel , Director of Student Affairs Information Technology, University of California, Irvine
Until the fall of 2015, UCI had been the final holdout — the last school in the University of California system that didn't have wireless in its undergraduate communities. Now, thanks to CDW, it has one of the top systems available. CDW spent last summer leading a team of vendors and contractors in a project to upgrade UCI's wired and wireless infrastructure, including installing 1,315 Cisco System wireless access points (APs) in four of its residential complexes.
"CDW project managers have a strong project methodology, and we follow that," says CDW Project Manager Edric McNeary. "The client can't do everything. 
They need someone who can apply a laser-like focus to every task to make sure it comes in on time, on budget."
The scope of the project posed one challenge. But there were others, such as coordinating with university departments and subcontractors and working around student schedules. Ultimately, the project was a success, and the devices and the network have worked better than expected.
5,500
Number of University of California, Irvine, students living in the four communities who received wireless access this academic year
SOURCE: University of California, Irvine
"When we went live, we were heavily monitoring usage. Our residential network office used to have lines out the door when school would start, with students needing help to get configured and get online," recalls Kevin Ansel, director of Student Affairs Information Technology at UCI. "This year, there was nothing. The students just moved in. The systems just worked. We were all geared up, waiting for the support calls to come in just because the system was new, and it was a nonevent."

Wong has noticed a big difference in Mesa Court. Whereas students once were confined to their rooms if they wanted to get online, they now wander the halls with their notebook computers and mobile devices. "Having Wi-Fi installed definitely encouraged more group studying within the hall," he says. 
Lou Gill, director of Mesa Court Housing, says the project has transformed the entire residential community. Students now sit outside at picnic tables and benches because they can get Wi-Fi. "With the weather here, it makes sense," Gill says. "So that's been an unexpected plus for us."
 


A Long Time Coming
Each year, incoming freshmen would visit UCI with their parents and learn that they needed to provide their own wireless routers. "They would say, 'What? We've had it for years at our house,' " Ansel says. "It was another expense — one more thing they would have to purchase." 
Some parts of campus did have wireless, but that created a burden for students who had to configure multiple devices for various environments. 
The campus's bring-your-own-router policy was also problematic for support staff, because students often configured routers incorrectly. When issues occurred, the staff had to track down which router was involved and then identify the computer causing the problem.
Digital Millennium Copyright Act complaints that came into the UCI residential networking office posed a similar challenge: IT would have to track down the computer that prompted the complaint. "All we could do was block the whole router, and that denied wireless access to everyone using it," Ansel says. 
The lack of Wi-Fi even affected the university's competitiveness, Gill says. As a result, installing a new network had been on the housing management's radar for years. "It was really driven by student demand and complaints," he says. "It increased to a critical point over time."
Because of the scope and, in turn, the cost of the project, UCI's housing department wanted to be strategic in rolling out the network, Gill says. Housing staff worked with the student affairs technology office to consider logistics, such as how many students the project would affect, timelines and funding models. They asked CDW to conduct a site survey to determine how many APs they needed. 
When hanging access points, create a spreadsheet with their MAC addresses, serial numbers and locations — and then double-check the information — to create a database of equipment in case your IT team needs to troubleshoot the network. 
space
space
Consider turning to professional services to install the network. "So when you have a major project like this and you're pulling staff that are in maintenance mode or have other duties, it pulls them away from other services. Using the professional services that CDW and Cisco offer was a huge plus for us, and it made the project go a lot more smoothly."
 
Consider turning to professional services to install the network. "So when you have a major project like this and you're pulling staff that are in maintenance mode or have other duties, it pulls them away from other services. Using the professional services that CDW and Cisco offer was a huge plus for us, and it made the project go a lot more smoothly."
 

The project stretched across four housing communities, each consisting of several buildings with a variety of footprints. For instance, the Campus Village community has clusters of buildings with two-bedroom apartments, whereas the Mesa Court and Middle Earth communities are a mix of older and newer dormitories. 
Some buildings share pathways, making it easier to run cabling, but others don't. Some have concrete stairwells within buildings, which made it difficult to hang APs with adequate coverage. Some APs went in common areas, while some were placed in student rooms to optimize coverage. The network also extended to outlying buildings, such as laundry and conference rooms, and housing for residential life coordinators. 
In addition to the APs, UCI also purchased edge equipment to support the network, and it upgraded its wired network equipment to support the Wi-Fi. Because the campus was already a satisfied Cisco shop, the project team decided to stick with Cisco Systems for the new wireless network. They purchased 1,315 Cisco 3702i APs and a combination of Cisco Catalyst 2960, 3560 and 4500 edge equipment.
"We bought newer equipment that was the latest and greatest," says Ansel. Because support staff were familiar with Cisco equipment, however, there wasn't a big learning curve. "They were just faster, greater, better. It was just the sheer numbers that we were adding to the pile that was probably the biggest adjustment for them."
The team considered breaking the project into two phases or upgrading one community at a time, but they decided on a single push. "We wanted to make sure it was equitable for all the students moving in, especially when they're paying their room-and-board fees," Ansel says. "In hindsight, we were glad we did that. The project went so smoothly that we never had second thoughts about the pace or doing it all at once." 
 

Clearing Hurdles
That's not to say there weren't challenges. UCI purchased the equipment, and CDW was ready to go, but campus network operations uses a special type of patch cable in the data closets that turned out to be unavailable anywhere in the United States. Eventually, an overseas provider had to manufacture and ship the cables, with delivery coming down to the wire, Ansel says.
Originally, planners intended to start the project after school ended for the summer and wrap up before students returned in the fall. The elusive cables, however, created a domino effect. The electrician, which UCI hired through a public bid, had to wait on the cables, and the networking team couldn't activate the wireless network until the electrician finished.  
CDW, which served as project manager, held weekly planning calls with everyone involved in the project so they could find ways to make up for lost time. "It definitely took some compromising," McNeary says. "If we didn't have solid communication with everyone, it could have been disastrous. Bringing UCI's contractors into our status call really helped move it along quickly."
78
Number of buildings in the Irvine communities that received Wi-Fi
SOURCE: University of California, Irvine

Installing the APs also required close coordination with UCI's team members. Work began in the summer, when the campus hosts several conferences. That's also when the housing office schedules renovations, such as painting and carpeting dorms. That meant CDW had to coordinate with conference planners, contractors and other stakeholders before working in an area.
Some communities host year-round students, and because of the delayed cables, the team was still installing the network in the final community after students returned in the fall. CDW coordinated with resident advisers so that escorts could accompany team members working in student rooms.  
Overall, however, the project's lack of surprises impressed Ansel. "When you're doing a project this size and you have this many people involved, you sure do get nervous. Did we buy the right equipment? Did we buy the right mounting hardware? You have to trust that your vendors provided everything," he says. "The first day of installation, we knew we had everything in place. We didn't have to buy anything extra, because the planning was done so well. So that took a lot of the nervousness out of the project for us."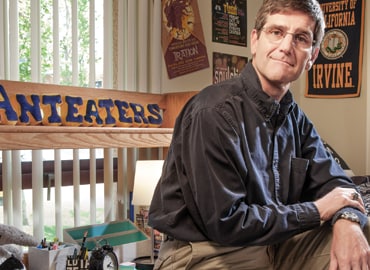 It was just like the system was always there, and we were able to focus on other things with our support staff, which was great.

All Systems Go
The first week of school, with wireless installed in three of the four communities, 80 percent of students were already connected with no problems. "It was just like the system was always there, and we were able to focus on other things with our support staff, which was great," says Ansel.
Soon after, his team did a light survey of students to see if there were any issues. "I don't think we received one complaint or negative review," he says. 
That's quite a feat, Gill notes. Any project, much less one of this size, is bound to have naysayers, but the team has received nothing but positive feedback. Gill believes that speaks to the importance of wireless. Whenever people asked about the work happening on campus and learned that the university was installing Wi-Fi, their sole question was when it would be ready.  
Although UCI was behind the curve in getting wireless into its housing, Ansel believes the university is now at an advantage. Other schools are already looking into upgrading their wireless networks, but UCI had the foresight to install a system that could grow along with mobile technology. 
"We worked with CDW to put in a state-of-the-art system that's going to hold us for many, many years. When we designed it, we said, 'Picture five years from now, when students are showing up with more wireless devices than they've got now. Are they going to be coming with some technology that isn't even invented yet? Are they going to have wireless ballpoint pens?' Who knows. But we needed to think ahead, so we built a system that's very robust."
Photography by Thomas Alleman
Call us at 800.800.4239 to talk to a networking expert.