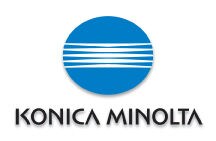 Konica Minolta TN-611M - magenta - original - toner cartridge
Mfg.Part: TN611M | CDW Part: 2001372 | UNSPSC: 44103116 span >
Konica Minolta TN-611M - magenta - original - toner cartridge
Product Overview
Main Features
Magenta
original
toner cartridge
for bizhub C451
C550
C650
Marketing description is not available.
Konica Minolta TN-611M - magenta - original - toner cartridge is rated out of 5 by 11.
Rated 4 out of 5
by
Strick9
from
Rating this machine in 2014. Machine is a few years old now. Solid machine. Good machine now to buy used / refurbished.
Date published: 2014-01-13
Rated 4 out of 5
by
Kyle405
from
We have about 8 of these machines. They are good solid machines but lack in PPM compared to most HP printers.
Date published: 2012-12-19
Rated 5 out of 5
by
PatrickHS
from
Great machine. Scan to folder or email. Good print quality. I recommend the Bizhubs; Konica Minolta has a great support network too!
Date published: 2012-12-18
Rated 2 out of 5
by
CE Harden
from
I have hated Konica Minolta machines for a long time now (5 years to be exact). I have three of them in the office right now (not my choice, they were here before me) and they have problems printing "some" PDFs we get from the State. We have had service out to install new firmware/change drivers and the problem persists and can "sometimes" be fixed by printing as an image or rebooting the copier.
Date published: 2012-10-08
Rated 4 out of 5
by
B-C
from
Honestly a nice looking machine that works well..My biggest complaint is the PDF size when doing mixed bw /and color.The copier doesn't have the ability to determin BW is BW only Greyscale.Example:Scan BW Page force to BW - size is 10-15kbScan Same BW Page in GreyScale size is ~100kbScan Color Page Size is ~100kbScan Same Color and same BW Page as one document: size is ~200kbif you scan separately as BW forced and then color and then combine via Acrobat / other tool - Size ~120kb or less.(10-15kb + 100kb)Basically take that then do a 50 page document... can you email that document now if it had 1 Color page on the Front cover? or a color ink signature on a 30 page contract?Canon IR3220 has the ability to detect color/bw (which is where we are set as a default or Color/Gry which is identical to KM)Again the KM actually runs better and with less headaches but the PDF size issue has caused some resistance to use it - when its color and copies generally are better at a lower cost!
Date published: 2012-09-18
Rated 4 out of 5
by
Anonymous
from
This machine works great and we have very few problems with it. Compared to purchasing toner for color printers, this machine is a steal. The Konica Minolta is a tad bit slower than our other Ricoh and Savin copiers we use but it does everything we need and the toner costs are fantastic. The color printing isn't fantastic but overall no issues for what we print. Our biggest problem has been when the copier is moved (to clean behind it) and the tray on the left doesnt't get lined up properly. Otherwise, it runs like a dream.
Date published: 2012-09-12
Rated 5 out of 5
by
Anonymous
from
Built strong, parts move easily so I can get inside and see what's going on. Excellent network connection. Only problems we would get were user issues.
Date published: 2012-08-01
Rated 4 out of 5
by
Anonymous
from
Solid printer, lasts a long time. Great color output and easy networking.The web interface is a little quirky and only through IE; if you try Chrome or something else it will have problems loading.The scanning feature is easy to setup in a network and secure but the scan settings are a little complex for a regular user. Advance users have no problem but regular non-techie-savvy users that do not know the difference between TIFF, JPG or PDF tend to scan at settings that produce too big of a file. Then there is the issue with the scan button which is only one. For users will be easier if they saw a B&W and a Color button for all functions.You can change and lock the settings to be B&W or Color in order to save on toner and clicks but then the user will need to navigate the menus which can be complex for them in order to change to a color scan or print when it has been set to B&W.
Date published: 2012-07-18