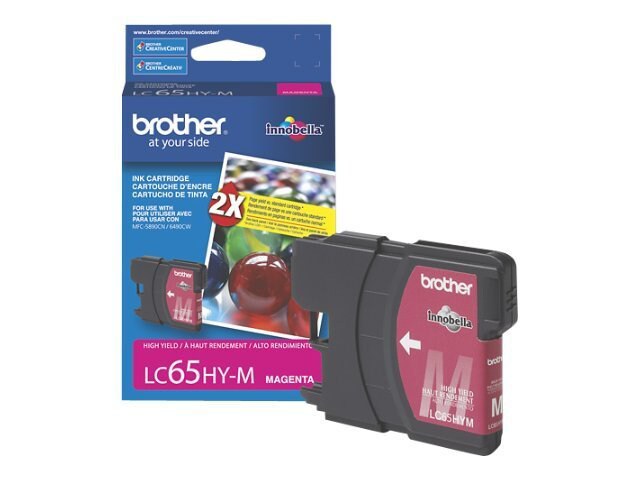 Brother LC-65HY-M - High Yield - magenta - original - ink cartridge
Mfg.Part: LC65HYM | CDW Part: 1520205 | UNSPSC: 44103105

Brother LC-65HY-M - High Yield - magenta - original - ink cartridge
Product Details
Marketing description is not available.
Brother LC65HY-M - High Yield - magenta - original - ink cartridge is rated3.67 out of5 by3.
Rated 5 out of 5
by
BTire
from
It's alright
It's a decent printer when it works. fax and scanner are great but after a good year it was skipping pages during the printing or grabbing an extra sheet so it would print on two pages. We do work it hard though so we have recently switched to laser (much nicer.
Date published: 2010-09-21T00:00:00-04:00
Rated 5 out of 5
by
chilwill
from
GREAT PRINTER
I watched the demo and I was very impressed of what this printer did I watched the demo about 3 times The next thing I knew my wife had ordered it for me when it arrived the box was so big i thought it was just the packing let me tell the printer is HUGE I have never saw a printer this big for home use and with 2 paper trays I was also impressed that you can use large sheets of paper which is something you don't find in most printers I cant say how much i paid for the printer but I will say it was worth the money and the printer just sips inkthank you brother for making such a great printer with such great features you have out done your selfs
Date published: 2010-04-27T00:00:00-04:00
Rated 5 out of 5
by
RobertH
from
Not what I'd hoped
I purchased this model 4 months ago and it's not what I'd hoped. My biggest complaint is the paper is constantly jamming! There are two paper trays, both are awkward to load and the top tray holds too little so I have to refill it often. Making double sided copies took some creative paper loading on my part. It is also slower than my machine that was 10 years older.
Date published: 2010-10-21T00:00:00-04:00
Rated 5 out of 5
by
LinuxMan
from
Great Machine!!
I had an HP machine prior to purchasing this Brother all in one and I must say I am very pleased with the results so far.This machine performs as advertised and although no support for Linux is offered, I was able to install it and use all it's features on a Linux machine, the printing quality is far superior than any other printer I have owned to date, speed and connectivity are not an issue in the wireless part of it, this machine was very easy to set up and when I had to call for support the agent was very helpful and was able to answer all my questions.GREAT JOB BROTHER!!!
Date published: 2010-10-22T00:00:00-04:00
Rated 5 out of 5
by
GeorgeK
from
Not quite what tech specs say.
Printer is overall OK as far as printers go. Does no to do automatic duplex copy, even though the hype on it makes it sound like it does. My old printer did and this is a bad point with me.You have to turn pages manually.Pringting duplex works but very slow compared to previous printers.Speaking of printing the 28 ppm for b&w is light years from fact. I printed 15 pages with less than regular amount of text on the pages and it took almost 3 minutes to print 15 pages. In general it takes extreemly long for a print job to start, sometimes 12-15 secs. Then each page can take 10 seconds from the time the previous page is finshed till the next one is done. NOT VERY GOOD FOR SMALL OFFICE BUSINESS USE!!! very slow. I tried this from 3 different computers in our office and the same result. My other network printers work fine so its not a network issue.Also colors that print are not that vibrant. I have other printers both Inkjet and LaserJet that are quite close on colors. This one is very matted and faded looking colors.The other multi functions like scanning and copying are fine.I will use this machine but doubt if I would buy it again.
Date published: 2011-04-11T00:00:00-04:00