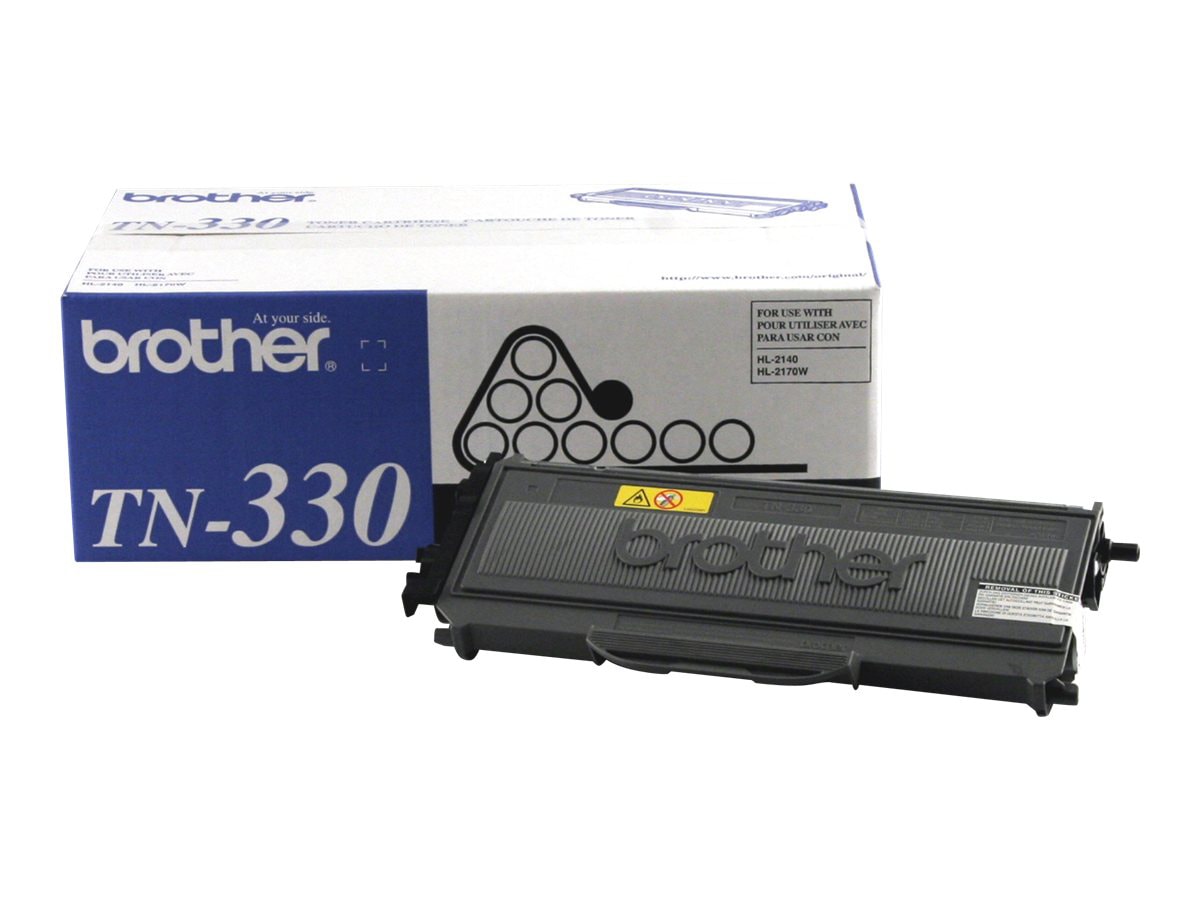 Brother TN330 Black Toner Cartridge
Mfg.Part: TN330 | CDW Part: 1378589 | UNSPSC: 44103103

Brother TN330 Black Toner Cartridge
Product Details
Main Features
2140
HL-2170W
MFC7340
7345N
7440N
7840W
DCP7030
7040.
Marketing description is not available.
Brother TN330 Black Toner Cartridge is rated4.36 out of5 by11.
Rated 5 out of 5
by
CT1069
from
Delighted. Just Delighted
After using four devices (Dell Laser Printer, Cannon Personal Copier, Brother Fax, and Visioneer Scanner -- all good sutff but 'tired') to do the same thing, I bought a Brother MFC-7840W after shopping around. I needed a reasonably fast mono laser printer with good quality. This machines is great in each area of capability. Very happy with the quality and speed of printing output which was of prime importance. The document feeder has worked flawlessly with even rumpled sheets and can be used for faxing or copying. Set up was a snap (although I have not set up the wireless feature for the other computers that will share this unit.) The 'icing on the cake' is the software interface that comes with the unit -- Control Center 3. It allows you to configure scanning functions for IMAGE (to JPG or TIFF or whatever), then OCR (using Paperport which has improved manyfold since I last used an OCR programi to identifity letters and numbers from a printed page and put them into an editable document for a program like Word, EMAIL to attached a file to an email ready to be sent using an interface to your email program and FILE (to create things like PDF files). Then there are four more customizable buttons to allow personal preferrence setups like scanning to make low-res or higher-res files (either PDF or JPG or some other fiiles) for those occasions when you need that type of stuff. All in all, this purchase exceeded my expectation. Like I said, I am just delighted. Haven't found a single thing to complain about.
Date published: 2010-07-03T00:00:00-04:00
Rated 5 out of 5
by
beans
from
Love My Brothers
We had a Brother MFC9600 for 10 years without any problems. The quality started to deteriorate and we decided to replace it with a wireless Brother 7840W. We have had it about 2 weeks and it is performing wonderfully. The wireless set up was a little chore up front because of our unfamiliarity with the Verizon routing codes. Once I talked to Verizon the set up went flawlessly.
Date published: 2010-07-05T00:00:00-04:00
Rated 5 out of 5
by
dollspot
from
Great Buy
This is the second Brother printer I have owned. The first one lasted 5 years and I got this one so I could go wireless. I have no doubt it will last me as long or longer then the first. It was not complicated to set up and all functions were working within a short time. Thanks Brother -keep the reliable units coming!
Date published: 2010-07-04T00:00:00-04:00
Rated 5 out of 5
by
Patrick
from
Excellent Multi-Function Printer
I checked the reviews online before deciding and all the positive comments about this printer were true. It installed easily on the network via the wired Ethernet connector. After downloading the Mac drivers from Brother, my sweetheart's MacBook Pro connected easily and works better wirelessly with this printer than the one she uses at school! The print quality is excellent, including graphics. I've used the copy, fax and image scan functions and they all work without any problems. Since I use fax and scan infrequently, it's a testament to the intuitive nature of the device that I could do so without having to reread the manual. Also, the print cartridges are a much better value that HP's. Bottom line: I'm very happy with this excellent device.
Date published: 2010-07-03T00:00:00-04:00
Rated 5 out of 5
by
semitechie
from
Windows 7 wireless lan installation finally worked
I returned an HP M1522nf that would not do what I needed, and exchanged it for this one despite earlier complaints about it not working with Windows 7. It came with a Windows 7 disk. After several unsuccessful wireless attempts, I used a wired connection to the router for the setup on the desktop computer (which turned out to have a wired connection to the router!. Once the printer showed up in the network map and I had added it to the homegroup, I did a wireless lan installation for the laptop (calling it a Brother peer to peer network). It easily found the printer and the installation works for both computers: wired for one, and wireless for the other. Anyone visiting the household can access the wireless lan if they have the WEP key, and just would need to install the software suite or the driver.
Date published: 2010-09-10T00:00:00-04:00
Rated 5 out of 5
by
Gmar
from
Give Me Back My HP!
Really the best that I can say for this machine is that the setup was easy and the printing is acceptable.Machine indicates a jam when there isn't one.If the envelope is not fed into the feeder just perfectly, it will indicate a jam.It would be nice to have markings to indicate how far the sliders need to be moved in for envelopes.Indicates Toner needs changing when in fact, the cartridge is half full. Constantly having to remove the cartridge, shake it and reinstall.The document feeder seems to catch the paper at a slight angle causing the print to be at an angle.
Date published: 2010-08-24T00:00:00-04:00
Rated 5 out of 5
by
jirihipo
from
Good machine
All in one, save space and excellent quality and printers
Date published: 2010-07-03T00:00:00-04:00
Rated 5 out of 5
by
cfirtion
from
No-Go with Windows 7
I purchased this printer because of it's networking capability and it's price. I run 3 computers; 1-WinXP, 1-WinVista & 1-Win7. I had no problems with the XP or Vista machines. The Win7 unit is a TOTAL NO-GO! No matter what I do, I cannot get the printer/scanner/FAX to work on the Win7 machine. Worse; I cannot load any other printer. Brother says it's not their problem. Dell says it's not theirs. Both Brotehr & Dell want me to pay for the privilege of getting it to work. I have found all online "solutions" unhelpful at best. The only way I can currently print is to send all docs to one of my other machines. Not pleased.
Date published: 2010-08-07T00:00:00-04:00
Rated 5 out of 5
by
Peachie
from
A great little workhorse
This is my second Brother MFC printer that I use in my office tax business. Scans, fax, copies, and just about everything else you'd expect a MFC printer to do. One thing I miss--The ability to duplex.Wireless is phenomenol. It's nice to be able to put the printer anywhere and print out documents in an area away from the printer. Would recommend to anyone needing a small footprint, business, school, or office printer. Ideal. Will continue to buy Brother products.
Date published: 2010-07-04T00:00:00-04:00
Rated 5 out of 5
by
Jeff
from
Must buy (almost perfect)
I was looking for a laser multifunction device with network capability that I could use to print from my laptop anywhere in the house. A lot of reviews seemed to point to the Brother MFCs as the best overall brand for laser monochrome devices. The only problem was that there were a LOT of different models to choose from - just going to the Brother website to do some comparison shopping made my head spin.The MFC-7840W is a recently introduced model which has seemed to get good reviews across the board. A major plus is that it has both wireless and wired network capabilities. I took the plunge and purchased this model. Since I already had a wireless router to plug it into, I didn't need to use the wireless capabilities, but it seemed to be a nice option for future flexibility. The Ethernet connection was easy to set up and worked the first time I tried printing from my laptop. I like that they had 2 option wired and wireless. this is Great. Now I am using the wireless.I've been very pleased with the quality and feature set of the MFC-7840W. Not only does it print high quality output, but it has clearly-labeled buttons for scan, fax, and copy, which makes it a breeze to use any of these functions. Plus, the device is relatively light and doesn't have a very large footprint, so it fits easily on top of a small file cabinet. High marks overall. The only thing missing was duplex(double side page printing option and USB direct print. (it will be perfect)Please Brother the next update add duplex double side printing and usb direct.
Date published: 2010-08-24T00:00:00-04:00