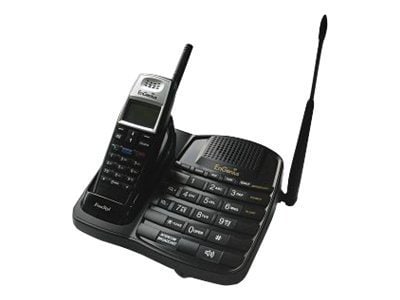 Quick tech specs
View All
Know your gear
FreeStyl 1 is a single line long range cordless phone system that uses powerful technology for expanded indoor and outdoor coverage for residential use. While the DuraFon Pro and DuraFon 1x, the durable long range cordless phone systems, are designed for industrial use, the FreeStyl 1 combines a sleek design, robust technology and an array of key features that make it perfect for use in offices and homes.

Using innovative technology, the FreeStyl 1 system provides up to 10 acres of outdoor coverage, up to 6 floors of in-building penetration and up to 25,000 square feet of indoor coverage. Other features of the FreeStyl 1 include a multi-language setup option, built-in speakerphone on both the base and handset units and a two-way radio for instant communication. The wireless intercom is private and secure and works as a two-way radio from either handset to handset or handset to base. The FreeStyl 1 allows for a total of 9 cordless handsets per base.

The FreeStyl 1 is also equipped with standard features including call transfer, call ID with call waiting, 50 entry call ID phone book, any answer key, selectable ring tone and vibrate options, 2.5mm headset jack, key guard and call barring. The FreeStyl 1 cordless phone systems are efficiently designed for easy installation, easy step by step programming and rapid charging.