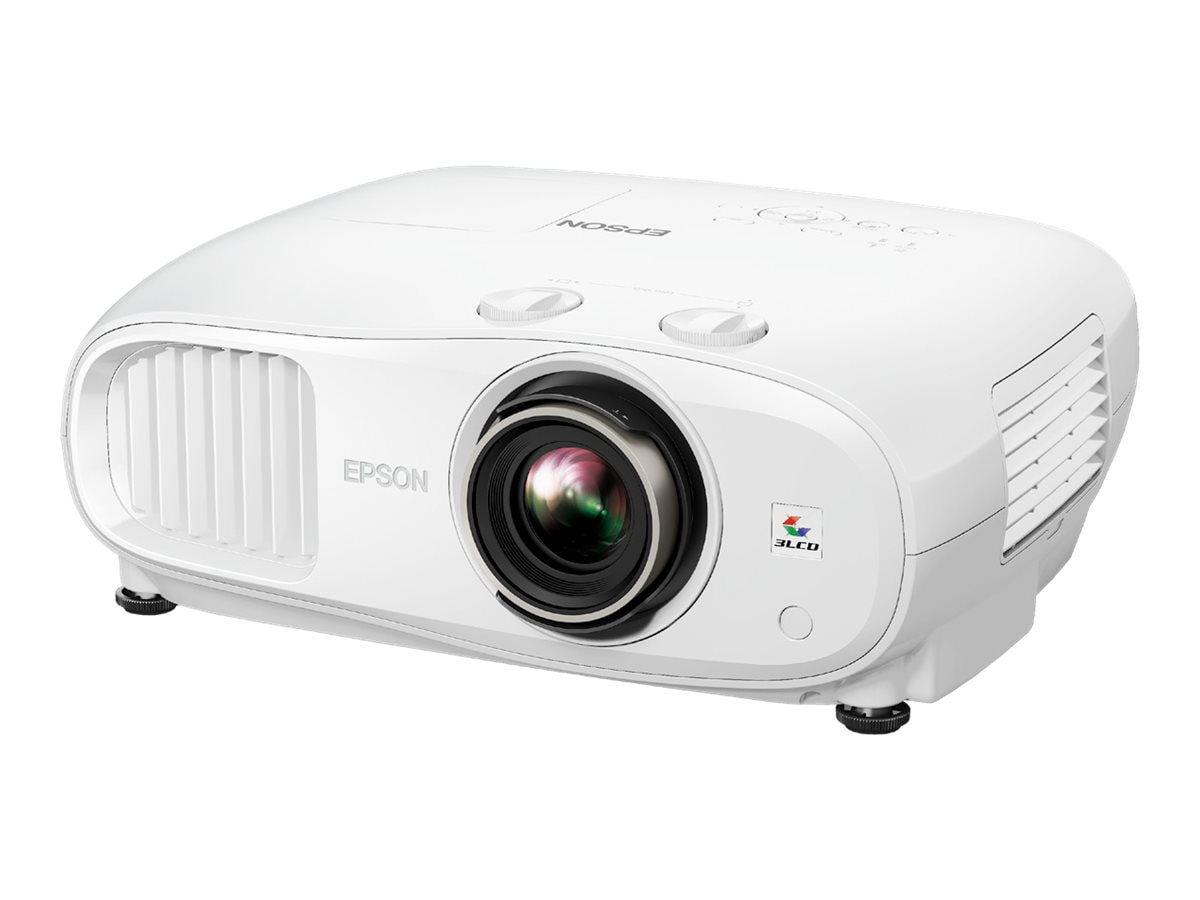 Quick tech specs
3LCD projector
3000 lumens (white)
3840 x 2160 (2 x 1920 x 1080)
4K
with 2 years Epson Extra Care Home Service
3D
3000 lumens (color)
16:9
white
View All
Know your gear
Using advanced processing technologies for resolution enhancement, color and image processing, the Home Cinema 3800 faithfully displays all your favorite content at an exceptional level of brightness and color accuracy.
Epson Home Cinema 3800 - 3LCD projector - 3D
is rated
4.50
out of
5
by
10
.
Rated

5

out of

5
by
moonuh
from
Mind-blowing image quality with excellent features!
I've been using an entry-level cheap 1080p projector from Amazon for about a year and decided to make the leap and so far extremely impressed with this projector. Right from the get-go, the manual lens shift levers made the setup an eye-opening experience. The placement of the projector in my room has to be off-center both vertically and horizontally but with the lens shifting, was able to center, size, and focus the image perfectly in just a few minutes without losing any image quality! Game changer. The image quality is marvelous as well. Watching The Avengers in 4k UHD, I was blown away by the fine detail and vibrant colors. It was just a completely new experience compared to 1080p and I can't wait to re-watch all my favorite movies in 4k. Also I didn't have to tinker much with picture settings out of the box. The only setting I had toggled was the Color Mode to find the right brightness for my room which has a decent amount of ambient light during the day. The Bright Cinema truly impressed in this setting as it just lit up the screen. At night, it actually was a bit too much, I had to toggle back to regular Cinema mode. Fan noise is another feature that is quite important in my setup as the projector is placed not too far from where I'm viewing. Watching in ECO mode, the noise is non-existent however in the bright cinema mode, it does get a bit noticeable but basically gets drowned by the sound from the speakers so it isn't an issue unless I really open my ears for it. The projector comes with a built-in speaker which produced surprisingly decent sound that's going to be quite useful when I take the projector for an occasional viewing in the backyard. In my room however, was able to connect my Yamaha soundbar directly via the built-in bluetooth connection and I was blown away by the sound it transmitted with the aptX audio codec. Lastly the unit comes with a remote control that worked seamlessly with my AppleTV right out the box. I've actually ditched the AppleTV remote because the fast-forward and rewind buttons are much easier to use on the projector remote. It also has a backlight button that's very helpful at night.
Date published: 2021-05-19T00:00:00-04:00
Rated

5

out of

5
by
DJRicky4754
from
Outstanding picture quality!!
This projector is Epson's mid level Pro UHD projector. It replaces the Epson Home Cinema 3700 with a few upgrades. This new 3800 has 4k HDR10 and does the full 18gbps @60hz. Its a wonderful value for what you get with 3000 lumens of brightness, 100,000:1 contrast ratio, horizontal and vertical lens shift. Its a great value for its price range.
Date published: 2021-04-07T00:00:00-04:00
Rated

5

out of

5
by
The Fog
from
Incredible, feature- rich, projector at a great value!
I have been using an Epson Powerlite Home Cinema 3020 for many years. It has been a fantastic projector for me and is still going strong with no issues during the life of the projector. I have been impressed with the Epson line of projectors, as they provide some of the best performance for the money. I was excited to now get the opportunity to try out a new Epson projector with 4K, the Epson Home Cinema 3800 4K PRO-UHD 3-Chip Projector with HDR. The transition to 4K is unbelievable and well worth the upgrade. I have a dedicated media room with the projector mounted on the ceiling projecting to a 120 inch screen. Set up is relatively simple and the projector can be mounted off center and adjusted accordingly with strong image quality in my tests. The projector has a number of settings to allow you to easily find the right settings for your room. The remote is more dynamic than a typical remote with many different adjustments and settings readily available and a very handy backlight. We use our projector primarily for movies and sports. The performance of the Epson 3800 exceeded my expectations. As noted in the specs, this projector has Epson's advanced 3LCD technology. As a result, this projector delivers on providing an incredible RGB color signal without any "rainbow effect" or color brightness issues that you may experience with DLP projectors. With 3LCD, the picture is incredibly sharp. Brightness was perfect with 3,000 lumens for both color and white brightness with great color accuracy. The noise level of the projector is minimal, even in 4K mode. Speaking of 4K, Epson's pixel shifting technology for 4K resolution processing works beautifully. The picture quality for this price range projector is amazing. The projector also includes built in speakers. So, it is easily portable and can be quickly set up and enjoyed outside as well. In summary, what sets Epson projectors apart from the competition is that they provide incredible, feature- rich, high performing projectors for a great price from a brand you can trust. The Epson Home Cinema 3800 is no exception. This is a review for the Epson Home Cinema 3800 projector that I received free of charge to do a beta test and review.
Date published: 2021-07-19T00:00:00-04:00
Rated

5

out of

5
by
Dr Notes
from
Amazing 4K HDR picture quality, great value
I have been itching to upgrade to a 4K projector with 3D for some time now. My old Panasonic PT-AE4000U turned 10 this year and it has served me well in the 1080p world. The Epson Home Cinema 3800 is an excellent pixel shifting 4K/3D projector for the money. The projector is very securely packed and includes a good size 38 button backlit remote, not the tiny remote that comes with many projectors. Many control options have direct access to control them on the remote; HDR, Color, Aspect, HDMI input selection, playback controls, test pattern, 3D and many more. Having a button for remote backlighting can come in handy in a dark theater. I actually programmed my universal remote with the 3800 as an additional device and then the remote went into my expansive remote graveyard lol. The only other hardware included in the box are the power cord and batteries for the remote. Disappointing that there are no 3D glasses included, but 3D has definitely fallen out of favor over the last several years and I'm not sure if any projectors include them in the box anymore. There are quick setup brochures in four languages and some other small pamphlets, but no owner's manual. That is pretty standard with most products today since the full manual is very easy to download, saves trees I guess. I removed the packing materials, including foam protection around the lens for shipping as well as a clip-on lens cover, nice touches to protect the delicate lens. Then I hung it upside down from a ceiling mount and located the setting in the menus under Extended to set it to Front Ceiling. There are actually 4 options in that menu for the possible combinations of Front and Rear projection and table or ceiling mount. I did not test the speakers as I have an AVR with full 11.2.4 Atmos speaker setup. The (10W each) speakers do give an added flexibility for other installation scenarios. My old projector was black and I was slightly disappointed that the Epson consumer projectors are only available in white. It is a bit more noticable when the lights are on, but when in actual use it disappears just like my previous black unit. It is a very high quality, sturdy unit with modern styling. It has 2 HDMI ports and 2 USB ports, although one of those USBs is only for a WiFi adapter and the other is only to provide power for HDMI stick devices that require USB power. It does put out a bit of heat from the front vent. The most outstanding feature of 3800 is the 4k image processing and projection, the picture quality and options for tweaking the picture are where it truly shines. It is not native 4k, but it takes a 4k image and creates two 1080p frames and slightly shifts pixels very quickly to produce the appearance of 4k image without the raw 3LCD system being native 4k. Watching 4k films on a 10 foot screen, the resolution enhancements over 1080p with no HDR was awesome. The sharpness and brightness improvements were dramatic over my previous projector. The 3800 is a simply amazing value and comes with a 2 year warranty. I ordered 3D glasses and tried a few titles and they were all super crisp and clear with excellent 3D effects. The glasses paired with the 3800 first time automatically when there was 3D material on screen, just had to power them on. There was a confirmation message on screen after about 5 seconds to confirm the pairing of each. I did not see any artifacts or have any issues, just a high quality 3D experience with great depth and focus. The Epson has an amazing range of color adjustments and comes with some preprogramed presets that are accessible under Image Enhancements. Epson has full control of HDR tweaks for Auto/SDR/HDR10/HLG, including a level; as well as RGBCMY for hue, saturation, and brightness. You have the myriad options to tune the picture to your liking. There are 10 Memory slots to save different picture settings customizations, you could have one for daytime, one for nighttime, one for 3D, one for HDR material, etc. The zoom, focus, keystone and lens shift vertical and horizontal are all manual adjustments using the controls on the projector itself. To get a 4K projector that has those adjustments automated is literally at least 3 times the cost at this point in time. Epson's Home Cinema 3800 had amazing picture quality for all kinds of video material. I never saw any rainbows or other artifacts from the pixel shifting 3LCD system. The picture was always crisp, clear with excellent brightness and contrast, especially with HDR sources. It is a great value for those looking to upgrade to a 4K projector at a very reasonable price, highly recommended! I was totally honest in my opinions of the 3800 pros and cons, full disclosure this is a review for the Epson Home Cinema 3800 projector that I received free of charge to do a beta test and review.
Date published: 2021-06-09T00:00:00-04:00
Rated

5

out of

5
by
tom271
from
Bluetooth issues
I am using this projector with Sony soundbar HT-S350. The bluetooth keeps unpairing. The workaround is to disable bluetooth on all other devices except these two.
Date published: 2021-01-01T00:00:00-05:00
Rated

5

out of

5
by
Bills at home with Epson
from
Another great projector
My wife and I bought our first projector for our everyday tv 15 years ago. It lasted for a long time and looked awesome. Me being a cheap bought an off brand that we got a couple years out of and it never looked as good then failed. I did not learn my lesson and again bought another cheap that was rated highly. Again a couple years and it was done. This time we went back to Epson with the 3800 and again a beautiful picture and hopefully another longtime projector. I will not by the cheapest anymore. I.m home. Love these machine's
Date published: 2021-08-11T00:00:00-04:00
Rated

5

out of

5
by
chicokim
from
Superior alternative to large TV
I just moved from a condo to a house and I was looking for options to replace my old 50" TV, which would be quite small for the bigger family room at the new house. I considered buying a larger TV (maybe something in the 60s or 70s), but I realized that in order to take full advantage of the more ample space available, a projector would be a better choice. It allows me to use a wide open wall in the hallway that would otherwise not be used in any functional way, and as a result it would let me optimize the layout of the family room by allowing more freedom on where to place the room's furniture. I was interested in Epson's 3800 projector primarily because of its image quality (4K technology was compelling), but there were a few other attributes that were just as important to me: (1) the ability to freely adjust the screen size to allow versatility to project in different places in the house; (2) the ability to point the projection "off center" (in other words, having sufficient range to move the screen both horizontally and vertically), since the location where I'll install the wall mounted shelf for the projector is not center-aligned with the wall where I'll project; and (3) strong brightness so the image is naturally visible even with a lot of natural light coming into the family room. As I tried the product, I was amazed by the high quality of the image and how it addressed every one of my needs mentioned above. I was concerned about how images would look directly on the textured wall (unfortunately walls in the house are not smooth) and thought that I may need a drop-down screen, but it looked fantastic just like that! And I'm thrilled that instead of a 60-70" TV placed on a sub-optimal part of the room, I now have a 100" screen that allows me to configure the room to my liking and has comparable image quality to a new LED TV model. I am ecstatic about the projector and would highly recommend to anyone looking to replace a smaller TV or add a larger screen. This is a review for the Epson Home Cinema 3800 projector that I received free of charge to do a beta test and review.
Date published: 2021-06-12T00:00:00-04:00
Rated

5

out of

5
by
DREWSASTER
from
Overall good, I think I got a dud
So the picture quality is good, but uneven, for some reason I cannot get the image in focus. My wifey has bad vison so the "fuzzy" out of focus look gives her a headache. I will contact epson support to see what the options are. If you're wondering, the projector is square to the screen and I have played with zoom and lens shift to no avail. Super big bummer, I can tell if I could focus it, the image quality would be phenominal! I do wish the housing was available in black as well.
Date published: 2021-07-25T00:00:00-04:00
Rated

5

out of

5
by
epekor
from
Perfect balance of performance and price
This our first home theater projector, and all we can say is wow! We wish we added this to our home entertainment setup far sooner. Crisp, beautiful colors, deep blacks. Just as good in broad daylight as it is in a dark room. The 3000 lumens is a big hit. Like some other reviews have mentioned, it takes a bit to dial-in settings, but once that's done, it's a thing of beauty. No different from any quality display. A few things that we especially love: * The flexibility. This is great to travel with on family vacations. The fact that we bring such an awesome display with us on road trips is a game changer! * The built-in speakers make it easy to use it outside for the kids as they enjoy a movie night with friends. * The 4K resolution never fails to impress. * People have mixed feelings on 3D, but our kids LOVE it! Just note: you need EPSON 3D glasses to enjoy 3D. We didn't know that initially, but worth it when we added the glasses. * Works well with our FireTV cube. * We're able to shoot the projector off-center (horizontal and vertical) without any significant warp to screen resolutions. Keystone adjustments are easy enough. * It doesn't get particularly hot and it isn't noisy, especially on ECO mode. Bluetooth pairing with our Denon AVR-X2500 worked smoothly, but we did experience pairing issues with a Vizio B362 soundbar. YMMV. Also note, if you want a big screen (12' +) you'll need to place the projector a roughly the same distance from the screen. This isn't a short-throw projector. All-in-all, Epson nailed the balance of performance and convenience with this projector package. We love everything about this projector. This is a review for the Epson Home Cinema 3800 projector that I received free of charge to do a beta test and review.
Date published: 2021-06-19T00:00:00-04:00
Rated

5

out of

5
by
Thel
from
Incredibly well-worth it!
Beautiful picture and easy-to-navigate setup. Had to use built-in speakers until some cables arrived in the mail and those were actually way better than expected. Absolutely gorgeous picture and even on a normal painted wall (lavender), the brightness overcomes most imperfections and even the paint color. You don't need to shell out hundreds on specialized paint, you can just project straight onto the wall thanks to this puppy's tremendous power.
Date published: 2022-10-24T00:00:00-04:00