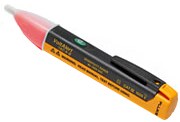 FLUKE 1AC-II POCKET VOLTAGE TESTER
Mfg.Part: 2432932 | CDW Part: 1355148 | UNSPSC: 43222643
FLUKE 1AC-II POCKET VOLTAGE TESTER
FLUKE 1AC-II POCKET VOLTAGE TESTER is rated3.67 out of5 by3.
Rated 5 out of 5
by
Tamothy
from
Great tester, needs better "dropability"
I've been using this kind of pen tester for years and really is the only one I ever want to buy. However, recently when I dropped my tester, it got stuck in a weird setting where it beeps non-stop, making me not have any faith in the tester anymore. I need to be sure my equipment, especially my voltage detector is up to par. My only solution now is to buy a brand new one. I took off 2 stars, just for the fact that my tester malfunctioned because it was dropped. These testers need to have a better dropability, especially if its only from a height of 5 feet!
Date published: 2019-03-07T00:00:00-05:00
Rated 5 out of 5
by
wj75
from
Not a Non- Contact!
This works perfectly fine with direct contact but unreliable with non-contact. I got shocked changing a garbage disposal switch because it was placed against the wire insulation and not the switch screws (which all of the cheaper brands I've owned was more than close enough and gave me a false negative reading even though I had the wrong breaker off due to incorrect labeling in the panel. Fluke volt and multimeters are the best of the best but just a warning this needs direct contact for accuracy.
Date published: 2019-04-26T00:00:00-04:00
Rated 5 out of 5
by
Sparky144
from
Reliable after 4 years
I've had this tester for 4 years and have tried to take good care of it. I use it within its designed purpose and it hasn't failed me yet with false negatives like other testers may. Finally a few months ago the clilp broke on it in the winter, I believe because it became brittle from the cold. Other reviewers mention the tip breaking off. I have been careful of this but I have seen others with the same tester have it happen.I won't use a different tester though, this one is in my opinion the best, functionally.
Date published: 2019-05-04T00:00:00-04:00
Rated 5 out of 5
by
701nate500
from
Not for everyday pocket carry
I have had this voltage tester for 3 months, and it has functioned properly the entire time. No battery replacement was need from occasional daily use during this period. It recently failed due to the tip breaking off in my pocket. This is not an every day carry item for the pocket
Date published: 2019-03-21T00:00:00-04:00