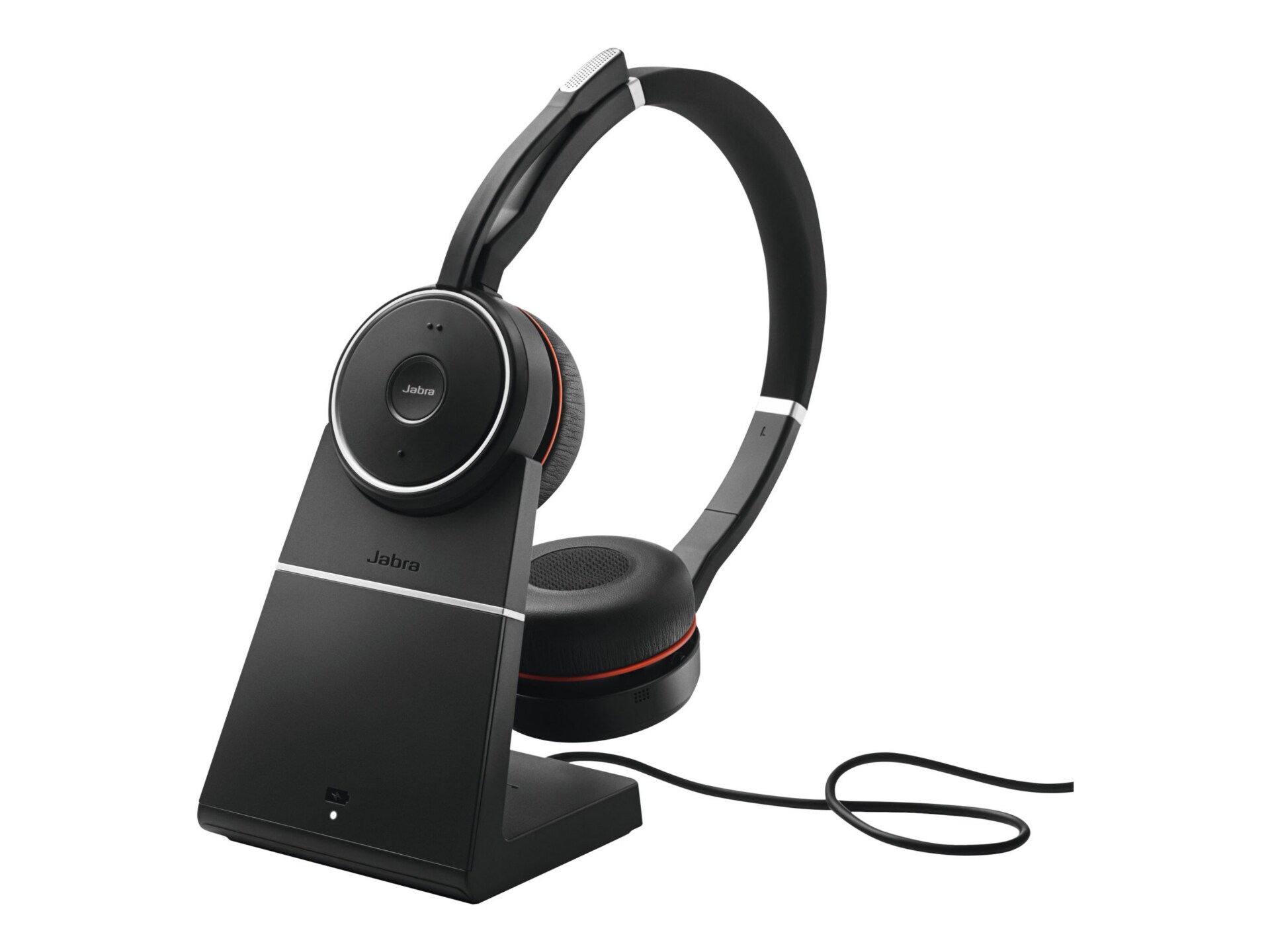 Quick tech specs
Stereo headset
On-ear
Wireless
100 foot radius
Noise cancellation
Includes USB adapter and cable,protective case and charging stand
Bluetooth
Connects to up to two devices
Up to 15 hours run time
Jabra 2-year warranty
View All
Know your gear
Communicate efficiently with the Jabra® Evolve™ 75 MS Headset. Featuring dual Bluetooth® 4.2 connectivity, it pairs with up to two compatible devices, such as a desk phone and a cellphone, at once. The stereo headset also maintains a wireless connection with the device at distances of up to 100 feet. This allows users to move around the office and multitask while continuing the conversation.

An active noise-canceling headset, the Jabra Evolve 75 model reduces low-frequency ambient sounds while blocking distractions and improving clarity. A red "busylight" comes on during active calls to act as a "do not disturb" signal to others. HD voice and powerful speakers produce exceptional audio, so that speech and music come across clearly. Leatherette ear cushions and a flexible headset provide a comfortable fit, even for extended periods of wear. The versatile Jabra Evolve 75 wireless headset is compatible with desk phones, headsets and communication platforms. The headset charges via USB with a runtime of up to 15 hours on a single charge.
Jabra Evolve 75 MS Stereo - headset - with charging stand
is rated
4.11
out of
5
by
136
.
Rated

5

out of

5
by
Bo B
from
null
A really good headset with noisecanceling.
Date published: 2018-08-07T00:00:00-04:00
Rated

5

out of

5
by
Ron J
from
null
Nice set of headphones. Pretty comfortable to wear, although it will slip off when you lean forward. Very good range and sound quality appear to be good (no complaints from customers.) Battery life around 14 hours on a charge. A few times I had to flip boom mic twice to unmute. Paired easily with my PC. Overall, very happy with my purchase so far.
Date published: 2019-07-19T00:00:00-04:00
Rated

5

out of

5
by
Ladislao B
from
null
The headset works fine while using the USB BT accessory but if you do a direct BT connection with a Cisco phone the call quality is lower than average.
Date published: 2018-04-26T00:00:00-04:00
Rated

5

out of

5
by
Roy G
from
null
Best headset I've had! Can be plugged into your PC (used to have a lot of BT interference in the house) so any conference calls you take at home are clear and not disrupted. The BT range is amazing! I can walk around the house without losing signal. Battery life is phenomenal! Highly recommend this product!
Date published: 2017-06-25T00:00:00-04:00
Rated

5

out of

5
by
Elizabeth M
from
null
I use VoIP phone and Skype calling and the call quality has been very good. The dual option allows me to stream music from my smartphone and switch to calls from the PC or phone with ease. Noise cancelling also helps in our busy cubicle environment. Lightweight and comfortable I can wear them all day (and yes I wear glasses). Wireless connectivity is nice to have allowing me the ability to stand up and move around as well.
Date published: 2017-12-22T00:00:00-05:00
Rated

5

out of

5
by
Timothy Dey
from
null
A good product in most ways. Excellent noise-cancelling microphone according to those on the other end. I did return it to Jabra finally because if I was in wireless Bluetooth mode (as opposed to the direct USB connection cable option) I simply could not get enough volume up to hear the other party clearly. The exception was if I was in a "library" quiet environment. My guess is this limit in playback volume is engineered into the product to prolong battery life. I understand the design challenge, but if you can't use Bluetooth mode, why pay all that money?
Date published: 2017-06-07T00:00:00-04:00
Rated

5

out of

5
by
Charles Blumhardt
from
null
The active noise cancellation is the best I tried. Comfortable and great for music too
Date published: 2017-06-15T00:00:00-04:00
Rated

5

out of

5
by
Debra Marone
from
null
Clear as my wired headset. Great flexibility. Love having multiple devices connected at the same time. Love the "flip up" mute!
Date published: 2018-05-11T00:00:00-04:00
Rated

5

out of

5
by
Philip G
from
null
I spent the money on these because my fake Beats were great for music and comfort but just didn't deliver on a decent microphone for calls. I spend a lot of time on the phone for work and personal use so I need something where I don't have to wonder if people can hear me clearly. Jabra passes with flying colors there. They don't fit as well as my fake beats, and the sound quality for music isn't spectacular, but those are small prices to pay for the improvement in the microphone.
Date published: 2018-11-03T00:00:00-04:00
Rated

5

out of

5
by
Richard M
from
null
Good clear audio on both ends of a call. Comfortable to wear.
Date published: 2018-08-30T00:00:00-04:00