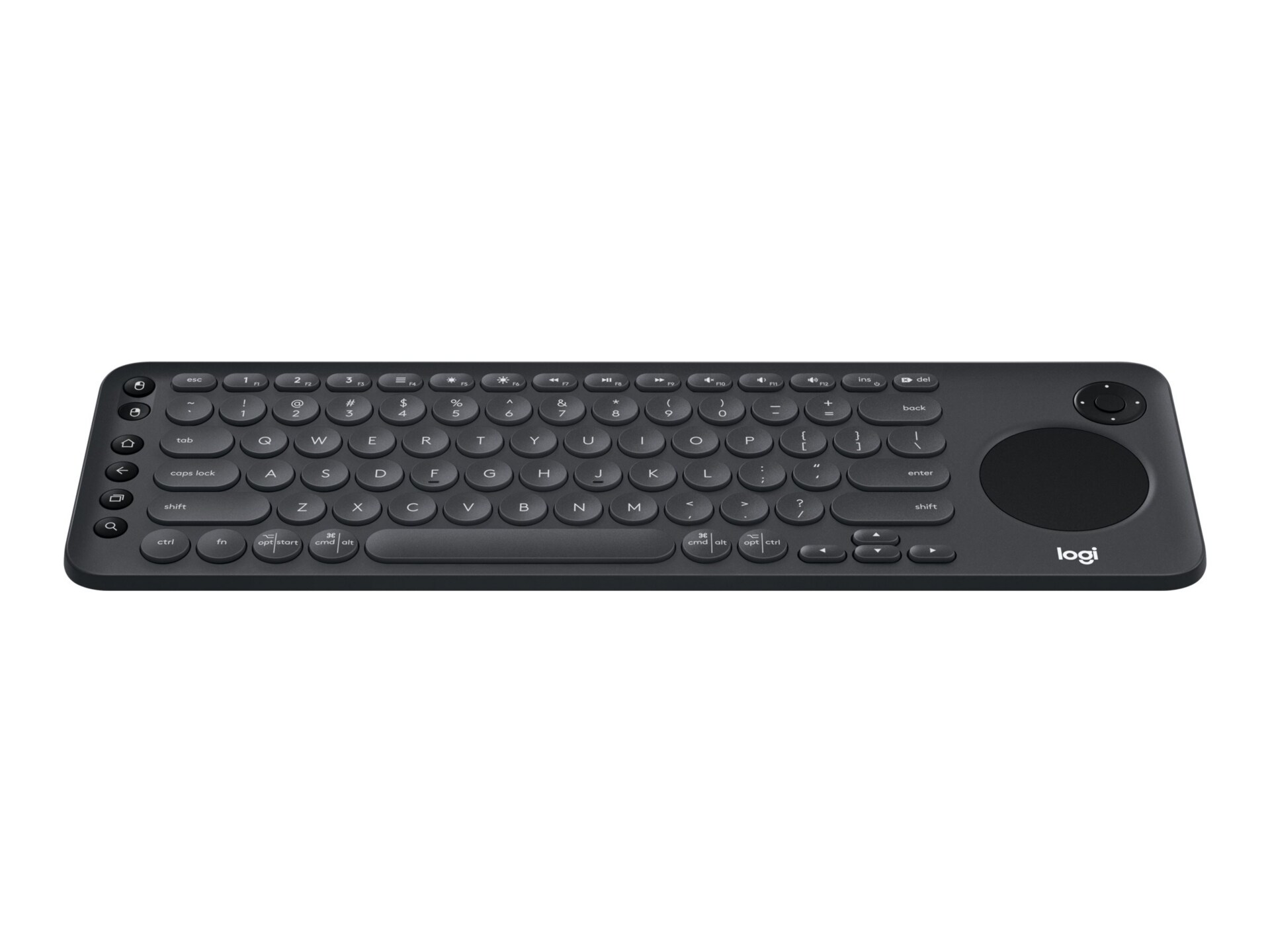 Quick tech specs
with touchpad
Bluetooth
graphite black
View All
Know your gear
The K600 TV is the smarter way to control your Smart TV – with an integrated touchpad and D-Pad so you can search, type, find, and unwind.
Logitech K600 TV - keyboard - with touchpad, D-pad - graphite black
is rated
3.91
out of
5
by
11
.
Rated

5

out of

5
by
Sk
from
Wouldn't recommend.
Not as good as I thought- def not worth the price. I would go for a cheaper model. The circular keys makes it really hard to type
Date published: 2020-12-31T00:00:00-05:00
Rated

5

out of

5
by
lycanknight
from
nice keyboard
the mouse pad is problematic but workable and the instructions aren't much help to connect it or reapply the dongle after using it somewhere else and swapping between devices can take a bit of learning sometimes you must press then press and hold the FN key then the number you want all in all i like it i'm having to learn it's layout as my k400 i had was laid out a bit different but that is the fun of a new keyboard being able to use one keyboard for 3 different devices is amazing
Date published: 2020-04-18T00:00:00-04:00
Rated

5

out of

5
by
UpstateNY71
from
Nice compact design and solid.
These keyboards are great (bought 3 of them. The ONLY drawback is how the mouse buttons are in the upper left corner - its odd to use them up there but they do work fine.
Date published: 2020-09-14T00:00:00-04:00
Rated

5

out of

5
by
Aaron W
from
Great keyboard
Great product! just needs to have back-lit keys for use in the dark
Date published: 2019-12-02T00:00:00-05:00
Rated

5

out of

5
by
tfortier
from
Like it, but....
I like that I can now use the internet on my tv and use this keyboard. However not all functions work with every part of the tv. So at times it is pointless. It ends up just sitting there and I never use it really. I never know if it will work or not. Sometimes you have to use the mousepad, other times you can actually use the keyboard to do searches and other times you can only use the little pointer control next to the the mousepad. Too cumbersome.
Date published: 2019-03-27T00:00:00-04:00
Rated

5

out of

5
by
P
from
Meh. Dell fix my rewards
Not friendly for sweaty hands.
Date published: 2021-02-03T00:00:00-05:00
Rated

5

out of

5
by
David
from
Very nice wireless Keyboard, with some issues
I really do like this keyboard, but with a few complaints: - It's pretty heavy for what's supposed to be a wireless keyboard for traveling - I have multiple PC's that have the Logitech Unifying Dongle, however I need to sync the keyboard to the PC dongle I want to use; it will not just recognize the 2 different dongles unless I set each one in 1 of the 3 available slots - While it does support BT connections and can connect to 3 devices, it does not explain how to connect them, and there's nothing stating that the first slot is for the Unifying Dongle, so that slot is automatically used up unless you decide not to use the dongle itself, which is an option - It would be nice to have additional "slots" for more devices - I do wish the trackpad was a bit more responsive All in all, it's a solid keyboard, but for the price, you might be better off going with one of Logitech's other wireless keyboard for half the price.
Date published: 2021-10-05T00:00:00-04:00
Rated

5

out of

5
by
Neil
from
Nice stuff
Nice stuff. All in one and can be use for my laptop and smart TV.
Date published: 2022-02-08T00:00:00-05:00
Rated

5

out of

5
by
Edwin
from
Great
Works with my FireStick 4k Max
Date published: 2022-02-21T00:00:00-05:00
Rated

5

out of

5
by
Dobbie
from
Logitech K-600
Great product- efficient and easy to use.
Date published: 2021-09-15T00:00:00-04:00
Rated

5

out of

5
by
Auele
from
Compact and worth it.
Small and convenient. Works great. I've had no problems after using it for 2 months now.
Date published: 2021-07-20T00:00:00-04:00