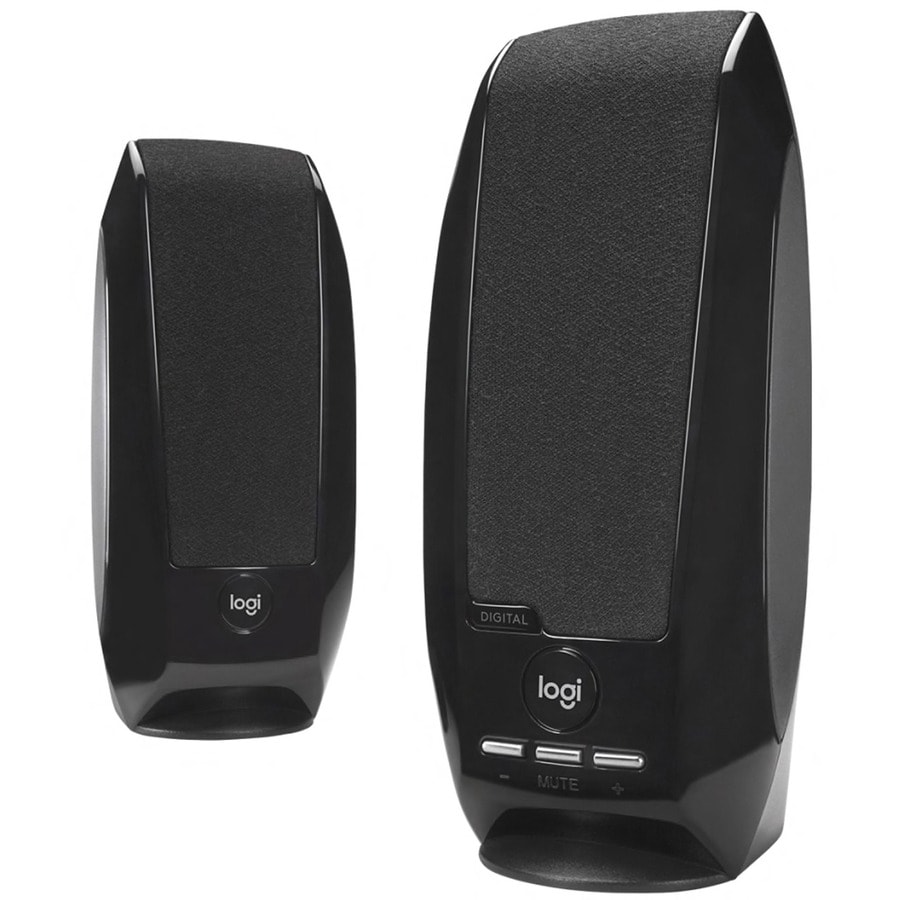 Quick tech specs
View All
Know your gear
This slim, lightweight speaker design offers simple controls and easy setup for a convenient listening experience. Compact, moveable speakers let you easily customize to your setup.


Logitech S150 USB PC Speakers
is rated
2.60
out of
5
by
5
.
Rated

5

out of

5
by
Robert
from
Pretty good
These speakers are loud enough for a board room setting which is one of the main purposes we bought these. They work great for a simple 20 minuet presentation or webinar. Just plug it in and go. The only complaint I have is the front buttons don't work very well. They seem to go in 4 levels nothing, low, or loud. not much for middle ground so be ready to adjust the sound on your computer, laptop, or surface tablet.
Date published: 2014-11-13T00:00:00-05:00
Rated

5

out of

5
by
rfrankln
from
Not worth the $
Sound quality is horrible. Don't waste your time. I would not waste my time with this item.
Date published: 2015-04-29T00:00:00-04:00
Rated

5

out of

5
by
Techie101
from
Not as pictured
Don't count on getting the carrying case even though one is in one of the pictures. It is not listed in the tech specs. For a portable pair of speakers I would assume a case would be useful, maybe essential, even if they are smaller than desktop speakers. The speakers have decent sound but are a bit touchy getting the volume adjusted for low volume situations. Great for meetings, average for desktop use. For the price I expected less. (CDW has been contacted and may remove the incorrect picture in the future)
Date published: 2016-07-05T00:00:00-04:00
Rated

5

out of

5
by
dmurray1234
from
Good and Bad
Obviously these are very inexpensive speakers so I don't think anyone buying them would be expecting studio quality sound. The sound is "OK" as one would expect.What I love about these speakers is that they plug into USB and only USB. Many speakers out there that advertise to be "USB" are actually only powered by USB and still require connection to your sound card. These speakers essentially have their own sound card built in and they will even work on a computer that has no sound-card whatsoever. When you press the volume buttons on the front, the operating system will actually be aware that you've changed the volume. Which is cool. There's really only one volume control rather than the two separate volume controls most speakers have. That makes life simple.My gripe, however, also has to do with the volume. Since we use these in a corporate environment, obviously you want to have the option of turning the volume down low so that you do not disturb other users in the office. The problem is that the absolute lowest volume setting the speakers have is still too loud in many cases. If you try turning them down more, they just go to mute.If you are lucky, and your video player application has its own volume control too, you may be able to turn it down there. But in some cases, you are screwed. For example, lets say you are watching the news in your web browser. You may be able to turn the volume down to an acceptable level using the volume on the flash player within your web browser. But many websites do not allow you to change the volume when a commercial comes through. In which case you will be blaring your commercial to the entire office. Your only option is the mute the speakers.So the concept is great. But Logitech really needs to reprogram the volume settings.
Date published: 2012-08-21T00:00:00-04:00
Rated

5

out of

5
by
Stella729
from
Speakers poor quality
Speakers do not project as needed for our computers. Very disappointed. Audio is barely improved.
Date published: 2018-07-08T00:00:00-04:00