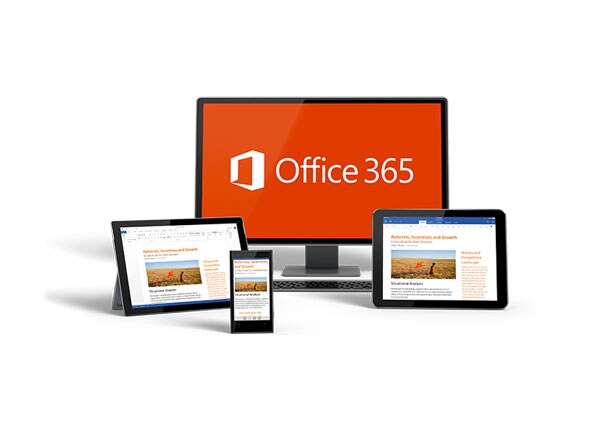 Know your gear
At CDW, we know you want to increase productivity and enable your users to be successful no matter where they are and what they need to do without creating an additional burden for your IT staff. Office 365 from CDW can help achieve your goals while freeing you from the endless deploy/update/support cycle and server hardware headaches. With user mailbox migration included and support provided by CDW from our US-based Enterprise Command Center, in no time you'll be providing your users with the latest technology and tools they deserve with little to no disruption of critical services such as email

Empower your teams
Help your teams accomplish more, faster with simple file sharing, real-time co-authoring, and online meetings.
Tailor your services
Get exactly the services you want. Combine Office 365 from CDW with your existing investments and mix and match services for different users.
Gain IT control
Reduce your IT overhead and hassles while staying in control. Move to the cloud on your terms and manage it easily with support from CDW.

Office 365 from CDW Basic plans always include these core benefits:



24x7x365 US-based administrator support for reactive break/fix, service issues and help and how-to
Microsoft tenant and subscription provisioning
Billing from CDW using CDW credit terms and PO and credit card options
Flexible monthly or annual billing options
Ability to decrease license counts or downgrade plans at no additional cost (monthly billing only)
All Office 365 from CDW STANDARD plans include the BASIC offering plus:
Unlimited backup and restore of email, mailboxes, contacts, calendars and tasks
Unlimited backup and restore of documents and files in SharePoint and OneDrive
Save hours of effort when restoring lost or corrupted data
Email migration (Plans with email workload only)
Migration concierge to proactively engage and ensure a complete migration of email to Office 365
Cutover or staged email migrations from CDW saving 90% customer effort
Free public folder and shared mailbox migrations
Migrate contacts, tasks and more


Office 365 Business includes all features of Office 365 Business including but not limited to:

Familiar Office tools

Office suite

Always have the latest versions of: Word, Excel, PowerPoint, Outlook, OneNote, Publisher
Office on PCs, tablets, and phones

Enjoy a full, installed Office experience across PCs, Macs, Windows tablets and iPad® and Android tablets, and most mobile devices. Each user can install Office on 5 PCs or Macs, 5 tablets (Windows, iPad, and Android), and 5 phones.
Office Online
Create and edit Word, Excel, PowerPoint, and OneNote files via a web browser. Real-time co-authoring simplifies collaboration.
Plus file storage and sharing

OneDrive for Business
OneDrive for Business gives each user 1 TB of personal cloud storage that can be accessed from anywhere and that syncs with their PC/Mac for offline access. Easily share documents with others inside and outside your organization and control who can see and edit each file.
Contact Sales Assistance
(800) 808-4239
,
Monday-Friday 7am-7:30pm CT
Software Details
Full installed Office applications Word/Excel/Powerpoint/Ou- tlook/Publisher/OneNote on up to 5 PCs or Macs
Online versions of Office including Word/Excel/Powerpoint
Office on tablets and phones for the full installed Office experience on up to 5 tablets and 5 phones
File storage and sharing with 1 TB storage per user
View Tech Specs