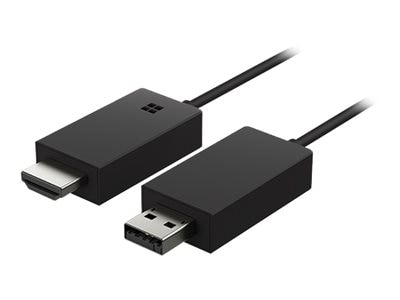 Quick tech specs
wireless video/audio extender
View All
Know your gear
Share what's on your tablet, laptop, or smartphone on an HDTV or monitor with Microsoft Wireless Display Adapter. Stream movies, view personal photos, or display a presentation on a big screen - all wirelessly. Project your ideas and collaborate in real time by plugging the Microsoft Wireless Display Adapter into a conference room projector or monitor. You can even ink in PowerPoint to emphasize a point and make that big screen your collective workspace.
Microsoft Wireless Display Adapter - v2 - wireless video/audio extender
is rated
3.86
out of
5
by
7
.
Rated

5

out of

5
by
james1
from
Microsoft Wireless Display Adapter - v2
You need to download a Microsoft Store App to rename and upgrade the firmware. It works fine, and then users can connect wirelessly. The display was cut off on the sides. Not sure what the issue was, device issue or a TV issue. But I do like them since people seemed to be able to help each other get it working easily enough and once shown will retain the information well. Clients like that they don't need to bring a number of different dongles.
Date published: 2018-05-30T00:00:00-04:00
Rated

5

out of

5
by
Ahmad
from
This product has great features
We have to order this product to more then one office.
Date published: 2019-07-31T00:00:00-04:00
Rated

5

out of

5
by
JMR99
from
It would be nice if it worked
I tried connecting this with a newish Dell Latitude and a Lenovo ThinkPad. Neither worked. Went through the entire troubleshooting exercise with Microsoft. In short nothing worked, and when I called Microsoft I got cut off twice. A waste of time and money.I understand that these really only seem to work with Surfaces, and I have just enough of those users to keep the darn thing.
Date published: 2018-08-21T00:00:00-04:00
Rated

5

out of

5
by
Poilu
from
Could not get it to work with a new Dell Latitude
I followed all the troubleshooting steps (which were *extensive*), and called Microsoft Hardware Support (and got cut off twice). Simply put , it would fail to connect to our big screen TV.I have seen it work successfully with Microsoft Surface laptops, and we have enough of the corporate-wide to keep for our own use, but buyer beware.
Date published: 2018-07-22T00:00:00-04:00
Rated

5

out of

5
by
dflorey
from
Microsoft Wireless Display Adapter - v2 - wireless video/audio extender
Product works just as advertised it is very simple to setup and use.
Date published: 2018-08-29T00:00:00-04:00
Rated

5

out of

5
by
bob32
from
works great
bought these for use in conference rooms that are equipped with smart TVs. works great for office users and guests who need to mirror their laptop display to the TV. specs say maximum range is 23 ft but no complaints so far and display quality seems to be as good as when using an HDMI cable connection. requires Windows 8.1 or above or Android and a Miracast compatible device on both ends (which excludes Apple). all of our users are on Windows 10 with newer HP laptops but even the older Elitebook Folio 9470m is compatible when running Win 10. The only problem I've encountered was fixed by a wireless driver update on the laptop. pros: cost, quality and reliability. cons: not compatible with Apple devices.
Date published: 2019-02-18T00:00:00-05:00
Rated

5

out of

5
by
Golf1958
from
A very simple solution
I teach a class and use a TV to show my computer screen. The TV is a few years old and my laptop is a Lenovo (not Apple). We have been using a HDMI cable that hung below the wall mounted TV screen and was only about 6 feet in length. This CDW adapter plugs into the HDMI and USB ports and allows wireless connectivity to the computer. I now can walk around the room with my computer (no more cable). I had to download a free MS driver but other than that, it was easy-breezy. The device works on my home TV's which are also a few years old. I used my home TV for testing the set up and it worked well. I plan to use it at home to watch videos that I have only been able to watch on a computer.
Date published: 2018-06-20T00:00:00-04:00