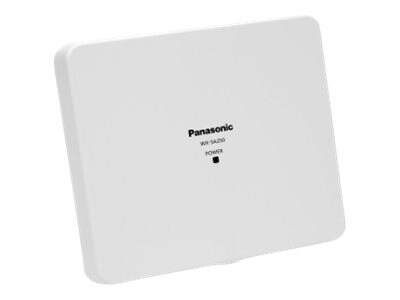 Quick tech specs
SA250
plate
ceiling mountable
microphone stand
Antenna
wireless microphone system
wall-mountable
View All
Know your gear
The Panasonic WX-SA250 Wireless Antenna is an integral part of Panasonic's SR200 1.9 GHz Digital Wireless Microphone system, providing a line of sight communication with Panasonic's ST200 wireless microphones and routes the signal flawlessly back to the WX-SR202 digital wireless receiver via CAT5/6 connection.
Multiple antennas can be placed in a room to accommodate for room size or multiple two-channel microphone systems. Each antenna has a maximum range of 131 ft. (40-meters) and is easily adjustable to three lower steps so you can easily accommodate room size and minimize interference with other Panasonic wireless microphone systems installed in adjacent rooms.
The WX-SA250 can easily be mounted on a wall, ceiling or even on a microphone stand for mobile installations using the bracket included. Leveraging Panasonic's 20-year experience in DECT wireless audio communications, the WX-SR200P 1.9 GHz digital wireless microphone system is the best-in-class solution for classroom or corporate presentations providing low latency (23ms) for hybrid in-room/virtual presentations. Panasonic's digital wireless microphone system is easy to set up, easy to integrate with third-party control systems (such as Crestron and Extron) and easy to use.
Setup is a breeze - the WX-SR202 digital wireless receiver easily pairs with Panasonic's WX-ST200 and WX-ST400 microphones and assigns channels automatically, eliminating the need for manual channel assignment. The system can be expandable to suit a variety of spaces, from small classrooms and medium-sized classrooms/conference rooms to large auditoriums. Up to eight separate antennas (per receiver) can be mounted to the wall or the ceiling in the room and connected via CAT5 back to the receiver locked away in a cabinet or closet and multiple two-channel receivers can be installed to add wireless microphone channels to the room.