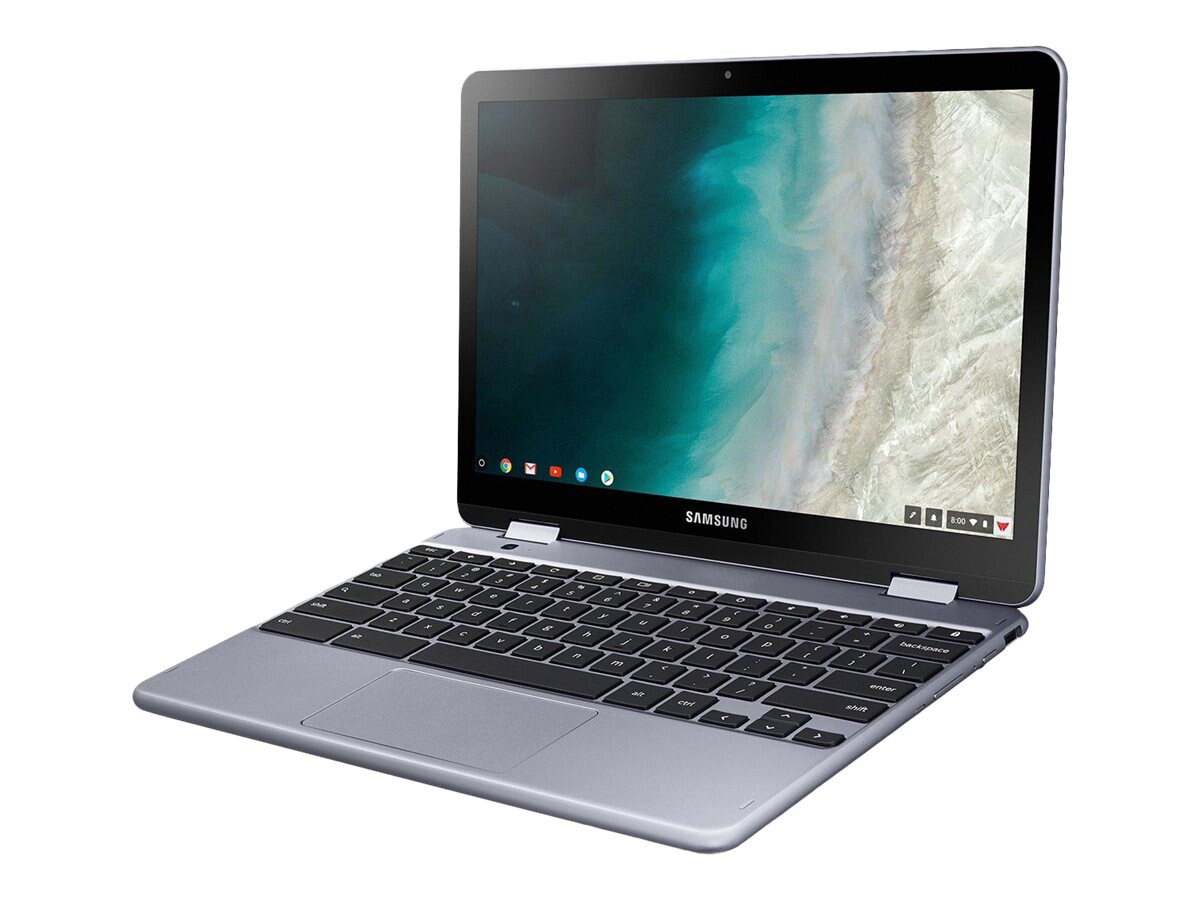 Quick tech specs
Each Samsung Chromebook Plus XE512QAB 32 GB memory offers device storage
360° rotating screen lets you fold into tablet mode
The built-in pen promotes creativity
1-year Samsung limited warranty
View All
Know your gear
The Samsung® Chromebook Plus lets you do more anywhere, anytime without slowing down thanks to its long-lasting battery and powerful Intel® Celeron processor. It features an incredibly lightweight aluminum-alloy body that makes it very portable. Its built-in pen lets you write notes, sketch out ideas, magnify images and take screenshots. This Samsung Chromebook Plus XE512QAB features a 13MP camera with autofocus that enables you to capture clear photos. Its 12.2-inch LED backlight touchscreen can rotate 360-degrees allowing you to effortlessly fold it into tablet mode for a more convenient viewing and browsing experience. Its Quad HD display produced from durable Gorilla Glass gives you the best of both widescreen and portrait-tablet viewing. It features a powerful Intel®Celeron processor that lets you work on multiple things simultaneously. With 32 GB of built-in memory, you'll have adequate storage for your documents and more. This 4 GB RAM Chromebook also features a microSD card slot that can expand up to 400 GB offering you more storage space. The Chrome operating system runs Android apps, enhancing user-friendliness and enabling downloads of games and apps.
Samsung Chromebook Plus XE512QAB - 12.2" - Celeron 3965Y - 4 GB RAM - 32 GB
is rated
2.80
out of
5
by
10
.
Rated

5

out of

5
by
RobertBB
from
Had one for a year, glitches started
Bought one of these a year ago for my Son's school work. After a while just sitting there with nobody touching it, it would start flipping between open tabs randomly. Turns out the touch screen control goes faulty on these. I opened it up and disconnected the touch screen cable, so at least it's usable, but no touch screen anymore. Piece of junk.
Date published: 2019-08-09T00:00:00-04:00
Rated

5

out of

5
by
SadCollegeStudent
from
Good While It Lasted
I bought this chromebook to take digital notes when I entered college. I fell in love with the device and enhanced my learning. That was untill about 6 months later the hinge broke from regular use and it also messed with the screen. It was fun while it lasted Samsung.
Date published: 2019-08-27T00:00:00-04:00
Rated

5

out of

5
by
bed345k
from
easy to use
Have one major problem, the screen has locked up at least twice a day since my purchase and you have to reboot ..
Date published: 2018-12-20T00:00:00-05:00
Rated

5

out of

5
by
Josef B
from
Great All Around but a few Quirks
I bought this about a month ago and am generally happy about it with a few exceptions, those being the strange camera setup, I'd rather have the 13mp camera on the front rather than the keyboard deck because it gets used more, second the camera doesn't deal with low light well unless you install crouton which then allows for the camera to be adjusted automatically, another issue is the placement of USB-C ports why God why did they put both on the same side it's not that bad since they provide a USB-A on the other side but it's still annoying. The pen is actually pretty great and I find myself using it to take screenshots often. Finally I REALLY wish I would've opted for the extra $100 for the core m3 model. The Celeron in this Chromebook doesn't cut it especially if you plan on running Linux Apps, Crouton, Android Apps, etc. I always find spotify's audio being choppy. I would've liked a bit more storage but that's just because I'm using this laptop to code and have to install Linux Apps (Crostini), Crouton, or a combination of both. Otherwise this Chromebook would be wonderful for general browsing, but if you're planning on Crostini and Android apps opt for the extra $100 core me model.
Date published: 2018-11-16T00:00:00-05:00
Rated

5

out of

5
by
rcrespo49
from
Samsung Chromebook Plus 2 in 1 12.2
Bought it November 2018. Lasted 8 months. Hinges broke right through the screen. Who's bright idea was to place the hinges right behind the screen. The hinges are supported to the plastic cover of the screen assembly with 3 tiny metal screws. Reallly? Metal screws and a plastic cover and the hinges behind the screen?
Date published: 2019-07-22T00:00:00-04:00
Rated

5

out of

5
by
sg1229
from
BATTERY NO LONGER WORKS!
I have only had this computer for probably a little mroe than 6 months, and I noticed when I went to touch the touchscreen that the computer turned off. After further investigation, I noticed that when plugged in, the battery icon was missing from the dock, meaning that the battery had failed. Not a great experience and will be buying a new computer soon.
Date published: 2019-07-10T00:00:00-04:00
Rated

5

out of

5
by
Engineering_Student
from
Lasts 1 year, 6 months before issues pop up
I bought this in 2018 and it was a great purchase. Excellent little notebook! Nowadays it is suffering a bit though. The screen is spotty with pen recognition (conveniently after my warrantee expired) now so written words will be missing letters, which have to be rewritten only after adjusting the screen with my finger. Strange glitch, but since my warrantee is out they basically told me I was sunk. That aside, its awesome.
Date published: 2019-09-16T00:00:00-04:00
Rated

5

out of

5
by
g20BB
from
V1 had a better usbc layout for charging
Compared to V1, V2 has a horrid USBC layout. Before I could plug my computer in on either side of the device because the usbc ports were on both sides. They changed that with the addition of an unnecessary USB3.0 drive spot that is just wasted space. Adapters exist for a reason. I absolutely hate this about the new model and because of it, that for me is a complete deal breaker. Horrid design flaw with this change. Hope to see them put this back on both sides. It needs to be on both ends for best charging. It preserves the charger too instead of it getting caught up on the laptop and pulling it off counters, etc. I like the new intel processor, however. But unfortunately that usb drive is enough to make me hate this device. Still no backlit keyboard and keys don't recess when in tablet mode leading to drops and an overall awful feel with the keyboard always exposed underneath the device.
Date published: 2018-11-19T00:00:00-05:00
Rated

5

out of

5
by
OregonBruin
from
V2: All-new Chromebook Plus is one of the best!
Just to clarify, this is the newest Chromebook (as of August 2018 from Samsung and is version 2 (V2) of the Chromebook Plus. They have improved most everything and kept the premium construction. A combination of aluminum and plastic feels sturdy with no hints of flimsiness. I think this model will withstand the daily rigors normally subjected to portable computers. The biggest noticeable change is to the aspect ratio. It's gone from 3:2 to 16:10. It ia less squat in appearance and allows the keyboard to feel closer to a regular size. Everyone has different needs so this may be a big deal to some and uneventful to others. Another change is a downgrade in resolution. V1 had 2400 x 1600 and V2 went down to 1920 x 1080. I think it still looks nice and should contribute to longer battery life and graphics for games should render without as much stuttering. Samsung has put the Intel Celeron 3965Y CPU inside the Chromebook Plus (V2). It's a 14nm chip built on Intel's Kaby Lake microarchitecture. It has two cores that can operate at 1.3Ghz, and incorporates Intel's HD 615 Graphics at 300 to 800 MHz. Although it can support more, Samsung went with 4GB of RAM. I think they went with a balance between performance and cost. It'll be fine for most people but heavy game users probably wouldn't be using something like this anyway.Of course, the pen is a selling point for many people, including me. I'm not an artist but I like to use the pen for navigating around in addition to the things you can do with a pen. I find the lag to be minimal and again, should suit most people.There are still 2 USB-C ports but now they are together instead of on each side. Because the port is used for charging, I liked the option to use either side to plug in depending on where I'm charging it. You are now limited to one side. It's not the end of the world but something I liked better on the V1. There is also a USB 3.0 port for those who want one.The sound is nothing revolutionary and what most people would expect. It works fine. The trackpad also works fine and feels smooth for easy use. The different modes all work as you would expect. The screen orientation doesn't feel as sensitive when changing to tablet or tent modes. Of course, your experience will vary.I've been getting over 9 hours of battery life which is excellent in my opinion. That is general usage. Although I plan to play some of my regular Android games on this device, I have not started yet. I can't comment on battery life when doing tasks that use a lot more resources. Charging takes a few hours and that's to be expected.Overall, I think this is one of the best Chromebooks you can buy. It strikes a balance between the price and performance. I think the performance is actually quite good for the price, which while it's not what I would call inexpensive, but compared to a Pixelbook, it seems like a bargain. You get a solid device that feels far more premium than an all plastic build. The screen is nice and bright, the resolution is lower than the V1 but still looks quite good, and the more "regular" aspect ratio will feel less awkward to those who didn't like the original. The pen is excellent, as you would expect from Samsung and I think the typing experience will be fine for most people. I highly recommend this Chromebook!
Date published: 2018-08-18T00:00:00-04:00
Rated

5

out of

5
by
Pinkbirdy
from
Good features, but they don't work
I purchased this and used for a bit. After a month went by, I went to use it to work on an Excel spreadsheet and the app kept crashing before j could click on anything. I then decided to play around with other apps to see if they worked and they all do that. I am also having the same problem when I am in the play store, it opens then when I move my cursor to type in the search field or select an app, it crashes.im not sure what's going on but this Chromebook is completely unusable. I have wiped everything and reset it to factory hoping that would fix it, but no luck. I now have an absolutely useless Chromebook...I am able to surf the web, but I could do that with the Chromebook I purchased this to replace. If there is an update that fixes the issue, I hope it comes soon
Date published: 2018-10-19T00:00:00-04:00