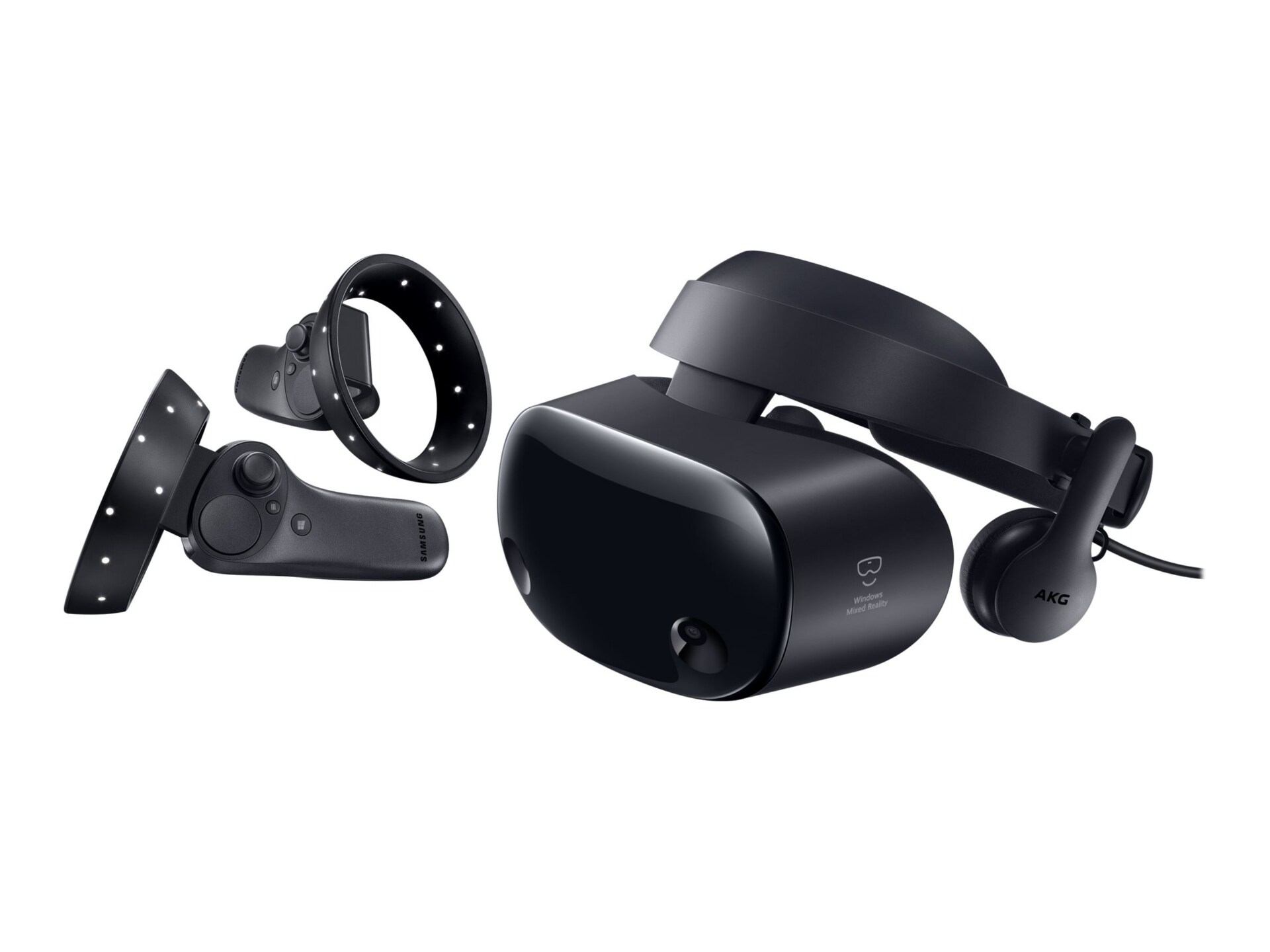 Quick tech specs
Virtual reality system
2880 x 1600
headphone
portable
HDMI
for Notebook Odyssey NP850XBC
View All
Know your gear
Immerse yourself in the stunningly crisp detail of a dual-AMOLED display, perfectly complemented by rich and dynamic AKG 360° Spatial Sound. Just plug it in and go - it's lightweight and easy to set up in minutes.
Samsung HMD Odyssey + - virtual reality headset
is rated
3.28
out of
5
by
32
.
Rated

5

out of

5
by
tr3yj640
from
Horrible Product
I received this product one day ago, and upon trying to use it, it required a firmware update. The firmware failed and the headset is now bricked. unusable, through no fault of my own. After 1-2 hours on support with Samsung getting transfered multiple times they said I have to send it in for repair which would take 10 days. I can only assume the headset is like the support, JUNK.
Date published: 2019-06-19T00:00:00-04:00
Rated

5

out of

5
by
Ghost of Christmas Past
from
Fits like a knife in the head
I really wanted to like this but it's barely usable as shipped. The screen is excellent and it does look like it has a bit less of the fresnel effect than the original but the fit is just horrid. Wearing it so the headphones line up properly puts a lot of pressure right above the bridge of your nose (where Samsung has inexplicably put a piece of hard plastic IN the foam pad) is not much more comfortable than a torture device, and the lenses are held much closer to your eyes so glasses are probably a much tougher fit than the original Odyssey.I've used a Rift, Vive and the original Odyssey and this is a step down from all of them in terms of comfort. I don't know what kind of heads they're designing for over there but this is probably the most common complaint about the headset there is, and they've only made it worse from the original version (which, while it wasn't great was wearable for some time without getting an immediate headache.)
Date published: 2019-01-03T00:00:00-05:00
Rated

5

out of

5
by
Satoru
from
I was touched very much.
Good VRHMD must buy.AntiSED is a wonderful innovation technology.
Date published: 2018-11-25T00:00:00-05:00
Rated

5

out of

5
by
nodave77
from
Excellent image, average on design and function
The sweet spot for the lens is very small, a slight bump to the headset and you need to readjust to make sure you have a good view - headset fit adjustment is only by tightening the band, no other adjustments are available. Cord length - is fine for standing in one spot or sitting. If you want to actually get up and move around you will have to buy extension cords because the included cord is just too short. Lastly - the battery compartment on the hand controllers needs a redesign. You will find that playing in VR you will grip hard and swing the controllers around, numerous times now I have dislodged the battery cap. I may have to put some tape around it. Otherwise, I have really enjoyed this headset, the picture quality is excellent. Integration with Steam VR can be a bit of a headache but once everything is working it is quite fun. I got them on sale for $300 so I got good value. Not sure I would have been happy if I had paid full price.
Date published: 2019-01-03T00:00:00-05:00
Rated

5

out of

5
by
IndianaSPEED
from
Great display but poor tracking and comfort
The Samsung Odyssey + is a fantastic headset due to the screen quality and no screen door effect. Unfortunately, the head tracking is still not great nor is it very comfortable. Lots of light comes through the areas in front of your nose and above your forehead. The USB and display cord coming from the headset is too short and makes room scale rather challenging. Comparing this to the HTC Vive, the software is also lacking. I have experienced some issues with the headset automatically turning on and launching the Windows Mixed Reality home screen even when not in use. For $299.99.... You simply can't beat this headset though. Great job Samsung. Just make it more comfortable and work on the tracking a bit more. :
Date published: 2018-11-27T00:00:00-05:00
Rated

5

out of

5
by
Dredd
from
Amazing product
I have own Oculus dk2, HTC Vive & Samsung Gear VRI play Elite Dangerous and other flight sims, and have to say the Samsung Odyssey+ is the best hands down of course its got better resolution than the others but with the screen-door effect practically gone reading text is great.I do hope Samsung come up with a ++ (say 60%+ resolution increase as that would be another giant leap forward as I feel this piece of kit is.
Date published: 2019-03-07T00:00:00-05:00
Rated

5

out of

5
by
sos710m
from
We are having so much fun!
This headset has been a blast. The games play without giving my eyes fatigue, though I still get motion sick in the Windows MR home area. The controllers desperately need locks on the wrist straps to make them more secure and the foam padding is stiff enough to be uncomfortable if the headset isn't sitting just right on my face.
Date published: 2018-12-29T00:00:00-05:00
Rated

5

out of

5
by
Veronese
from
Defective item
After 1 week of using it, 1 display light off. After they change me to another one HMD, and now I had problems with sound from akg headphones.
Date published: 2018-11-23T00:00:00-05:00
Rated

5

out of

5
by
Spreadman
from
Overhyped and not ready
First off I play Elite Dangerous mostly so my review is based on that. I'm a current Rift S user so when i heard about this headset on sale and read the reviews i lept at it. Little did i know it's practically still in beta testing. Even the methods you have to resort to to get things like steam vr to function with it are still in beta. You'll have to jump through hoops and tinker with all sorts of settings to get this thing anywhere near usability and that isn't how a headset should be out of the box. With my rift i plug it in and play. With this oddysey+ I had to google all sorts of tips and tricks and tweaks that ultimately didn't even work.ClarityMy oculus rift s has superior clarity compared to this thing and for something touting supposed higher resolution this astounded me. I expected superior clarity but everything was just incredibly blurry. And I set my IPD correctly to boot. IPD SettingsEven the manual adjusting IDP setting is way too sensitive. A slight turn of the wheel sends the ipd roaring across the spectrum. I'd rather have it software based like the oculus. Heat GenerationAnd the heat these things generate. I can't imagine using this thing for long periods of time without my face sweating profusely. It is like a small space heater in your face. Screen Door EffectAnd the SDE? It's worse on this than it ever was on my Rift-S. I don't know how they figured they got rid of SDE when its clear as day. TrackingAnd tracking is horrid. Can't believe they only added 2 tracking cameras to this thing. It's no surprise there. My friends say it's playable but i disagree. When your screen loses tracking as often as this thing did it becomes quite unplayable.Image Quality/Resolution/SupersamplingDid I mention how blurry the image quality is? It is like i'm tripping on acid. Everything has trails behind it. aka Ghosting.Maybe in time and future updates to this headset it can be everything they're promising but for now i can not recommend this headset. I returned it in the end. Going to stick with my Rift-s til something better and more affordable comes along that doesn't require separate base stands.
Date published: 2019-08-02T00:00:00-04:00
Rated

5

out of

5
by
Adriel Z
from
Annoying cable and doesn't work well with glasses
Note: I didn't buy this VR headset, our University gave us these for our degree so thought I'd post my review here to inform people and my experience with it.----Samsung I think failed this product.Features: 3 out of 5 starsPerformance: 5 out of 5 starsDesign: 3 out of 5 starsValue: 3 out of 5 starsFirst off, is the cable on the left side of the headset. If you move around the tracking space you'll feel it and if you're clumsy you will most likely fall.As being a far sighted eyed human I thought I wouldn't need my glasses for this headset but I was wrong. I tested each lenses scale and it just has a blurry view. It also doesn't work well with glasses and it kinda hurts while wearing both things, Samsung didn't test this very well.For being a $500 headset, with the headset not being wireless and Samsung themselves didn't test this headset with people to wear glasses. I call this a failed product where other companies can take advantage of.
Date published: 2019-08-06T00:00:00-04:00