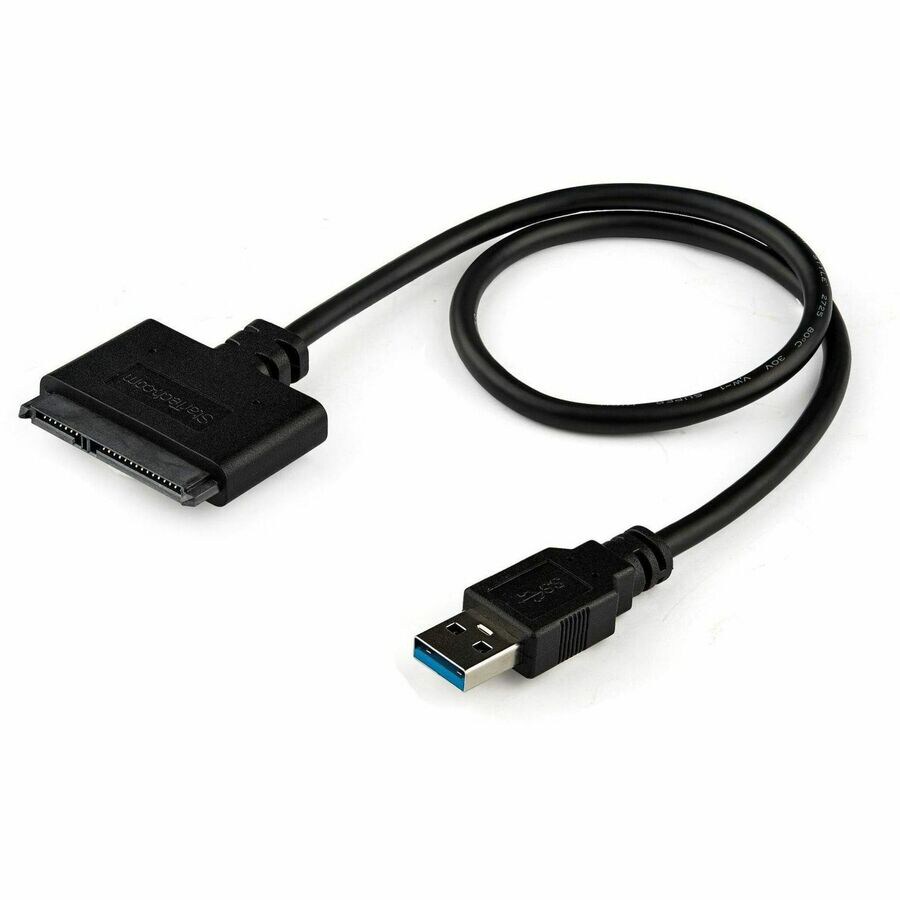 Quick tech specs
A port on a laptop with this SATA to USB cable
The SATA to USB adapter is a portable solution no external power is required
The cable is plug-and-play and doesn't require drivers
The hard drive USB adapter supports USB 3.0 5Gbps but you can experience 70% faster data transfer speeds if your laptop supports UASP
The hard drive transfer cable lets you easily swap between drives with no need to install the drive inside an enclosure
View All
Know your gear
This SATA to USB cable is an external drive adapter that gives you quick and easy access to a SATA drive through the USB-A port on a laptop.
Upgrade the Drive on Your Laptop
This SATA solid-state (SSD) or hard drive (HDD) adapter lets you upgrade to an external 2.5" SATA SSD or HDD.
The cable lets you: add drive space, perform backups, create disk images, implement data recovery, and transfer content between the drive and the laptop. The hard drive converter externally connects directly to your hard drive connector and your computer's USB port.
Faster Transfer Speeds with UASP
The cable supports USB 3.0 data transfer speeds of 5Gbps. But, you can experience transfer speeds up to 70% faster than conventional USB 3.0, when connected to a computer that also supports UASP. With UASP you can utilize the full potential of a SATA III SSD or HDD. UASP is supported in Windows 8, Mac OSX (10.8 or above), and Linux.
In testing, UASP performs with a 70% faster read speed and 40% faster write speed over traditional USB 3.0 at peak performance.
At the same peak in testing, UASP also shows an 80% reduction in required processor resources.
Connect from Anywhere
The SATA to USB cable is a portable solution that tucks away nicely in a laptop bag -- no external power is required. The cable lets you easily swap between drives with no need to install the drive inside an enclosure. It's plug-and-play and doesn't require drivers.
USB3S2SAT3CB is backed by a StarTech.com 2-year warranty and free lifetime technical support.
StarTech.com SATA to USB Cable w/ UASP - USB 3.0 - 2.5" SSD or HDD
is rated
3.29
out of
5
by
14
.
Rated

5

out of

5
by
danichelsea
from
Works well with SSD, but not with 2,5 HDD
I bought it to copy my whole computer to a SSD and worked fine, but I tried to use the old one as external USB and I'm not able to format it, it says "non initilized drive", and shows error when trying to initialize.
Date published: 2016-11-20T00:00:00-05:00
Rated

5

out of

5
by
sgto416
from
Works well and part of my toolkit!
The USB 3.0 to 2.5" SATA III Hard Drive adapter cable w/UASP - SATA to USB 3.0 Converter for SSD / HDD works with my Windows laptop but it seemed like I needed a USB 3.0 port to provide enough power because when plugged into a USB 2.0 it would not light up.No special software or drivers required - the hard drive showed up as another drive when I looked at My Computer.I received this product in exchange for an unbiased review.
Date published: 2017-12-21T00:00:00-05:00
Rated

5

out of

5
by
5789pack
from
As advertised
Quick and efficient ordering. Product as described.
Date published: 2016-12-23T00:00:00-05:00
Rated

5

out of

5
by
Vio54321
from
Nothing to fix, or download at this page.
I have many CP with various operating systems, both my SATA are 700mA, none is recognized anyplace.
Date published: 2019-04-28T00:00:00-04:00
Rated

5

out of

5
by
michaelkenward
from
Compact and effective
This does the same job as much of the ageing clutter of much larger hardware that I have lying around. Just right for spare 2.5-inch drives. One small quibble, no indicator light.
Date published: 2015-05-05T00:00:00-04:00
Rated

5

out of

5
by
Qazqaz128
from
Better than expected
I bought this product about 2/3 weeks ago for my old Internal Sata HDD that I removed from and old PC. Instead of smashing it up I decided to buy this cable and turn it into an external storage device (after formatting).I must say for the price it is spot on, the build quality is great, it comes nicely packaged and I did a speed test with my brothers regular External HDD and the difference was noticable. I really like this product and I would definitely recommend/buy another product. No problems to date, happy customer! Thanks StarTech!
Date published: 2014-04-17T00:00:00-04:00
Rated

5

out of

5
by
nobodyspecial
from
null
Doesn't work with any of my 2.5 sata drives.So, unfortunately I won't be buying any more of your products.No need to contact me about it, it went to the trash.
Date published: 2017-08-25T00:00:00-04:00
Rated

5

out of

5
by
NickD_CA30
from
Quick and Simple
I have tested this SATA to USB cable using several different SATA disks including regular 2.5" spinning disks and 2.5" SSD disks.The cable comes in zip lock bag with a little instruction book. The cable is very strong feeling and has a good amount of flex. The cable is long enough that I can connect it to a USB port on the bottom of my normal size PC tower and have the other end with the drive sit on top of the tower. The SATA end of the cable has 4 tiny pin holes in it which on close inspections with a drive connected, one of them has an LED in it. The LED stays lit to indicate that it is working and then flashes for disk activity. When connected, the computer detected the cable and attached drive very quickly. Transferring data to the drive was very quick and consistent in speed throughout the process. I have confirmed that this cable only works with 2.5" drives as the product describes. I guess USB just doesn't have enough power for full size 3.5" drives, which isn't a flaw of the product but larger hard drives. Great simple cable to get data from 2.5" drives. Instant portable hard drive cable or help in recovery of files laptop/SSD hard drives. I received this product in exchange for an unbiased review.
Date published: 2017-11-08T00:00:00-05:00
Rated

5

out of

5
by
laxdad48
from
Not what I expected
Just got my cable, seems to work with some 2.5" HDD's and not others. Particularly IBM 500GB 7200RPM 2.5" drives. Tried on 2 Lenovo laptops, t400 and t440, and macbook air.IBM FRU 1P42D0752. All drives work with BYTEC drive mate with power supply.Also the cable is only 9" long making it awkward to hookup and use. No usb 3.0 or data indicators. Also I can't boot off known good drives with this cable. I am able to transfer files with the drives that do connect to the laptop
Date published: 2017-09-09T00:00:00-04:00
Rated

5

out of

5
by
timc
from
Worked twice
Work the first 2 times I used it. Now it wont work at all on a PC or MAC. The cable has never been bent or abused. Very disappointing.
Date published: 2017-09-07T00:00:00-04:00