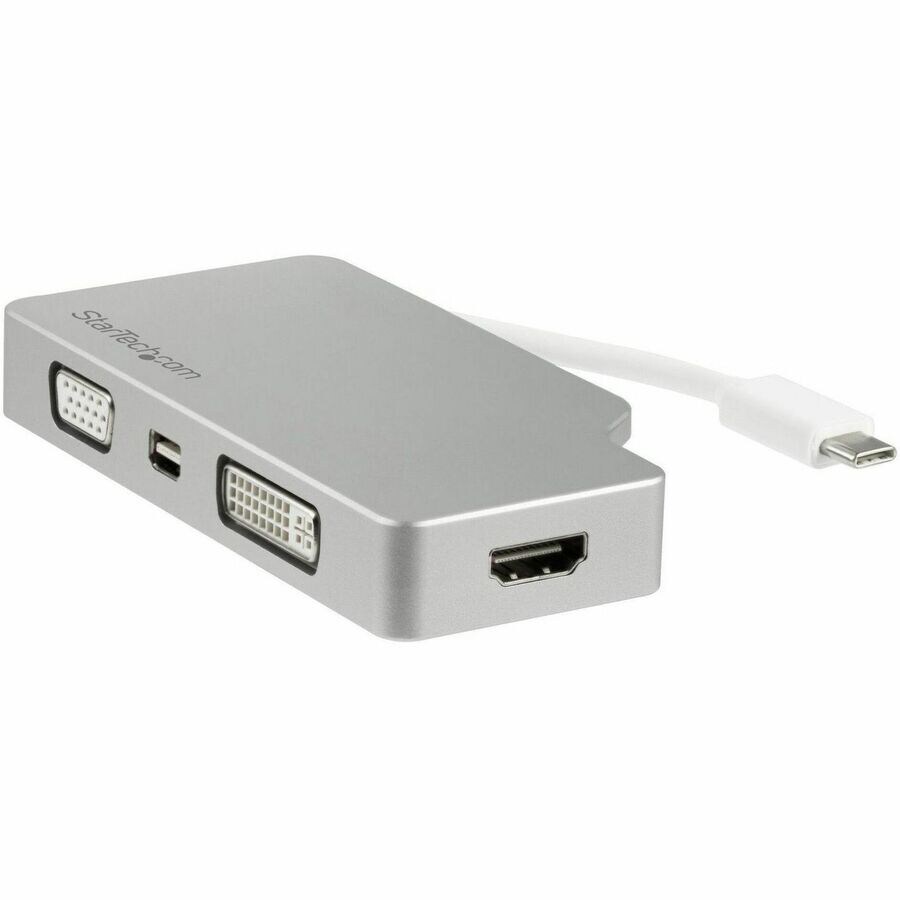 Quick tech specs
4-in-1 multiport USB-C video adapter to any one of HDMI 1.4 (4K 30Hz) or Mini DisplayPort 1.2 (4K 60Hz) | VGA or DVI (1080p) | HDCP 2.2/1.4
For USB Type C/Thunderbolt 3 laptops like Dell XPS Precision Latitude/Lenovo ThinkPad X1 Carbon Extreme/Surface Laptop 3 Book 3/MacBook Pro Air/HP EliteBook Spectre ZBook/Chromebooks
No Drivers Windows macOS Linux Chrome OS
Portable and durable aluminum Silver housing w/ magnetic hideaway cable
Tested w/ range of displays/monitors/projec- tors
View All
Know your gear
This silver USB-C multiport video adapter offers a portable solution for connecting your USB Type-C to a VGA, DVI, HDMI or Mini DisplayPort display. The adapter is also available in space gray (CDPVDHDMDPSG) and rose gold (CDPVDHDMDPRG) so you can choose an adapter that matches the style of your laptop.
All-in-One Video Connectivity with Travel in Mind

Avoid the hassle of carrying different adapters for different displays with this 4-in-1 USB C display adapter. With VGA, DVI, HDMI and mDP output, you can connect your laptop to virtually any display, a convenient plug-and-play solution for travel or Bring Your Own Device (BYOD) applications, wherever you go.
Astonishing Picture Quality

The HDMI and mDP outputs on this USB-C video adapter support UHD 4K resolutions, providing four times the picture quality of high-definition 1080p. All of the outputs (HDMI, mDP, VGA, DVI) can support high-definition resolutions of up to 1920 x 1200.
Stylish Connectivity

The USB Type C multiport adapter has an aluminum housing designed to match your silver MacBook and is compatible with any device that supports USBC DP Alt Mode. Featuring a built-in USB-C cable with magnetic cable manager, the USB-C video adapter conveniently stores away for easy travel.
The USB Type-C multiport video adapter is backed by a StarTech.com 3-year warranty and free lifetime technical support.
StarTech.com USB-C Multiport Video Adapter - 4-in-1 A/V Adapter - 4K 60Hz
is rated
4.50
out of
5
by
8
.
Rated

5

out of

5
by
James H
from
Travel A/V Adapter for Computers Made Easy
I have been in the technology business for over 35 years and for the past 20+ years I have been asked to provide unbiased reviews of various products from both the AV and IT world. In review of this product I found it to be very stylish with a rugged design perfect for travel with it's brushed aluminum exterior. I connected this to my 4K LED display from my laptop and there was no tearing or pixalization when watching a 4K stream at 25'. I like the variety of outputs on this unit, which make it perfect for the business road warrior.In the box:-Aluminum Travel A/V Adapter: 4-in-1 USB-C to VGA, DVI, HDMI or mDP - 4KIn summation, solid product, stylish, rugged and easy to use.I received this product in exchange for an unbiased review.
Date published: 2017-01-27T00:00:00-05:00
Rated

5

out of

5
by
nd345
from
Works Dell XPS 13 Ubuntu 17.04
Did not test w/ 16.04. Needed to add higher resolution with xrandr command (non-persistent, but it works). example: xrandr --addmode DP-1 1680x1050
Date published: 2017-10-07T00:00:00-04:00
Rated

5

out of

5
by
Starr
from
Connect any Display to USB-C
This device pretty much covers any external display connection you need for a USB-C device like my MacBook Pro. This is a very nice compact device that even allows you to lock in the USB-C cable on the side to make it easy to travel with. I tested out the VGA, Display Port and DVI ports on the same monitor and found that with each connect the video quality improved. I connected the HDMI port to a 50" LED TV and the picture quality was just as good as my laptop screen. The device only allows for one video connection at a time but overall it is a great find for travel. It is compact and functional.
Date published: 2017-01-24T00:00:00-05:00
Rated

5

out of

5
by
ShaunOntario
from
Fantastic Build Quality & Flexibility
This display adapter has enough flexibility to support just about any current display connection requirements. Particularly if you're watching content from an Apple product to a 4K television, you'll find the size and the ease of switching between, say, 4K and HDMI connections simple and easy to manage. The unit itself is quite heavy and the USB-C connector is manufactured from rugged cabling that should last well beyond the 2 year warranty period. The housing of the unit is polished aluminum and the USB-C connector folds in and and holds tight. I tested each of the connectors for fit and each one held tightly without having to be screwed in. Signal quality through the tested ports were good. Packaging was easy to break down for recycling purposes.
Date published: 2017-02-16T00:00:00-05:00
Rated

5

out of

5
by
scottgosse416
from
Video adapter that doesn't require a power adapter
If travelling or conducting presentations at customers / clients offices we have all had the issue of having the right cable / adapter for a big screen display. With the 4-in-1 travel A/V adapter we now have the option of outputting to a mini DisplayPort, VGA, DVI or HDMI while using a USB-C 4K connection to laptop, tablet, etc.I have one of these in each boardroom to avoid confusion and last minute scrambles.This is a rugged device and should be added to the toolkit of any road warrior!I received this product in exchange for an unbiased review.
Date published: 2017-02-12T00:00:00-05:00
Rated

5

out of

5
by
kikeram
from
The device did not work
The device did not work with my macbook when connecting the DVI monitor flashes continuously :(
Date published: 2019-06-21T00:00:00-04:00
Rated

5

out of

5
by
NA42again
from
Works great with new Macbook and Dell XPS
Small, sturdy, and one piece (partial "pro" there). Just connected it up out of the box and I had full resolution on my 4k monitor--provided the computer can drive that of course. The multiple output ports are fantastic when travelling. I need only worry about MY computer, and the adapter has the rest covered. I like how the cable wraps around and tucks in.Cons:Just one partial con, the interface cable is both short and non-removable. That's made it rough a couple times, but not a show-stopper.Other Thoughts:I received this product in exchange for an unbiased review. But frankly, I'd have done a review of this device anyway as it's always with me now.
Date published: 2017-02-21T00:00:00-05:00
Rated

5

out of

5
by
Edwardo
from
Nice little unit
I got this product as I am always on the go from office to office either doing presentations or just doing work at the location. This unit lets me plug my laptop into an existing monitor to do my work on a bigger screen or to a TV to do a presentation. Great device to have and easy to fit into a laptop bag because of it's pocket size. The unit is solid and the silver finish case is strong enough to protect it from the bumping it will encounter while being in a laptop bag. The USB C cable tucks away into the side for easy storage. Nice addition to my laptop bag.
Date published: 2017-02-25T00:00:00-05:00
Rated

5

out of

5
by
lzanatta
from
Nice Product
I got one to connect my mini Display Port Apple Cinema Display... It works fine!.
Date published: 2017-03-22T00:00:00-04:00
Rated

5

out of

5
by
Andrew11
from
Portable Presentation powerhouse!
I love this adapter. It's all I need to do presentations, no matter what the cables they have in the meeting room are. It's compact with a foldable cable that fits neatly into the unit, it feels solid and well-built. No drivers to worry about, I just plug it in and I'm ready to begin. I received this product in exchange for an unbiased review
Date published: 2017-02-03T00:00:00-05:00