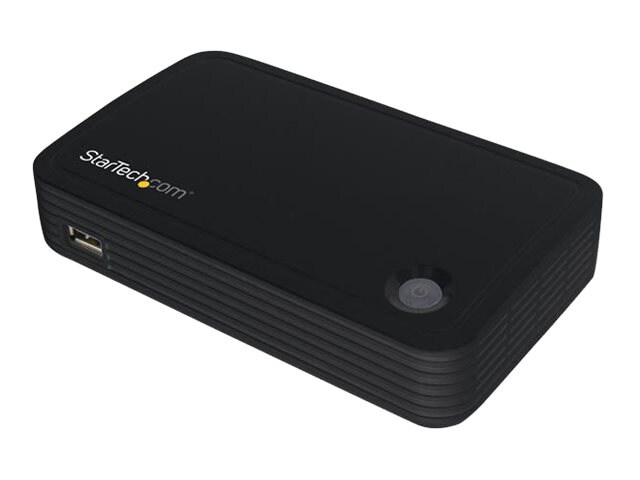 Quick tech specs
Wirelessly collaborate and share content from your Ultrabook or laptop to a VGA or HDMI display,and switch between users
Wireless VGA and HDMI Presentation Hub / Wireless Presentation System for video collaboration / Wireless 1080p screen sharing
Intuitive operation with Windows and Mac computers
Compatible with Wi-Fi enabled computers such as Ultrabooks and MacBooks and HDMI and VGA displays such as televisions and projectors
Make your HDMI or VGA display support wireless video
View All
Know your gear
Wirelessly collaborate by sharing content from your Ultrabook or laptop over Wi-Fi to a VGA or HDMI display, and switch between users. This wireless presentation system is a video hub that lets you share the screen from your Wi-Fi enabled laptop, MacBook or Ultrabook on an HDMI or VGA display. It makes it easier than ever for users to collaborate and deliver presentations in boardrooms and office meetings, with intuitive controls and effortless screen sharing.

The presentation system features both HDMI and VGA outputs and supports resolutions up to 1920x1200 or 1080p. If you're looking to separate the audio from your HDMI video source, the wireless presentation system includes discrete RCA and TOSLINK audio outputs. As an added benefit the wireless video hub has a wired LAN connection enabling computers on your network that don't support Wi-Fi to collaborate, such as your media center or boardroom desktop.

The presentation hub can help you boost office productivity, by making it easier to collaborate and communicate. You can share and switch between up to eight different computers to view documents and multimedia content, which eliminates the disruption of each user having to connect and disconnect each time they want to present information from their laptop.

The system takes collaboration a step further, with innovative features that help capture in-meeting discussions and ideas. You can write and draw directly on the presentation content, or highlight important areas of focus with document markup capability.

The presentation system also lets you transfer documents to other meeting participants or download documents from cloud applications such as Dropbox, so you can annotate your presentation material then easily distribute the outcome of the discussion to your colleagues.

With the video hub, you can turn your VGA or HDMI television, monitor or projector into a wireless display.

In Collaboration mode, you can use the included nScreenShare software to quickly and intuitively share your display between different computers. The software works with both Windows and Mac computers, making it perfect for conference rooms and classrooms where different platforms may be used.

In Wireless Display mode, you can mirror any device that natively supports wireless display, such as your Android smartphone or tablet using AllShare Cast or Cast Screen applications, or your Windows 8.1 laptop, Ultrabook or Surface tablet. In Wireless Display mode, you don't have to install additional software, ensuring it will work for Bring Your Own Device (BYOD) applications at your office.

Unlike some wireless video systems that are difficult to configure, the wireless presentation hub keeps your meetings running smoothly with a simple and intuitive user interface. The software features a Moderator mode, which enables you to assign a leader - such as a teacher, instructor or meeting head - to better organize the session and control who is allowed to present and share their screen.

Note: This product is not intended for high-definition video playback due to wireless video performance limitations.


StarTech.com Wireless Presentation System - WiFi to HDMI VGA - 1080p
is rated
3.50
out of
5
by
2
.
Rated

5

out of

5
by
Wasted budget
from
Insufficient User Guide and Support
I tried setting up the device right out of the box per instructions, but the device keeps asking for a password to connect to the built in wifi. There is no password documented in the userguide. I even hit the reset button with no luck.
Date published: 2017-06-15T00:00:00-04:00
Rated

5

out of

5
by
Andi
from
Works
Works with windows and apple notebooks, is there any solution for ipads connecting to the device via WiFi ?
Date published: 2019-09-25T00:00:00-04:00
Rated

5

out of

5
by
Rob1004
from
Exactly what I was looking for.
Was looking for a way to wirelessly connect users to the training room projector without breaking the bank, and this does exactly that. I have it plugged into the LAN so any PC that has downloaded the software can connect to it. Alternately, users can connect to the WIFI2HDVGA's own built in wifi access point. Either way seems to work very well. It's also supposedly WiDi compatible but haven't tried that yet so can't comment.Software isn't the greatest. It took me a few minutes to work out Conference mode but quite straightforward and obvious once you know how.Also, when you want to customise things away from the default that things get a bit shaky. As a "for instance", I wanted to change its default SSID name to Projector, found out where (I thought) to do it, changed its name, pressed the appropriate buttons and... nothing! Currently, I can't find its in built WiFi but I'll reset it to factory defaults (when I find out how) and am sure all will be fine again.It's because the software isn't as slick as it could be and perhaps needs improving.that I'll give it 4 stars rather than 5 stars, although it probably deserves 5 stars as it does all I want it to and is easy to setup and use. As I type this, users are connected to it wirelessly over the LAN quite happily.Currently, very pleased and feel it's a good, reasonably priced solution for wireless connection to a Projector/large HDMI screen.
Date published: 2016-11-23T00:00:00-05:00
Rated

5

out of

5
by
imworkinhere
from
Great for the price but needs improvement
This little box has a lot of great features for the price however there are a few set backs.-It would be nice if there was a better way for deploying the nScreenShare software. For example an msi package that can deployed through Active Directory or a web portal on the hub for retrieving the client.-For the wired connection it would be better if you could manually enter the IP or hostname information of the hub. When nScreenShare scans for the hub I get an error it couldn't find it and then when I acknowledge the error it finds the hub. The auto discover feature seems kind of buggy and I'd rather just manually enter the information. The auto discover also does not seem to work across VLANs.
Date published: 2018-11-04T00:00:00-04:00