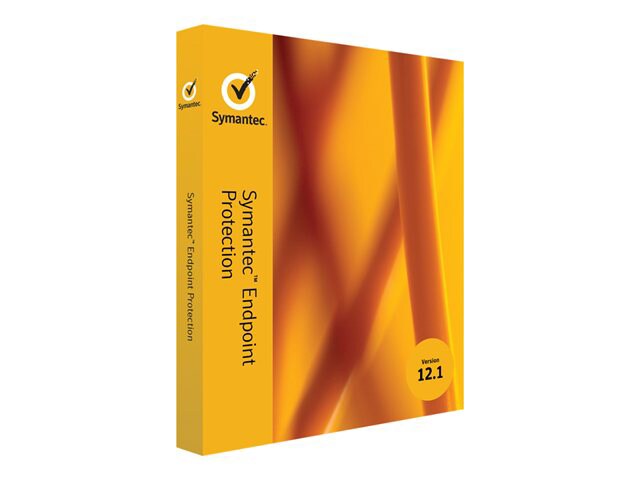 Software Details
(v. 12.1)
1 user
level D (100-249)
license + 1 Year Essential Support
Symantec Buying Programs : Express
View Tech Specs
Know your gear
Symantec Endpoint Protection combines Symantec AntiVirus with advanced threat prevention to deliver an unmatched defense against malware for laptops, desktops, and servers. It provides protection against even the most sophisticated attacks that evade traditional security measures, such as rootkits, zero-day attacks, and mutating spyware.

Symantec Endpoint Protection delivers more than world-class, industry-leading antivirus and antispyware signature-based protection. It also provides advanced threat prevention that protects endpoints from targeted attacks and attacks not seen before. It includes turnkey, proactive technologies that automatically analyze application behaviors and network communications to detect and block suspicious activities, as well as administrative control features that allow you to deny specific device and application activities deemed as high risk for your organization. You can even block specific actions based on the location of the user.

This multilayered approach significantly lowers risks and gives you the confidence that your business assets are protected. It is a comprehensive product gives you all the capabilities you need, now with the ability to enable the pieces you need, as you need them. Whether the attack is coming from a malicious insider or is externally motivated, endpoints will be protected.

Symantec Endpoint Protection increases protection and helps lower your total cost of ownership by reducing administrative overhead as well as the costs associated with managing multiple endpoint security products. It provides a single agent that is administered via a single management console. This simplifies endpoint security administration and provides operational efficiencies such as single software updates and policy updates, unified and central reporting, and a single licensing and maintenance program.

Symantec Endpoint Protection is easy to implement and deploy. Symantec provides a range of consulting, technical education, and support services that guide organizations through the migration, deployment, and management of the solution and help them realize the full value of their investment. For organizations that want to outsource security monitoring and management, Symantec also offers Managed Security Services to deliver real-time security protection.


Availability:
Discontinued