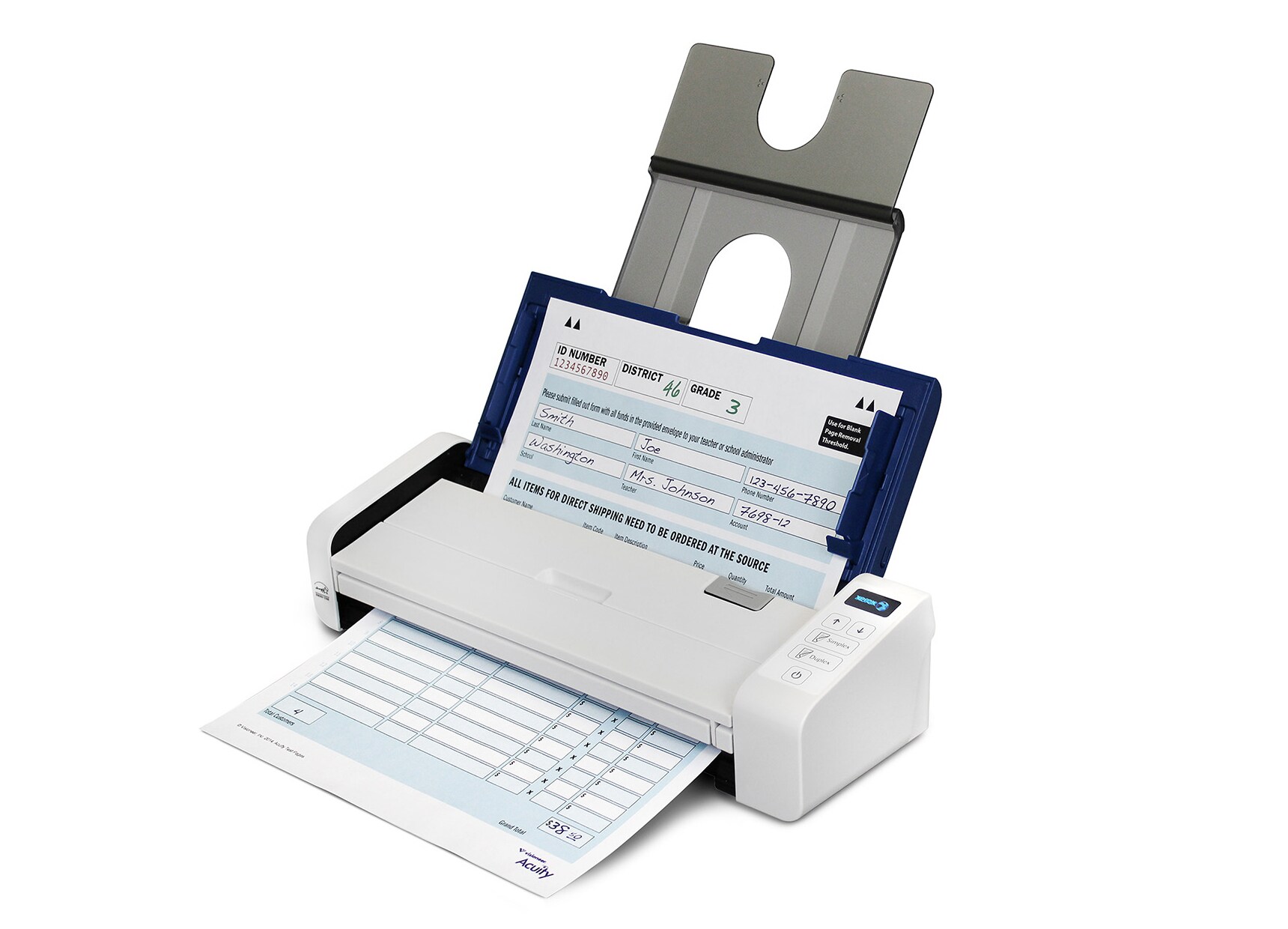 Quick tech specs
Duplex
600 dpi
up to 1000 scans per day
8.5 in x 118 in
up to 20 ppm (mono) / up to 20 ppm (color)
USB 2.0
View All
Know your gear
The Xerox Duplex Portable Document Scanner quickly converts paper documents into digital files and saves them as PDFs, JPGs, and other common formats. Designed to handle everything from business cards to plastic IDs to large documents, this portable scanner also offers a powerful suite of software designed to organize your business-critical information and convert it to searchable and editable data. Compatible with PC and Mac, the compact scanner can be operated using a USB cable or wall plug.
Xerox Duplex Portable Scanner- Sheetfed Document Scanner
is rated
4.30
out of
5
by
13
.
Rated

5

out of

5
by
Arlene
from
Has worked out really well
Like most in California, my company has been teleworking and I needed a small scanner. It has worked very well.
Date published: 2020-06-01T00:00:00-04:00
Rated

5

out of

5
by
Dave H
from
Great Scanner But Bad Software
I bought this scanner to use as a mobile addition to my laptop when I travel. I think the scanner hardware is very good and runs all the work I need very reliably. The only issue I found with the scanner hardware is the feeder ramp. There seems to be small bumps along the guides that can interfere with loading the auto feeder but this is a minor issue. The software that comes with the scanner is junk. There are two many issues with the software to cover here but it is in my opinion unuseable. I ended up using a free third party software which fixes all the software issues. Also, for a "portable" scanner I can not find a suitable hard case that fits this scanner. I guess I will just keep the original box until it wears out. I would have given this a five star rating if the software was any good. The scanner is great.
Date published: 2020-05-09T00:00:00-04:00
Rated

5

out of

5
by
zwing
from
Not quite right for my needs...
I found the Xerox Duplex Portable Scanner to operate satisfactorily in general, but am somewhat unhappy with the method with which the scanner operates. My misgivings are primarily with the scanner interface, which features preset configurations. I find that I do not like the preset configurations that are a result of the software installation. That having been said, I am sure that there are those who enjoy having these configurations already in place. Basically, this is a scanner for a businessman to take on the road with him, with preset configs for reading business cards, etc. I wish that this had been stated in the advertising for the scanner. For me, however, the scanner was not so appropriate. I wish that the interface of the scanner allowed the user a bit more active control over the configuration of the scan. I also wish that control over the scanning properties could be exerted on the scanner itself, rather than in "one touch" on the laptop; that changes in scan properties could be made on the scanner interface, which then communicated those changes to "one touch" through the USB cable. Truthfully, I found changing the properties on the laptop a bit "odd", but that may be only because I am relatively inexperienced with scanners in general. For my part, I only wanted to scan 8.5 x 11 documents into higher resolution (600dpi .jpeg and image .pdf files. i found that I could not scan a 600dpi .jpeg save in the configuration featuring the Abbyy business card reader, which did not render the full document intact. I could only scan a .jpeg to the photo config. at 300dpi. This was disappointing to me. For my needs, a scanner with less features: which only scanned 8.5 x 11 docs at 600 dpi (or higher) in color or b&w, allowed for simple selection of resolution and file type (.pdf, .jpeg, etc.) before the scan, and allowed the user to select the destination of the resulting file upon completion of the scan (perhaps through the MS file manager), would have been preferable. To summarise: "Interface!, Interface!, Interface! (with an emphasis on easy to select user control)" Thank you , and I hope this feedback helps you to improve your product line. I cannot say whether I would recommend Xerox scanners to a friend, as I have never used another scanner...
Date published: 2019-09-09T00:00:00-04:00
Rated

5

out of

5
by
gb01
from
Good Personal Scanner
I've had a few different scanners. This one has the features of the much faster office-level scanner but is just fine and fast enough for home or home office use. The software works much better with Windows 10 than the Epson scanners despite updating that software. The scan quality is good, it has a small footprint, and is quiet to operate.
Date published: 2018-07-16T00:00:00-04:00
Rated

5

out of

5
by
Mina
from
Amazing scanner
Xerox portable scanner is a great one very easy to use and fast , can load many paper in one shot.
Date published: 2018-09-05T00:00:00-04:00
Rated

5

out of

5
by
MScoggins
from
Suppport experience
Was having an issue with a new scanner that was installed but wasnt working with my client's program. Tech support was quick to assist and was able to quickly help me determine if it was the scanner or the 3rd party program.
Date published: 2018-12-17T00:00:00-05:00
Rated

5

out of

5
by
Ricardo
from
Portable scanner - Works Great
Purchased a scanner that scans both B/W and Color. Light weight enough to carry in a back pack. Small enough to fit on a desk so it wont take up a lot of space. This is no a high capacity scanner for large jobs but Xerox does have those as well. Great product and happy with it
Date published: 2019-05-01T00:00:00-04:00
Rated

5

out of

5
by
James
from
PORTABLE 7600I SCANNER
the scanner worked fine until the paperport software was somehow destroyed --leaving the scanner unuseable. I would like to have reinstalled. however, xerox has not accommodated mmy whish. good product with no software is a questionable product.
Date published: 2018-12-27T00:00:00-05:00
Rated

5

out of

5
by
inga
from
A really good scanner
Works much better then expected with very good software included, really like the duplex feature in such a small package.
Date published: 2019-04-25T00:00:00-04:00
Rated

5

out of

5
by
Viren
from
Fantastic product
It must be a option for kroll software for all pharmacy. Very quick and superb scanning quality.
Date published: 2019-05-06T00:00:00-04:00
Rated

5

out of

5
by
ScanningBear
from
compact and speedy
For a portable scanner I could not ask for more. Scans are speedy and have good resolution.
Date published: 2020-08-21T00:00:00-04:00
Rated

5

out of

5
by
Ensey2018
from
Mediocre
The scanner scans in quality images. My problem with the scanner is that it jams frequently, and fails to compete the scan multiple times in a row. I've had to scan the same document six times before it finally stopped giving an error message saying scan failed to complete.
Date published: 2020-03-25T00:00:00-04:00
Rated

5

out of

5
by
mbbroome027
from
Great product, easy setup, portability, & quality
I had a great printer, but it lacked a high-quality scanner. After researching available products, I found out that the Xerox Duplex Portability Scanner checked all of my boxes. The scanner is quite affordable, easily transportable, and very versatile. I could not be happier with my purchase.
Date published: 2022-10-28T00:00:00-04:00