Business and Supplier Diversity at CDW
CDW's deep experience, expertise and commitment to diversity excellence is critical to our ongoing success. We invest time building partnerships with our diverse suppliers and in working side-by-side with them to serve our customers.
A successful business diversity program seeks to provide diverse suppliers equal access to purchasing opportunities, but it also promotes diverse supplier participation reflective of the community and customers; optimizes your supply chain; creates revenue, jobs and wages; builds stronger communities; unleashes economic growth and raises the competition as a corporation needs to meet a diverse supplier spend.

Watch to learn more about CDW's commitment to Business Diversity.
How We're Doing: CDW's Business Diversity Growth Story
In 2007, when we formalized our Supplier Diversity Program, CDW facilitated around $359 million of spending with small and minority-owned businesses. In 2022, that figure grew to $3.6 billion, our highest annual expenditure to date

It means our total spending with our diverse partners has now reached more than $25 billion while the number of them with whom we work also continues to rise year on year, now standing at over 1,400.
Read CDW's 2022 Economic Impact Report (PDF) →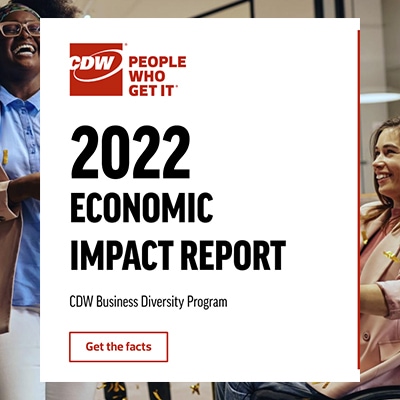 Email our team to learn more about CDW's Business Diversity Program.
Become a Diverse Supplier
As a diverse business owner, you have goals for growing and developing your company, and becoming a diverse supplier to a Fortune 500 company. Let's talk.
Alongside our membership of the Billion Dollar Roundtable, we actively support a variety of organizations and events that focus on identifying opportunities for small and diverse businesses to thrive and grow.
We're also proud to have been recognized for diversity excellence by a number of leading organizations and publications dedicated to providing greater representation, employment and economic advancement for minority, women, veteran and LGBTQ+ communities.