About Kingston
Kingston makes technology products that empower innovation. For home, for business, Kingston is right there with you. Offering a full range of SSD, DRAM and encrypted USB drives, Kingston provides quality components, rigorous testing and industry-leading warranties.
---
Kingston is with You

Kingston memory and storage products are relied on worldwide by corporations, data centers and technology enthusiasts alike.
---
Kingston Solutions
For quality, reliability, price and performance, here's why Kingston is the smarter choice.

High-Performance Memory Technology
Kingston's longstanding reputation for quality is backed by rigorous product testing, exceptional support and a commitment to their customers' satisfaction.

Why Kingston is the Smarter Choice
Throughout the sales cycle, Kingston makes sure you have the resources and support you need to keep your customers happy—and your business moving forward.

The Right SSD for Your Needs
With a wide range of options for entry level to enthusiast, portable SSD, and gaming, users will experience faster boot, loading, and data transfer times.
---
Memory Products
Increase your desktop's or laptop's processing power with Kingston memory add-ons. They're guaranteed to be compatible and offer a great cost-performance benefit, plus better multitasking, faster processing of media files and smoother streaming.
---
Solid State Drives
Kingston's fast and reliable SATA and NVMe SSDs are also a great choice for new PC builds, servers and system builders.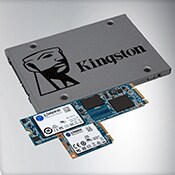 Add speed to an old desktop PC or laptop by upgrading from a hard disk drive (HDD) to a Kingston SSD.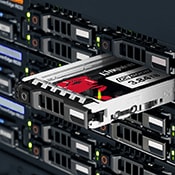 Kingston's Enterprise NVMe and SATA 3.0 Data Center (DC) SSDs are designed with strict QoS requirements and a thorough testing process.
---
Flash Products
Get on-the-go data storage and data storage accessories.
---
Gaming Products