Storage solutions and cloud capabilities that deliver performance and scalability

Explore NetApp Products and Solutions
Whether you're developing in the cloud, moving to the cloud, or creating a cloud experience, NetApp specializes in helping you get the most out of your data with industry-leading cloud services, storage systems and software.
We simplify and accelerate your cloud transformation by delivering unmatched control, protection and efficiency for your data workloads and applications running in the cloud.
Take advantage of enterprise-grade storage wherever your apps reside — on premises, hybrid cloud or multicloud.
Monitor, optimize and secure your cloud resources. Control performance and utilization of cloud workloads.
Focus on your workloads, not your infrastructure. Reduce costs and create a cloud portfolio that matches your commitment needs.
When it comes to modernizing and simplifying your storage environment, NetApp is a proven leader. From simple, smart, trusted storage for shared NAS and SAN environments to arrays built for dedicated, high-bandwidth applications like data analytics and disk-based backup, we work with you to design the perfect solution.
NetApp AFF A-Series arrays supply leading-edge, enterprise-class, scale-out all-flash storage with the industry's most advanced data management.
Entry-level NetApp storage systems deliver all the benefits of flash storage, at a lower price point.
NetApp FAS systems are optimized for easy deployment and deliver the flexibility to handle your future growth and cloud integration.
Make sure that your data is always on, always available and easily consumed. NetApp offers proven capabilities to help you build and manage your data fabric.
ONTAP 9 Data Management Software
With NetApp ONTAP® 9, seamlessly manage your data as it flows to and from wherever you need it most.
Securely deploy and manage your NetApp hybrid and multicloud
storage environments.
From core to cloud, data fabric solutions powered by NetApp fuel transformation. NetApp helps you build a data fabric that lets you easily control where applications run and data resides.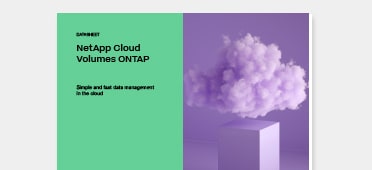 Enable simple and fast data management in the cloud.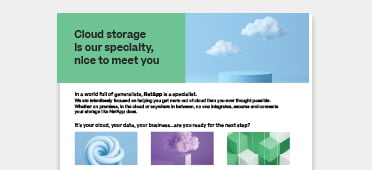 In a world full of generalists, NetApp is a cloud storage specialist.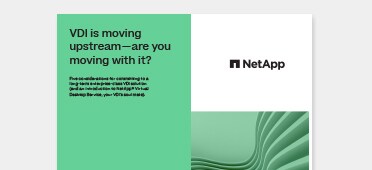 A VDI solution that simplifies and automates
virtual desktops.