About RSA
From on-premises to cloud to hybrid, RSA provides identity-first solutions for security-first organizations to thrive in a digital world with modern authentication, lifecycle management and identity governance. 
---
Understanding RSA Security
Security is at the heart of everything RSA does. Discover RSA's best practices, from dedicated security officers to third party analysis.
---
The Economics of Cloud Identity
For a large enterprise, the move from an on-premises identity and access management system (IAM) to cloud IAM can result in reduced costs for authenticators, help desk calls, operational expenses, staff and infrastructure.  
The RSA Unified Identity Platform
Security risks are ever-evolving as technology adapts. Make sure you are protecting productivity, data and your budget with a unified identity platform that makes it easy to prevent bad actors from accessing your assets. 
---
No More Privilege: The Trend toward Unified Identity Solutions
CISOs seeking identity solutions today want a vendor partner they can count on—one that integrates the entire identity infrastructure and lifecycle, and one that has an intense focus on security.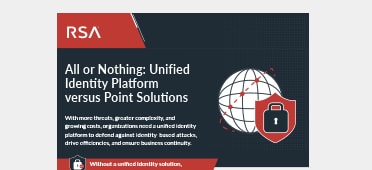 All of Nothing: Unified Identity Platform vs. Point Solutions
With more threats, greater complexity and growing costs, organizations need a unified identity platform to defend against identity-based attacks, drive efficiencies and ensure business continuity. 

ID Plus: DS100 Authenticator
The DS100 is a passwordless, multi-functional security solution that can dramatically enhance user experience while lowering total cost of ownership. From the people who pioneered hardware tokens, the DS100 is the perfect, flexible authentication solution.  
SecurID Governance & Lifecycle Cloud
SecurID Governance & Lifecycle Cloud delivers RSA's full-featured, high-performing governance and lifecycle solution from the cloud. Plus, SecurID provides day-to-day operational support and management to free up your internal resources.
---
RSA Authenticator Choice
The Choice is Yours. RSA is making your authenticator choice easier than ever by supporting new and emerging standards, and offering the broadest portfolio of authentication methods. 
ID Plus E1
Secures cloud-based applications, systems and users with strong identity protection and access management. 
---
---
ID Plus E3
Purpose-built for security-first, highly complex IAM environments that require future-proofed security

ID Plus Subscription Plans
Tusted identity your way. ID Plus cloud solutions provide the right level of assurance, protection, and controls to secure your business.
Zero-Trust
As more organizations pursue digital projects, adapt to a hybrid workforce and explore new possibilities in the cloud, the idea of zero trust has become central to IT security today. 
Multifactor Authentication and Identity Access Management
With organizations moving more resources and operations to the cloud and work happening just about anywhere there's an internet connection, the challenge of securing access is growing.  
---
Identity and Access Management in the Cloud
Proceed at your own pace. You need identity and access management that delivers the capabilities and flexibility for cloud on your terms and at your own pace. 
---

---