About StarTech.com
StarTech.com makes IT connectivity easy by offering a broad and trusted portfolio of accessories designed to meet the rigorous technical performance needs of IT professionals. Their products undergo rigourous testing to ensure compatability and reliability, making it easy to find and use the connectivity accessories your business needs.
What's New from StarTech.com
Get an in-depth look at the latest connectivity products and solutions available. 
IT Connectivity Accessories for Education
Whether you're enabling classroom or remote learning solutions, StarTech.com's products provide the rigorous performance needed by IT professionals.
---
Maximize Productivity and Comfort at Home or in the Office
StarTech.com has solutions to keep your team productive and comfortable anywhere they work.
---
Reimagine Healthcare Connectivity
From essential telehealth and remote medical professionals to nurse's workstations in patient exam rooms, our diverse and unique solutions keep healthcare providers and their patients connected. 
---
Product Performance
StarTech.com's trusted portfolio of accessories is developed to meet the rigorous technical performance needs of IT professionals, maximizing reliability and compatibility in your technology solutions.
---
Display Adapters: Improve Productivity with Multiple Displays
StarTech.com can help you identify, find and get the display adapter you need for any situation.
---
Transform Your Laptop into a Powerful Workstation
Do you feel constrained by the port limitations of your laptop? You can easily expand its display, peripheral and USB fast-charge capabilities. StarTech.com's Multiport Adapters (PDF) offer a wide range of productivity features, including multiple monitors and additional port options, while adding the benefits of portability and flexibility.

---
Display Mounts and Ergonomic Products: Work with Flexibility and Comfort
With all of the hours you spend in front of a screen, having a workspace that's comfortable and flexible is an easy way to boost your productivity. Create a comfortable, flexible and ergonomic work space by adding the right accessories and furniture add-ons, including cost-effective StarTech.com monitor mounts and tablet mounts.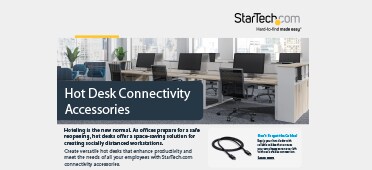 Hot Desk Solutions
Hoteling is the new normal. As offices prepare for a safe reopening, hot desks offer a space-saving solution for creating socially distanced workstations.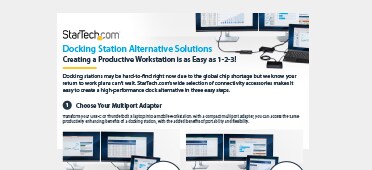 Docking Station Alternatives
StarTech.com's wide selection of connectivity accessories makes it easy to create a high-performance dock alternative in three easy steps.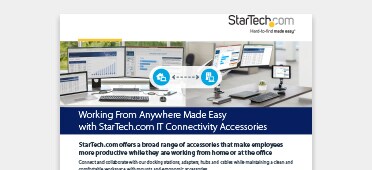 Work Anywhere Connectivity
StarTech.com offers a broad range of accessories that make employees more productive while they are working from home or at the office.