Together we solve, create, inspire, secure and help build your bridge to the possible.
Get a Free Security Assessment from CDW and Trend Micro
Using the power of the Trend Micro Vision One™ platform, this complimentary service identifies malicious activity within specific security layers, across the entire environment, or from recent targeted attack campaigns. Each assessment provides a detailed, downloadable report and recommended response actions.
Hybrid Cloud Security and Cloud One
Deliver the broadest and deepest cloud security offering in one solution, enabling you to secure your cloud infrastructure with clarity and simplicity.
Build in the Cloud with Confidence
Trend Micro services help you map to the AWS Well-Architected Framework so you can build viable cloud architectures.
The Future is Misconfigured
Cloud misconfigurations can present serious risks that can leave your organization vulnerable. Read this white paper for insights from Trend Micro Research.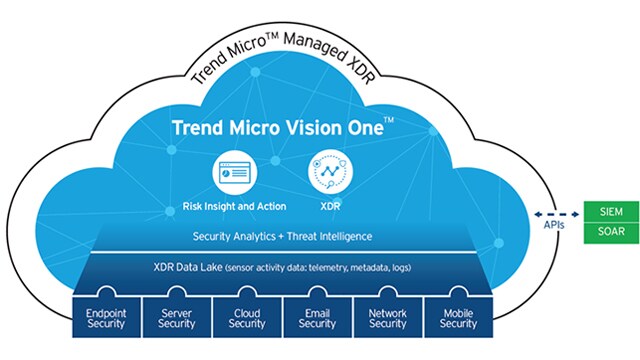 Extend Detection and Response Beyond Endpoints with Trend Micro Vision One™
A threat defense platform engineered to go beyond other XDR solutions. According to ESG, those companies who implement XDR see 50% fewer successful attacks and would need 8 full-time employees to replace XDR capabilities. Optimize your investment without sacrificing performance.
See Trend Micro Vision One in Action
Get an attack-centric view of an entire chain of events by connecting email, endpoints, servers and cloud workloads, with extended detection and response (XDR).
Worry-Free Services for SMB
Complete cloud-based protection for endpoints and email
Nearly 60% of small companies go out of business following a hack and 71% of all cyber assaults occur at businesses with under 100 workers.
Worry-Free Services Suites
Get complete cloud-based protection for your endpoints, mobile devices and email with XDR detection and response.

Read Data Sheet (PDF)
Worry-Free XDR correlates threat data to help you determine the source and spread of advanced attacks.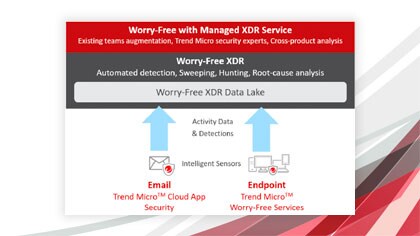 Worry-Free Detection and Response
Trend Micro™ Worry-Free™ with Managed XDR Service gives you: 24/7 threat experts, Detection, Investigation, Response and Remediation.

Read Data Sheet (PDF)



Email and Cloud App Security
Advanced threat and data protection for Microsoft Office 365, Google Workspace, and cloud file-sharing services
Free Microsoft® Office 365® Security Assessment
Protect against advanced threats targeting Microsoft Office 365, Google Workspace and other cloud file-sharing services. Trend Micro and CDW offer a free two-week analysis of how your security solutions are performing.
Contact your account manager, or give us a call.
Learn more about a Trend Micro solution or offering.