Sirius Federal – Federal Government Contracts
Chief Information Officer Commodities & Solutions
This $20 billion, 10-year, government-wide acquisition contract (GWAC) covers IT commodities and solutions for use by any federal civilian or Department of Defense agency to fulfill mission-critical requirements. Federal agencies can use CIO-CS to acquire IT commodity products and commodity-enabling solutions, both onsite and in the cloud. The scope includes:
IT hardware and software

Deployment and installation

Maintenance and training

Engineering studies

Virtualization

Cloud

Mobility
Collaboration tools

Web and video-conferencing

Cybersecurity

Enterprise licenses and extended warranties

Health and biomedical IT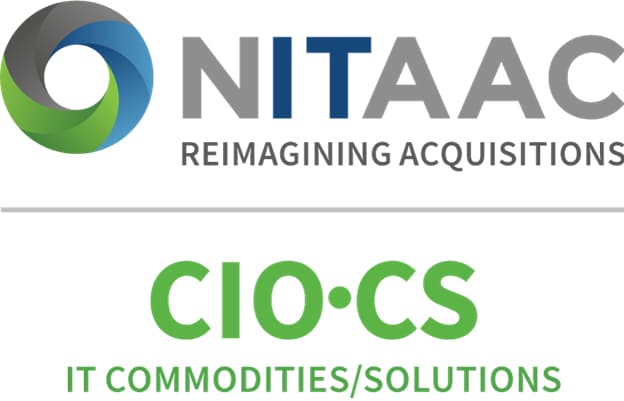 When ordering please have the following information available:
Contract Number: HHSN316201500014W
Term: Effective through April 30, 2020, with one 5-year option through April 30, 2025
Payment Terms: NET 30
NITAAC developed the secure Electronic Government Ordering System (e-GOS), a web-based delivery order processing system, to allow clients to perform fair opportunity in accordance with FAR 16.5 and to integrate workflow management, electronic document management, and aspects of customer relationship management to enhance process efficiency, and improve data/information integrity. Customers are required to use the e-GOS in order to participate in the delivery order process.The NIH Contract Access Fee (NCAF) is a required NIH fee that is fixed at .35% to reimburse the cost of operating and administering the CIO-CS contract. The NCAF is charged against all delivery orders and applied to the total award value, inclusive of the commodities and commodity enabling services. NCAF is not subject to downward adjustment.
Effective January 25, 2017, there is a fee cap for all orders under the CIO-CS GWAC in the amount of $70,000. The fee cap applies to any order base or optional period (not to exceed 12 months) with funding in excess of $20 million.
As the Network Security Company, we offer a wide selection of products, solutions and services. From design to deployment to maintenance, our expert team of engineers and comprehensive approach provide everything you need for the successful outcomes you deserve.
Ace Computers

Alliance Micro Solutions

Colossal Contracting

Four Points Communication Services

Icetech
iSoft Solutions

n2grate Government Technology Solutions

Provideo Management

Softchoice Corporation

UpTime Solutions Professional Services Group