Solving IT Challenges for Rural Healthcare
Rural hospitals and care centers are experiencing new and extraordinary IT demands in unprecedented times. Cost-effective solutions can enable providers to serve more patients while keeping expanded networks secure.
With experience serving over 15,000 healthcare providers, CDWG can help rural hospitals quickly and securely scale the quality of care they offer while working within current technology restraints.
Contact your account manager, or give us a call.
Threat management is a major challenge to all healthcare organizations — but especially in rural communities, security expertise can be hard to hard find and retain. Security Operations as a Service (SOaaS) can provide you with a concierge security team that works directly with your organization — and within your existing technology stack — to proactively protect against threats. CDW partners with SoaaS providers like Arctic Wolf to protect data with measures such as:
24x7 Monitoring

Cloud SIEM Management

Advanced Threat Detection and Response

Proactive Endpoint Security Measures

Internal and External Vulnerability scanning

Cloud Infrastructure and Application Monitoring

Account Takeover Protection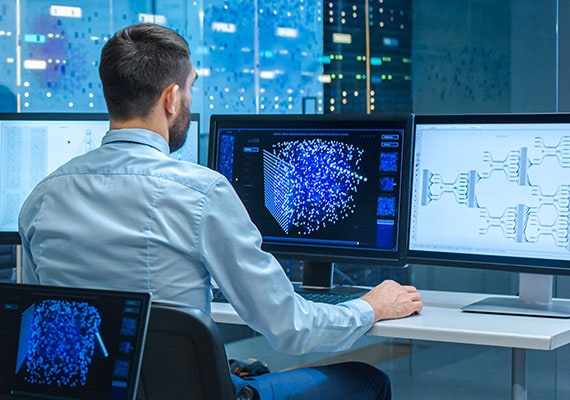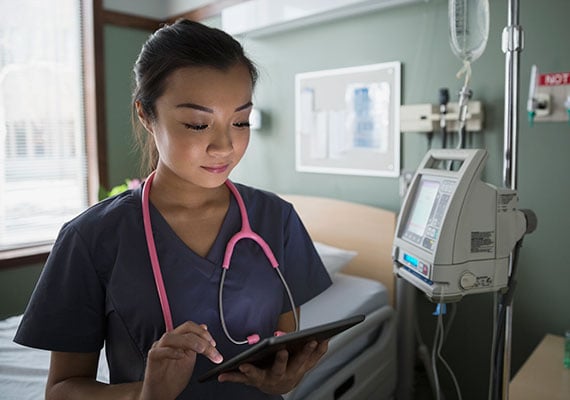 Community and rural hospitals face many challenges in effective communication.  Patients might have limited access to healthcare portals or apps. Providers may find it hard to stay in alignment with individual patient needs. Streamlining clinical collaboration is critical to maintaining quality of care while demand increases. Deploying secure messaging platforms enables easy provider-to-provider, provider-to-nurse and system-to-patient communication over voice, video or text.
Healthcare organizations are in the midst of an unpredictable economic outlook. Reducing costs and optimizing IT investments is imperative. An experienced managed services provider can help rural healthcare organizations scale public health services while keeping costs down.
The rise of virtual care can help rural providers deliver care more efficiently, but there are many considerations that factor into effective virtual care connectivity. First, compliance.  While Centers for Medicare and Medicaid Services (CMS) relaxed the rules for Telehealth during the COVID-19 pandemic, the future need to be HITRUST certified or HIPAA compliant will be once again required. Additionally, hosted virtual desktops are needed to provide secure access to resources for remote workers. Setting up and training workers on collaboration tools such as Microsoft Teams, Zoom and Cisco Webex can be an added challenge. Data protection services are also needed to secure the perimeter of hospital networks and keep patient data secure. CDW offers cost-sensitive services that maximize safety for caregivers and patients while optimizing virtual care costs and access for the community.
Connectivity, Cloud and Colocation
Having an effective unified communications platform in place allows rural providers to field calls outside of telehealth platforms. Managed UC services can extend work phone numbers to other endpoint devices like mobile phones, letting providers offer care on the go and keeping patient data on a secure network. CDW can also help you optimize communication budgets with comprehensive Telecom Expense and Audit Management averaging 25% cost savings, Rural Health Disbursement with up to 65% cost savings, and Outsourced Telecom/Connectivity Management that reduces the overall time investment in invoice reviews and approvals by 40%.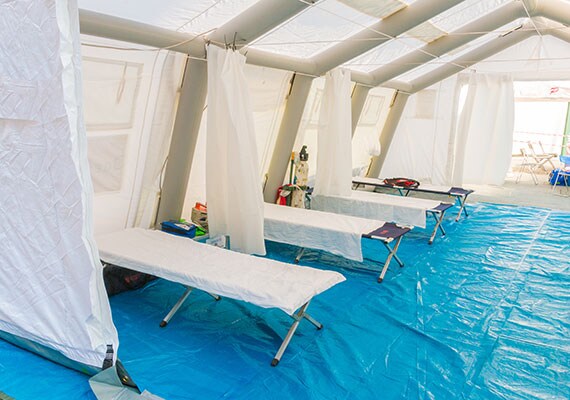 Temporary networks can help hospitals quickly address increases in patient demand. When deploying temporary networks in a rural hospital setting, simplicity, speed, security and compliance are key elements to consider. CDW's Hospital in a Box bundle offers simplified access points that allow personnel to spin up networks in minutes and immediately access hospital IT and diagnostic imaging systems. Leveraging a zero-touch deployment process, Hospital in a Box also offers secure and HIPAA-compliant remote data management with VPN connectivity. Power redundancy enables additional run time in the event of a power outage, securing mission-critical equipment from damage or data loss. And everything can be remotely configured and customized by CDW experts before deployment.
Meet increasing patient demand, increase quality of care and optimize costs.
Contact your account manager, or give us a call.