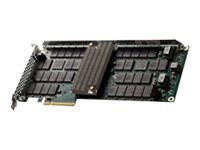 NetApp Flash Cache 512GB PCIe Module 2 - cache accelerator
Mfg.Part: X1973A-R6 | CDW Part: 3160406 | UNSPSC: 43201407
NetApp Flash Cache 512GB PCIe Module 2 - cache accelerator
Product Overview
Use the NetApp Flash Cache 2 Card to upgrade your NetApp filler.
NetApp Flash Cache 512GB PCIe Module 2 - cache accelerator is rated out of 5 by 29.
Rated 4 out of 5
by
Wes Hardin
from
The configuration is very similar and cookie cutter for everything
Valuable FeaturesThe speed: There's nothing like it in terms of throughput and latency that it delivers to our customers, so it's been a real big benefit.Improvements to My OrganizationWe make heavy use of the QoS features. Getting in there, being able to really dig in, and see how the latency breaks down across the various sub-planes of the controller is really useful and helps us deliver more, faster.We sell it as a service to our customers. Our customers come in and buy big chunks of storage, then use it however they want, and this thing handles pretty much every workload we give it.We use both block and file storage.Room for ImprovementIt would be nice if it was faster and bigger. We need more disks behind there for storage.If it did everything by itself, then I'd be out of a job. I don't want that.Stability IssuesThe stability is rock solid.Scalability IssuesIt does scale very well. You bolt it on and it's All Flash underneath, then all the controllers are the same. It's just a very nice homogenized platform that we got there.Technical SupportI don't want to say we've never had a problem, but whenever we do have problems, they get resolved quickly and we have great support from them.We have residents, so that does help. We get dedicated support who are very knowledgeable and able to respond very quickly, and wherever they can't answer it, they know who to go to.Previous SolutionsWe've been using NetApp for a long time. We've used other solutions that didn't quite fair so well, and NetApp has always been there. They've had the single platform on tap. It's great. We love having that everywhere.Based on my experience with AFF, I am absolutely more likely to consider NetApp for mission critical storage systems in the future. It's very dependable.Initial SetupI have been there since the beginning of AFF, and we've deployed dozens and dozens of these clusters.Since all disks are the same, and they're all very fast, we can throw all sorts of different service levels on there. The configuration is very similar and cookie cutter for everything.Pricing, Setup Cost and LicensingIf you can get the price to work right, then this is a fantastic platform to build on.Other AdviceIt delivers on what it promises.We have to have storage everywhere, and we have to have it quickly when we need it. Therefore, NetApp has been able to come through and keep us running for all these years.Most important criteria when selecting a vendor:* They have to have good support.* They have to have good products.* They have to be able to deliver on the scale that we need to deliver on.Disclaimer: My company has a business relationship with this vendor other than being a customer:Partner.
Date published: 2017-10-24
Rated 3 out of 5
by
Emilio Marcos Lopez
from
Using Snapshot, we are able to replicate/clone the production environments. Some workload balancing activities across the nodes are not transparent.
Valuable Features:Two functions are valuable for us:* Snapshot: We are able to replicate/clone production environments to test the SW version up (e.g. the Oracle Financials upgrades).* MetroCluster: Our disaster recovery is based on two active-active sites. The MetroCluster feature allowed us to continue our operations (without business interruption) when we stopped one of the sites.Room for Improvement:This solution is based on the scale-out concept. Some workload balancing activities across the nodes are not transparent (requires server downtime).Use of Solution:We have been using this solution for five months.Stability Issues:We did encounter stability issues but nothing that interrupted the solution; more background type of problems.Scalability Issues:We did encounter scalability issues, the solution is not delivering the requested performance (I/O response time for the requested IOPS).Technical Support:The technical support level is between poor to medium in our geography.Previous Solutions:Previously, we were using the older generation of the NetApp MetroCluster (6240 unit). We switched as this unit was not performant enough, i.e., it had a high maintenance cost for the performance delivered.Pricing, Setup Cost and Licensing:Negotiate everything, i.e., including the price for the future capacity upgrades as part of the deal.Other Solutions Considered:We looked at EMC, HPE, and Fujitsu.Other Advice:You need to understand the limitations of the scale-out architecture.Disclaimer: I am a real user, and this review is based on my own experience and opinions.
Date published: 2017-07-16
Rated 4 out of 5
by
Siddarth Kotha
from
It's easier to provision applications for VMware, VDI, Oracle, and SQL. Supports multiple protocols.
Valuable Features:* CIFS (stable solution)* Ability to support multiple protocolsImprovements to My Organization:* SVM application provisioning: makes it easier to provision applications for VMware, VDI, Oracle, and SQL.* All flash: low latency and higher IOPS since it's all flash.Room for Improvement:Firmware upgrades consistently continue to be the weak spot in all NetApp products.Use of Solution:For 8 months now.Stability Issues:I have not yet had any stability issues.Scalability Issues:I have not had any issues with scalability.Customer Service:On a scale of 1-5, I would rate them 3.5.Technical Support:On a scale of 1-5, I would rate them 3.5.Initial Setup:Initial setup was complex. In spite of the new CDOT 9, NetApp setup is still complex. It requires configuration of all the network interfaces, SVMs, which can become a little overwhelming.Cost and Licensing Advice:NetApp is trying to stay in competition and are offering competitive prices to existing/new consumers. The key is being aggressive.Other Solutions Considered:We looked at Pure Storage and Nimble.Other Advice:Be prepared for a lot of configuration hiccups before being operational.Disclaimer: I am a real user, and this review is based on my own experience and opinions.
Date published: 2017-02-21
Rated 4 out of 5
by
Mustafa Mahmoud
from
Performance is the most important feature. We use it for SQL, Oracle and SAP.
Valuable Features:The most valuable features are the performance, speed, and that it is easy to manage. The most important one is performance. We use it for SQL, Oracle and SAP.Improvements to My Organization:It makes the applications faster for production. There are no complaints from users about slowness. Performance is the main benefit of the All-Flash FAS.It has made us more efficient, because we are an oil and gas company. Most of our applications depend on Oracle, SAP, or SQL, where it needs good performance. We have 24/7 operation. We cannot stop for any reason, because we need to produce oil, always.Room for Improvement:There is room for improvement with the price. I'd like the price to go down.At a recent NetApp conference, I attended a lab for Data ONTAP 9. I don't know everything about it. I need to spend some time to go through it; to see what they can improve.Other than that, I don't have anything in mind.Stability Issues:It's very stable; no issues. We have had it installed for the last 12 months, and there have been no issues up until now.We have already decided to buy more of them. I think, by end of this year or the beginning of next year, we will release the order for this.Scalability Issues:About 90% of our data center is sitting on NetApp, either All Flash, 8080 or something else. VMware is also sitting on NetApp. That's also good; no scalability issues.Technical Support:Technical support is very good. But we are also very good; we have solid knowledge of NetApp. I have been using NetApp for the last 12 years.Previous Solutions:We previously used HPE, but that was a long time ago. Since we moved to NetApp, we've only been working with FAS.Initial Setup:Initial setup was straightforward. Installation is easy, but we spent a long time proving it's good; convincing our users, which are application developers or DBAs, to move to this one. But the initial setup is piece of cake.Other Advice:As a storage admin, I just need to install my storage. I don't want someone to call me back and say, "Oh, there is an issue." Right now, we don't have complaints from users. That means less stress, which is fantastic.The interface is pretty good. It's really easy to use.The most important criteria for me when selecting a vendor to work with are stability; how much they improve the technology; service; and support. All of these together are very important.Disclaimer: I am a real user, and this review is based on my own experience and opinions.
Date published: 2016-12-28
Rated 4 out of 5
by
StorageE542e
from
I can rely on the IOPS being there. Latency is predictable and low, and snapshots do not affect it.
Valuable Features:The most valuable features are the speed and the predictable performance. Compared to the spinning disk, I don't have to worry about IOPS anymore. I can rely on the IOPS being there. I can worry about CPU now. It's one less thing I have to worry about as far as performance.Improvements to My Organization:The latency is very predictable and lower. It's very sustained, we know what it's going to be, and it doesn't get impacted by snapshots and so forth.Room for Improvement:The AFF, which is what turns on the bit so that you can have an all-flash array compared to the hybrid array; I'm having troubles in my environment buying systems for smaller sites because I want the all flash array and I want the speed. I can go hybrid and still do SSD but it's making choices hard for me when I'm doing a lot of SnapMirrors and SnapVaults between sites.I want the all-flash but I know I can't because I have to have SATA for the low-cost SnapMirror and SnapVault. It'd be nice if they would turn the switch on per aggregate, or maybe even per node, so that I could use it on some nodes. That way I wouldn't have to choose. Right now, I'm having a hard time choosing between hybrid or flash. I want the flash but I can't get it if I have to go hybrid.I'm also looking forward to more CPU and power that's coming out in the AFF 700 and so on.Other than that, so far, I'm pretty happy.Stability Issues:We had a stability issue. We got bit by a bug that was a compression problem, and we had to do a WAFL check. It was the first time we've ever had to do that only on the all-flash array.The bug had already been identified, but nobody had hit it. We were the first one to hit it. The QA lab had found it. They should have notified all AFF customers before we hit it, because then we could have turned off compression and not hit it until the bug fix was released.Technical Support:Technical support needs improvement. We need access to the backend people without having to go through two layers to get to them, because we're always above the two layers. It's a waste of our time to have to work through them.Previous Solutions:We previously used a different solution, which was coming to the end of its lifecycle.Initial Setup:Initial setup was good. It's quicker, now that they've started sending out the pre-configured systems, or optimized systems.Other Solutions Considered:There weren't any other vendors on our shortlist. We were already in a four-year cycle with NetApp, so we just stuck with the same vendor.In general, when I look at a vendor, the most important criteria is that they have our interests at heart and want to partner with us. Since we're a non-profit organization, we need them to understand what we're doing because we don't have a lot of money to throw around. They have to invest in our belief of what we're trying to do. Cost is part of it, but we still try to pick the technology over the cost, first.Disclaimer: I am a real user, and this review is based on my own experience and opinions.
Date published: 2016-12-27
Rated 4 out of 5
by
systemsa527130
from
We use the speed for all of our database. It takes less time to get to the database and to get data back to applications.
Valuable Features:The best feature is just for databases; the speed that we can use for all of our database, Oracle and SQL. For example, testing with our programmers, testing the systems; as far as the speed of getting to the database, getting their data back to their applications.Improvements to My Organization:The speed itself means it takes less time trying to run queries.NetApp for me has been great. We went from about 30 physical servers and some blades, and now we're over 70 virtual servers and everything's on NetApp. Basically, our utility is about 95% NetApp for storage. There's maybe 5% that are actually outside of that. NetApp has been great.Room for Improvement:We're using it with VMware; being able to do some mirroring to our DR site. The biggest thing I'd like to see would be the ability to break the mirror and stand up the DR site as a production site; see if there's a way to do that almost seamlessly. That would be a big thing to be able to do: if you lose your main site, stand up your secondary site and the customer has no idea.Stability Issues:We've had zero stability issues. We've had a disk go bad and the customer doesn't even know it. That's the best part about it.Scalability Issues:I don't think we've had any scalability issues with it. I think it's great because every time they want more storage or a bigger size, it's easy enough to give them. Growing disk space is great with flash.Technical Support:We haven't needed to use technical support.Previous Solutions:We were not using a different solution beforehand. We had been using physical servers for all of our SQL and Oracle.Testing with some of our programmers, there were some issues with speed compared to physical servers, physical disks. When we did the testing, the older physical servers were actually faster than some of our virtual. We had to do some testing with that and we determined that by going to the flash, we'd get rid of that latency, that issue of slowness.Initial Setup:Initial setup is a little bit complex, but we use a guy who pretty much builds all of our NetApp for us.Other Solutions Considered:Before choosing AFF, we looked around a little bit, thought about some Cisco gear, but decided we just wanted to go with NetApp from talking with a couple of other utilities that we know, that work with us. They were using NetApp, so we just gravitated towards it.In general, when I choose a vendor, the criteria that are important to me are stability, for one; longevity in the business already; and then, of course, word of mouth from other customers. How they treat their customers, how good are they at getting back to you. There's nothing like having a fire and wanting your vendor to be there on the spot to fix it. Other than that, that's probably the biggest thing.Other Advice:Start with planning and whatever you think you need, double it. That's the word of mouth; that's what most everybody says. We bought 20 TBs of flash to start, thinking that's all we would need, and in less than a year, we already reached 14 TBs.Once you go to it, you don't go back. Once everybody gets their speed, they don't ever want to lose that. The nice thing about flash is that it protects the poorly written code. That's our favorite thing to tell the programmers.Disclaimer: I am a real user, and this review is based on my own experience and opinions.
Date published: 2016-12-13
Rated 4 out of 5
by
Flavio Moro
from
A flexible solution for a variety of workloads.
Valuable Features:Snapshot, de-duplication and the efficiency; the storage part and the efficiency.Room for Improvement:The part of flexibility that I can add more… of growth, to enhance the solution.To add more nodes, to put in additional new clusters, and to integrate everything in a set environment with many types of workloads.Use of Solution:For three years.Stability Issues:It's very stable and there is great flexibility to work with this solution.Scalability Issues:Today, we have two pairs of controllers which form a cluster where I can have various types of workloads between the two devices. And, it has great flexibility in order to alter a client that is using a slow disk to a faster disk.Previous Solutions:We used another solution from NetApp with 7-Mode and we are progressing to this new solution.Initial Setup:It is very simple, let's say, any person who has never even worked with storage can perform a load to the server very easily.Other Advice:Most important criteria when selecting a vendor: The ease of putting a number of technologies, for example, a backup, in a single solution. I don't have to worry about other solutions in order to integrate, to format a new product and deliver it to my client.Yes, I recommend the solution, and I even introduce myself by calling the clients to try the All-Flash, and after the client tries it, he/she does not go back to another player or another solution.Anyone who gives All-Flash a try won't go back to what he or she had before.I would give it a nine because there is a lot of flexibility in this solution. We are service providers and our clients have diverse demands, within this solution I can assist a greater number of clients in a variety of workloads.Disclaimer: I am a real user, and this review is based on my own experience and opinions.
Date published: 2016-12-07
Rated 5 out of 5
by
Dan Scullen
from
We spread it out across multiple environments using multiple protocols.
Valuable Features:One of the biggest features, that we've been able to use the most, is spreading out across multiple environments using multiple protocols. Getting all flash in place for us has been really helpful in consolidating a lot of those environments down to a single network structure, as opposed to spreading way out, across fiber and copper. That's probably been the biggest thing.Improvements to My Organization:Our organization is very VMware heavy. Going from old spinning media up to all flash has been a night-and-day difference.Room for Improvement:I was at an executive briefing meeting recently. One of the things that I brought up, that I will continuously bring up whenever asked, is that it seems easy enough to upgrade the OS straight from the OnCommand management software, but one thing that seems difficult is updating disk firmware and qual packages. They almost require you to have a TFTP HTTP server in order to download those files. The easiest thing for me would be to have something on the GUI to just grab that package, drop it in and update it. That's what I want to see. I hope they add that; additional ways to update not just the OS but disk and shelf and qual packages and all that other firmware. If there was a central page to just upgrade all of that other stuff in ONTAP, that would be fantastic.Stability Issues:Stability has been fantastic. We've previously had other vendors for storage, and there have been issues. Ever since we've had the all flash in, we've never had a problem.Scalability Issues:Scalability seems to be something that is a non-issue anymore. If we need space, we can throw in a shelf. If we need more compute, we can add more nodes to it. That was part of going into the purchase of our all flashes, knowing that we can scale both down and up. We haven't had to yet, but we know that it's there.Technical Support:We occasionally use technical support; not too often. I did get certified right before we bought it, so I've been able to do a lot of my own. We have a good relationship with our SE and I've been able to reach out to him. We have several resources available to our company. We've used them, but not a lot.When we have used technical support, it's been top-notch.Previous Solutions:I was not that involved in the decision to invest in the All Flash FAS. I do know that, because I did have experience with it, I probably influenced some of the purchasers within my company. They knew that they had somebody on the team that was able to work with it.Initial Setup:In our particular scenario, we had a failing. We had another vendor storage array that was failing. It was a Hitachi that was all spinning medium. When that went down, we reached out to NetApp. They were able to help us out with CDW to get us loaner equipment while we were purchasing the all flash.There was a little bit of complexity there. However, once we got the all flash in, we were able to cluster it together with the loaner equipment and move everything over on the back end. There was no impact to VMware, and everything else was as smooth as could be.Other Solutions Considered:At the time, I don't think we were considering any other vendors, only because we were moving towards becoming an all-NetApp shop. This was the go-to thing. We did have a relationship with NetApp before. We had previous spinning FAS arrays. We do have some E-Series and so on. We do have a good relationship with our NetApp reps, so that probably went into a lot of it.Other Advice:Offering advice is pretty difficult for me, because there's a lot of good to it. It depends on the application; that is a big thing. Smaller environments can probably benefit more from the E-Series. We're multi-client, so having the ability to break it out into SVMs is really helpful. The biggest thing is, if you've got multiple clients and you need to deliver performance to them, the AFF is hard to beat.The two biggest criteria for me when selecting a vendor are knowledgeability and accessibility; being able to reach the people that support us, and having them know exactly what to do. I'm not expecting the first person I call to know it all, but them being able to say, "I know this one person that can help you out." That's good.Disclaimer: I am a real user, and this review is based on my own experience and opinions.
Date published: 2016-12-07