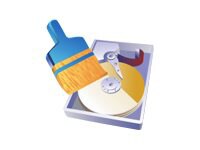 Software Details
(v. 6.0)
volume
Linux
OS/2
SCO UNIX
UnixWare
English
version upgrade license + 1 Year Advantage Premier
1-9 licenses
Win
DOS
Solaris
FreeBSD
View Tech Specs
Know your gear
The mass media and the Internet are full of stories about used computers being sold with hard disk drives containing confidential data - banking account information, credit card numbers, social security data, human resource, accounting and other internal documents, or even restricted information concerning a company's board of directors!

This confidential data should not only be safeguarded according to the strict rules, but it should also be reliably and completely destroyed when needed. You know you have deleted all the financial, corporate, and personal files, and even formatted and deleted hard disk partitions - but are they really gone from the drive? The answer is NO!

Acronis DriveCleanser 6.0 ensures the complete destruction of data on selected partitions and/or entire disks. Acronis has a long history of supporting all Microsoft operating systems and now continues that tradition with full Microsoft Vista Support for Acronis Drive Cleanser 6.0!
Availability:
Discontinued