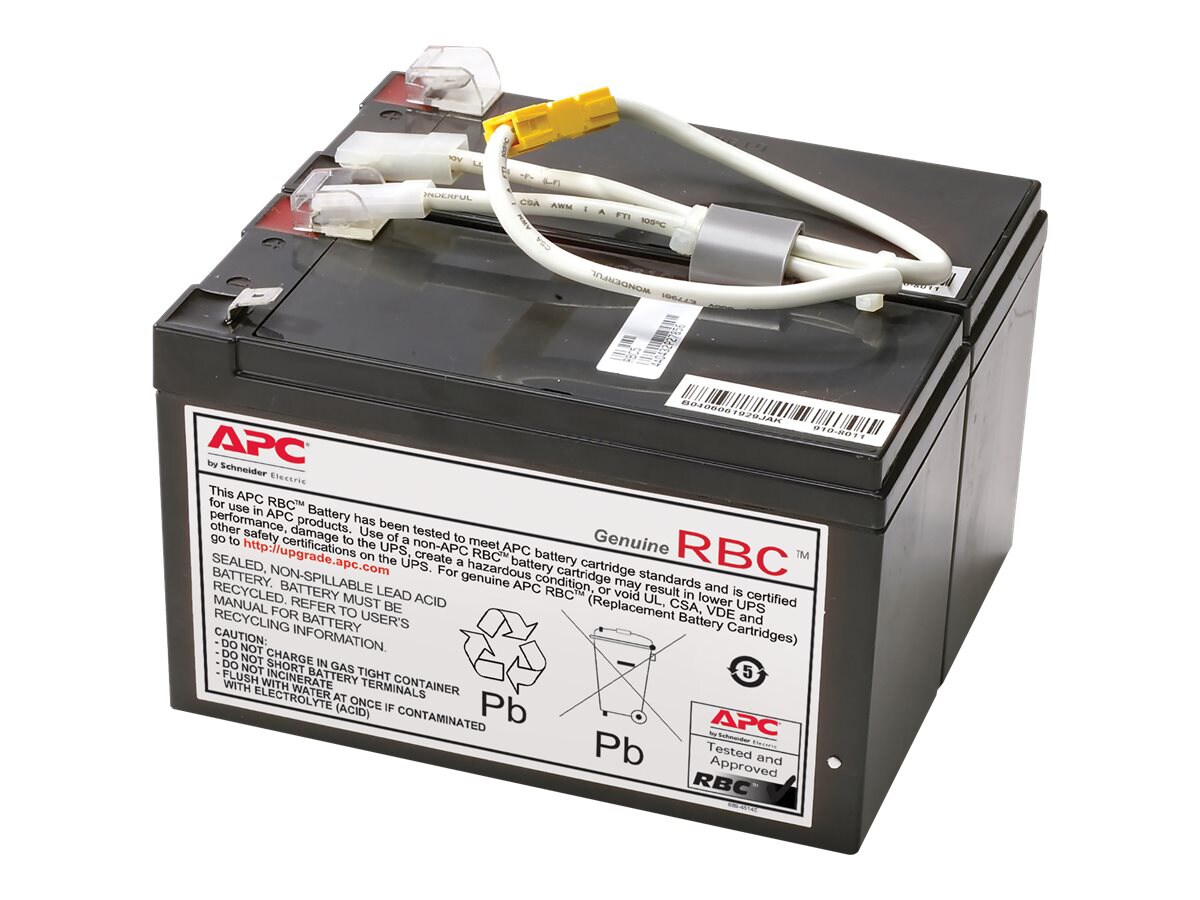 Quick tech specs
1 x lead acid
for P/N: BN1250LCD
BR1300LCD
BR1500LCDI
charcoal
BR1200LCDI
BR1500LCD
View All
Know your gear
This hot-swappable battery ensures clean, uninterrupted power to protected equipment while battery is being replaced. It offers plug-and-play installation.


APC RBC109 Replacement Battery Cartridge
is rated
4.29
out of
5
by
56
.
Rated

5

out of

5
by
CJ
from
This is why I like APC
The APC UPS that I had started "chirping" to let me know that the batteries were going out. It was very easy to find the replacement batteries on the web site and place my order. When the batteries came in, they were easy to install and I was back up and running and protected in no time. PLUS, I saved money by not having to purchase a whole new UPS.That is why I like APC products.
Date published: 2011-10-31T00:00:00-04:00
Rated

5

out of

5
by
Sam
from
Replacement APC Power Pac
Easy to order. Replacement Instructions were clear. Easy to replace original power pacOriginal power pac lasted over 5 years.
Date published: 2012-05-31T00:00:00-04:00
Rated

5

out of

5
by
dlk
from
Good Service
I received a notice when the battery was near the end of it's service life. I ordered the replacement and installed the new battery within a few days, with no loss of service. I was able to recycle the old battery with a return postage. A value to anyone that needs continuity.
Date published: 2011-07-10T00:00:00-04:00
Rated

5

out of

5
by
Phyl
from
Poor Longevity
Battery use life was only 1.8 years unlike reported longevity of 2 to 3 years.
Date published: 2010-06-26T00:00:00-04:00
Rated

5

out of

5
by
Sparky
from
Disappointed
The battery is made up of two components held together by a foam backed adhesive pad. When the battery arrived it looked beat up and the adhesive material had failed. The two parts of the battery were held together only by the connecting wires. After taping up the battery and installing it in my XS 1500, I gave it plenty of time to charge overnight. Unfortunately, with just my computer and monitor attached, the run-time of my "new" battery is only seven minutes. Last week I received a "low battery" warning with a recommendation that I replace the "new" battery. I'm a long-time user of APC products and have purchased several replacement batteries in the past. This is the first time I've purchased an APC product has failed to meet my expectations. I'm disappointed.
Date published: 2013-01-05T00:00:00-05:00
Rated

5

out of

5
by
thumbsup
from
Replacement Battery
Replacement of battery for my BX1300LCD was an easy procedure -- from ordering to installation and return of spent battery. Grateful for APC advice that battery repacement is an effortless "hot swap".
Date published: 2011-03-06T00:00:00-05:00
Rated

5

out of

5
by
rasman
from
Item ordered DOA
I ordered the item on the web and came in in less than a week but did not work and upon consulting with customer service it was pronounced DOA and replaced after approx 1 additional week (mostly freight). The customer support service although prompted for all sorts of tests and checks which included reinstalling the old bat pack a few times, sorted the issue correctly and was courteous and efficient. As a side note, one of the batteries in the the DOA bat pack looked worn out and read approx 8.9V vs more than 12V expected.
Date published: 2012-07-08T00:00:00-04:00
Rated

5

out of

5
by
Marine 4
from
APC Replacement Battery
Opened the battery compartment slid out the old battery connected the new battery and slid it back in. Plugged the unit back in and the battery charged and the UPS was back in service.
Date published: 2015-06-04T00:00:00-04:00
Rated

5

out of

5
by
Doc
from
Replacement Battery
I ordered a replacement battery and received it in about 2-3 days. Included was a return label to recycle the old battery. I have been using APC products for the last 10 plus years and their surge protectors (UPS) have protected our equipment for many power spikes caused by thunderstorms in our area. Great Job APC!!!
Date published: 2011-12-05T00:00:00-05:00
Rated

5

out of

5
by
Pokiegump
from
Pricey but good
Battery worked as advertised. Packaging a little light but the battery was in good condition. I decided to get just the battery and not trade in my Back-UPS because I felt why upgrade when there is nothing wrong with the UPS itself. Actually there was nothing wrong with the battery and my battery had never failed. APC has a built-in timer suggesting you replace your battery before it fails outright. Probably a good idea if you were a mission critical application. As a home user I am not. I just don't want to be typing away and find the power fails because of weather for example. So now I have a new battery and am good to go. The trade-in price for a new Back-UPS is too high in my opinion.
Date published: 2014-01-19T00:00:00-05:00