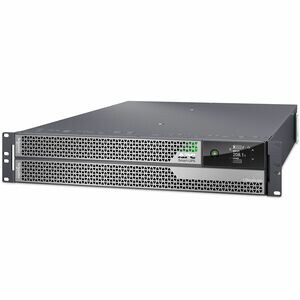 Quick tech specs
ion UPS
50% lighter
Next-gen semiconductor technology gives this UPS 1.5x more power in a 2U footprint – Power capacity: 4900VA/4900W @ 208V and 5000VA/5000W @ 240V
30% smaller
1.5x more power
High resolution LCD with auto-rotating display and virtual keys – LED Status indicator – 3x the battery life with lithium-ion – ExoStruxure IT Ready – Connect up to 10 external battery packs to increase runtime (Model: SRTL180RM2UBP)
View All
Know your gear
"
The smallest and lightest lithium-ion 5kW UPS
Smart-UPS Ultra's breakthrough technology is designed for edge environments and micro data centers. The Smart-UPS Ultra range delivers higher power density in a smaller footprint with flexible mounting — enabling more power, more space and more equipment at the edge.
Smart-UPS Ultra Online 5W: More Power in a 2U Footprint
Due to its small size, Smart-UPS Ultra easily supports back office, network infrastructure and IDF/MDF closets. Install the UPS in out-of-the-way mounting options in small edge environments, retail or back offices.
Installation flexibility, like never before
All-in-one mounting brackets for rack or tower configurations. The auto-rotating touch screen display makes switching between horizontal and vertical mounting options instantaneous.
Multiple Outlets
With (2) L6-20R with DPCB 20A and (2) L6-30R, you can provide power to more devices.
Delivers both power and extended runtime
Smart-UPS Ultra supplies up to 5000 Watts, at 240V, of power protection. With extended runtime options of up to 10 external battery packs, you can get the extended runtime you need for critical applications.
3x the Battery Life
The Lithium-ion battery lasts 8-10 years (3x VRLA) and won't need to be replaced under normal operating condition, reducing Total Cost of Ownership
Perfect for distributed IT
If you have more than one IT site to manage, Smart-UPS Ultra's EcoStruxure Ready remote monitoring and management options make owning a UPS easy, whether one UPS or a fleet of UPS. Remote management allows many tasks to be taken care of without stepping foot in your IT installation.
Extended Runtime Options
Up to 10 external battery packs supported to increase battery runtime during utility outages.
On-Line UPS Topology
As an online UPS, clean power is provided to your sensitive electronics.
"