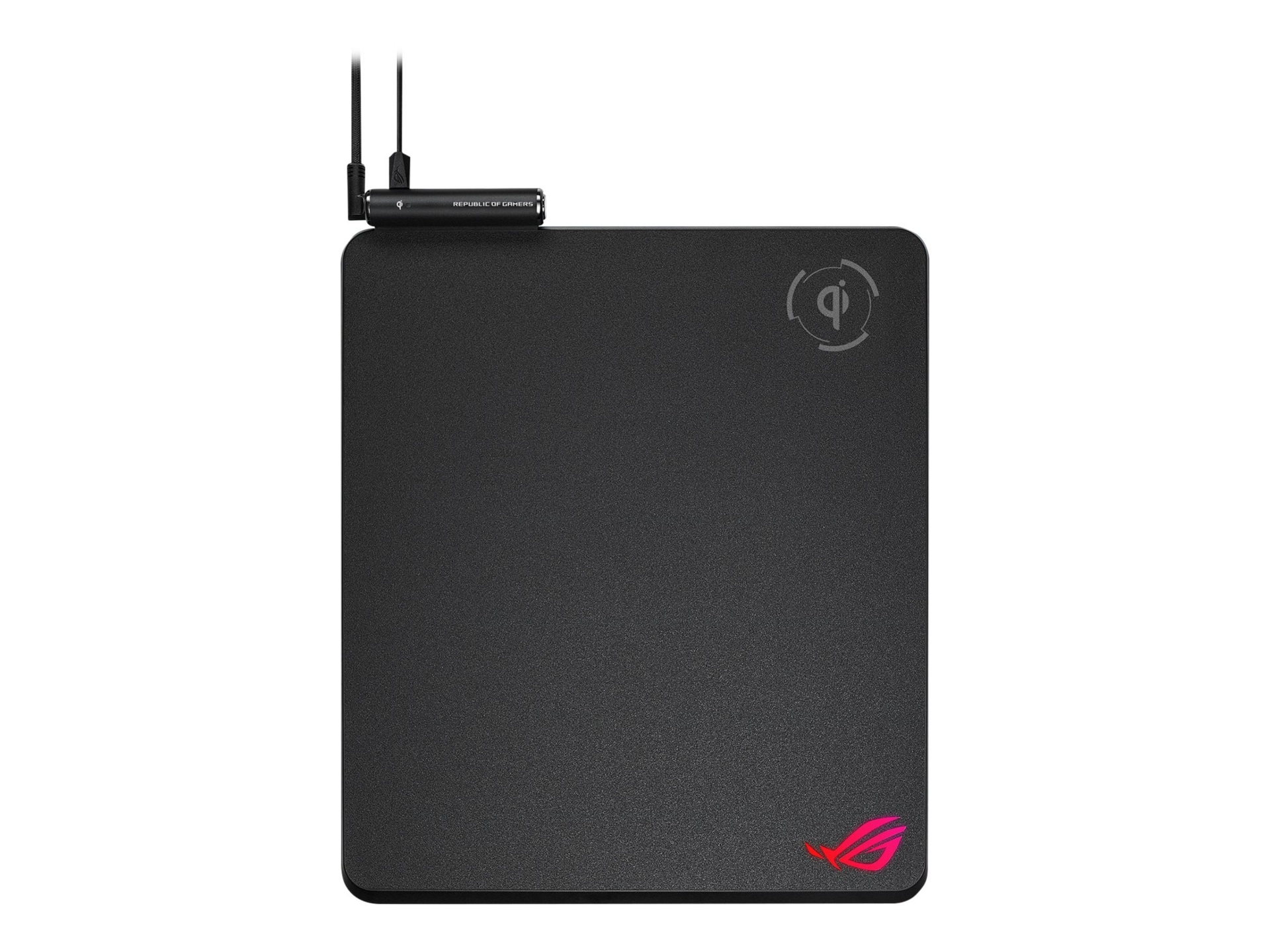 Quick tech specs
Convenient Qi Wireless Charging
15-Zone Aura Sync RGB Lighting
Built-in USB 2.0 Pass-through Port
LED Charging Status Indicator
Large,Portrait Micro-Textured Surface
Non-Slip Rubber Base
View All
Know your gear
The ASUS ROG Balteus Qi RGB Gaming Mouse Pad offers a large, portrait-oriented surface for ample room to play in comfort while also powering up compatible devices. Its hard surface is micro-textured for ultrafast tracking and optimized to deliver deadly accuracy, regardless of the sensor or settings. Put your Qi-compatible device on the charging zone, sit back and enjoy the convenience of wireless charging right on the desktop. A built-in LED status indicator pulsates when the juice is flowing to let you know that your device is charging. With a built-in USB 2.0 pass-through port, this mouse pad lets you conveniently connect your gaming mouse or other devices. A nonslip rubber base keeps it firmly anchored during heated gaming sessions.
ASUS ROG Balteus Qi Wireless Charging RGB Gaming Mouse Pad
is rated
4.74
out of
5
by
19
.
Rated

5

out of

5
by
Mr. Dizzy805
from
Great Addition to the Lab
When it arrived it actually bigger than i imagined. Fully customizable, Looks great! Works perfect with the Armoury Crate app.
Date published: 2020-03-21T00:00:00-04:00
Rated

5

out of

5
by
-lvx-Frost
from
This is great product the RGB is bright
I bought this about a month ago now and it has been great its bright and the wireless charging has come in handy
Date published: 2020-04-11T00:00:00-04:00
Rated

5

out of

5
by
DrakonissIV
from
Solid design - Be smart with wireless charging
Having had some time to acquaint myself with the Balteus Qi, I can honesty say that it took some getting used to. If you are one who is used to a feel of a traditional mouse pad, this will catch you off guard, as it is solid. Surprisingly, I found this fairly easy to get used to (I thought it was going to be a deal breaker upon using it initially.) The Qi wireless charging is powered by a port on the mouse pad (micro usb) that you must run the supplied cable to from the mouse pad to a USB wall outlet. The main connector has two USB ports, one for the RGB on the pad itself, and the other for the "pass through" USB port that is located on the pad itself that you can plug a single accessory into. Download the Armoury software from ASUS, ensure the latest software is installed, and you are good to go, it's as simple as that, then you can begin configuring the RGB. As for the wireless charging, do not blame the pad itself if charging is spotty/doesn't work right away. There are many factors that come into play here (biggest one being the obvious, does your phone support Qi wireless charging?) Does your phone have a thick case? WHERE is the charging coil located inside your phone? (This is a huge one, as unless you place your phone in the right spot, you will not get a charge, or it will stop charging. This isn't the pad's fault, the charging area is clearly marked on the pad.) I suggest looking up a disassembly video on youtube of your phone to see where the wireless coil is so you can avoid any issues with the wireless charging. Works great, I love it overall. ASUS ROG brand is a premium, and you get what you pay for.
Date published: 2020-06-04T00:00:00-04:00
Rated

5

out of

5
by
Oscar Bravo
from
Beautiful to see
This mousepad is large and very beautiful to see. It really gives you that RGB feel when combined with an ASUS ROG laptop. The RGB has built in sequences that you can control -- they can also be turned of but defeats the point of having an RGB mousepad lol. It has a USB connector which can be convenient.
Date published: 2020-12-23T00:00:00-05:00
Rated

5

out of

5
by
Mechreki69
from
Not bad!!
overall the surface is big and smooth for the mouse. wireless charging is a good feature. However, the wireless charger sometimes doesn't get the connection right away (you have to keep moving the mouse or whatever item around until you hit the sweet spot). also, it happens quite often, not really a deal breaker, but you will get the blue light to show it is charging, but after a while it will switch to red which is having a charging issue. so, you need to keep an eye on it for a bit to make sure the charging is happening otherwise your product wont be charge when you return to use it.
Date published: 2021-01-19T00:00:00-05:00
Rated

5

out of

5
by
XiorgON 01
from
Woo you need this mouse pad
This is the most amazing and fantastique mouse pad. Its hard , its rgb, its Qi, its perfect. Dont waste your time by reading this.... Go and buy it
Date published: 2021-01-27T00:00:00-05:00
Rated

5

out of

5
by
Hustler1003
from
AMD ASUS ROG Build
This mouse pad is great!!! I am very happy with my purchase. It's very comfortable and very cool with the RGB aura sync. it also recharges your phone quickly. plenty of room to play with. This is a must-have!
Date published: 2020-08-09T00:00:00-04:00
Rated

5

out of

5
by
Rx_Geezy54
from
Suprisingly excellent mouse surfacw
When i bought this, i was shocked when i pulled the mouse pad out of the packaging that it was actually a fairly hard, solid surface, not art all spongy like mouse pads almost always are standard. but after using it now for about a week daily, i can t ever imagine going back! The bottom doesn't slip, even in the slightest while in use, the rgb is able to sync with Aura, has a usb 2.0 pass through on the top of the unit, i use it conveniently for the wireless dongle that came with my Chakram mouse, the only very slight miss i can find to say anything about is that having the qi charging point up in the far right corner, and a seemingly somewhat small one at that, means that i have to very deliberately set my mouse on the charger, visually confirm its sitting properly to charge, and then i can let it do its thing. but thats really only a very minor gripe. If you've gone out and gotten a Chakram from ASUS/ROG like i did, or just have a qi wireless charging mouse that you want a top tier, vertical style mouse surface to both use as well as have there to charge your peripherals, this is the new bar that everyone else should be aiming for when it comes to mouse pads.
Date published: 2020-08-17T00:00:00-04:00
Rated

5

out of

5
by
RREChris Gaming
from
Amazing QI mousepad with an IQ!!
This mousepad has so many secrets it's an adventure in itself! Everything from aditional usb port, to fully custom lighting, to the QI charging area!!!
Date published: 2022-04-26T00:00:00-04:00
Rated

5

out of

5
by
roddoniiru19
from
QI WIRELESS
The wireless charging on this mousepad is really convenient for my Chakram Wireless Mouse that will easily charge after using the mouse.
Date published: 2022-04-11T00:00:00-04:00
Rated

5

out of

5
by
007JBailey
from
Love the texture, size and functionality.
Excellent mouse pad. More like a mouse foundation. This is great for writing on, the texture provides a great surface to jot notes on. The charging pad is extremely helpful. The size is perfect, I can place my Galaxy Note, SteelSeries controller, and the P707 Spatha X Mouse on it all at the same time without overcrowding.
Date published: 2022-03-20T00:00:00-04:00
Rated

5

out of

5
by
Chief Brody
from
charge and play
overall I like the mouse pad, it was a plus being able to charge my phone and crush someone in game, I'd recommend this mouse pad to anyone looking to do just that. Great quality with a-rgb effects if your into that sort of thing.
Date published: 2021-09-05T00:00:00-04:00
Rated

5

out of

5
by
Anthony123
from
Large, hard, Qi charge!
So this thing is a tad bigger than I wanted it to be, but the features make it worth it! I can charge my phone or mouse wirelessly and the RBG ability is really nice with my mouse p702. The only issue is that it makes it a bit hard to use my second mobile screen unless I put it on top of the pad. Not a big deal. It is also a hard plasic pad, which may be a deal breaker for some. Or the fact that one usb is used for the RBG and another is used for the usb for the mouse pad. guh.... why take two usb ports! really other than that it's everything I wanted!
Date published: 2021-09-01T00:00:00-04:00
Rated

5

out of

5
by
i__Royeaux
from
Best Mouse Pad Ever!
I couldn't have made a better choice in purchasing this mouse pad its excellent in every way except one. the Qi charging. it isn't compatible with my phone unfortunately; however, I don't let that get me down, its's a fabulous addition to my ROG family.
Date published: 2021-11-28T00:00:00-05:00
Rated

5

out of

5
by
Jason D.G (XI-ORG)
from
This Hard Pad Mouse is so..
This m,ouse pad is so incredible i use it to have more receptive position with my rog mouse. can be calibrate with many setting and light personalisation
Date published: 2022-07-09T00:00:00-04:00
Rated

5

out of

5
by
RGFxx809xx
from
great mouse pad
The RGB on this mouse pad is very bright. Aesthetically looks amazing on my table and the Qi charging works great.
Date published: 2021-04-22T00:00:00-04:00
Rated

5

out of

5
by
MYCO818888
from
Love the Wireless charging
Looks great when synced via Aura Sync to my Strix Scar. Good Size and like the hard surface. USB passthrough lets me connect my keyboard as well.
Date published: 2021-07-31T00:00:00-04:00
Rated

5

out of

5
by
starbuck888
from
Amazing Mouse Pad
Looks great, love how it integrates with Asus Aura. Very responsive with my Chakrum mouse and the QI wireless charging is great!
Date published: 2021-08-11T00:00:00-04:00
Rated

5

out of

5
by
u8mypizza2
from
Looks good and feels good
Works great for my purpose, looks great with my ROG setup and the QI charger is better than Corsair or Logitech's in my opinion.
Date published: 2021-04-06T00:00:00-04:00