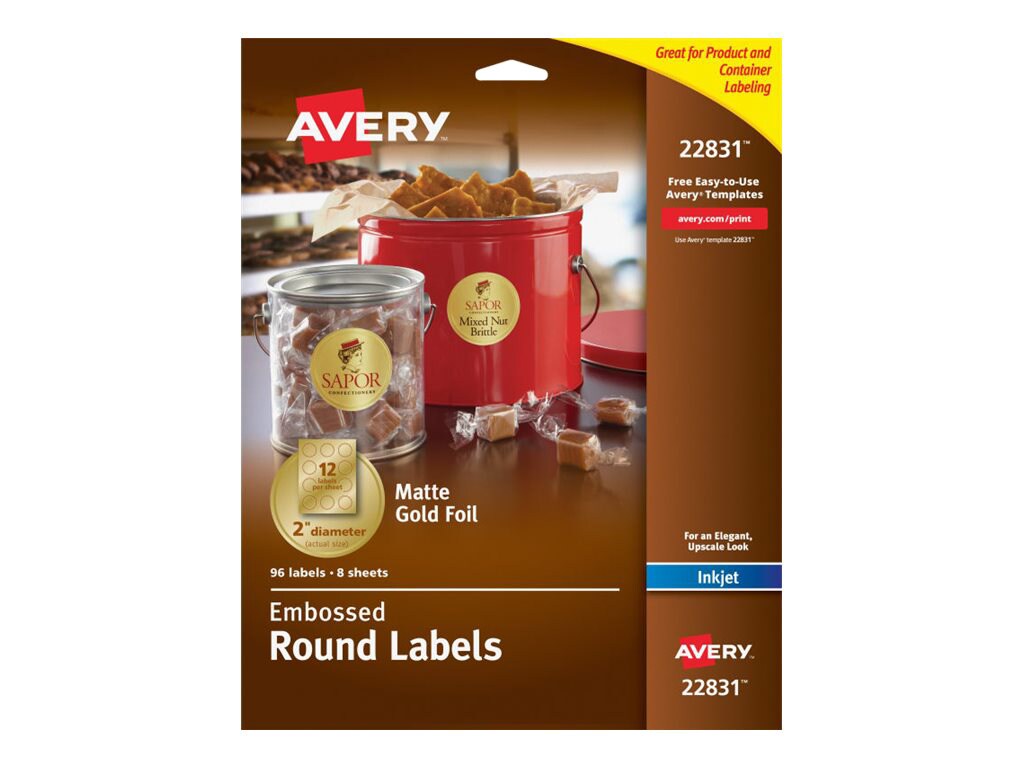 Avery - embossed labels - 96 label(s) - 2 in round
Mfg.Part: 22831 | CDW Part: 3225452 | UNSPSC: 55121612
Product Details
Foil
permanent adhesive
matte gold
2 in round 96 label(s) (8 sheet(s) x 12) embossed labels
View Full Product Details
Avery - embossed labels - 96 label(s) - 2 in round
Product Overview
Main Features
Foil
permanent adhesive
matte gold
2 in round 96 label(s) (8 sheet(s) x 12) embossed labels
Avery - embossed labels - 96 label(s) is rated out of 5 by 26.
Rated 4 out of 5
by
Charmaine
from
Looks Great
I did a test print and it was not lined up properly; the words were printing higher than they should. Instead of figuring out how to adjust my printer settings and/or putting the sheets in a different way I decided to just bring down the text on the template online and that worked well. It looked perfect!
Date published: 2016-05-14
Rated 1 out of 5
by
Irritated Christmas Card Sender
from
TERRIBLE Embossed Matte Gold Foil - Waste of Money
What a terrible product. I have used Avery and other labels for years with no problems. #22831 Matte Foil Gold Circle labels are TERRIBLE. The monitor showed everything inside the guidelines (the inner embossing guidelines) yet when they printed the text was not even on the label. Let ALONE inside the embossed guideline. I tried using Chrome, using Internet Explorer, saving it as a pdf, adjusting every way possible. Less than 30 of my labels (out of 96) are usable. I will never buy this brand again!
Date published: 2015-11-25
Rated 5 out of 5
by
Rita
from
Really Beautiful
These definitely added a special touch to our event. Table centerpieces were an event giveaway and this identifed the receipient.
Date published: 2015-09-25
Rated 5 out of 5
by
BuckJ
from
Great with Inkjet
I needed something that looked elegant to use as a decorative seal on some gift certificates. I was able to quickly design a seal based on our company logo and send a sheet of labels through my inkjet printer. They worked perfectly. The company looks larger and more professional than it actually is!
Date published: 2013-03-24
Rated 5 out of 5
by
pawpawx2
from
NICE
Very classy looking labels. Prints very well and peels off easily. Can be a little tricky to run through a printer (can only run 1 sheet at a time). If you want a good looking label, this is it.
Date published: 2013-03-23
Rated 5 out of 5
by
Gaudete
from
Excellent product
Very professional looking and easy to imprint. We use these to customize awards, and they look GREAT!
Date published: 2013-03-20
Rated 5 out of 5
by
Tweety123
from
Great For Thr Holidays
These are great for the holidays to put on envelopes or even presents. They are easy to use.
Date published: 2012-12-06
Rated 4 out of 5
by
yvettrd77
from
gold labels
I used for the first time these labels at my work, i had never used these before or had even heard of these. I was very pleased with these, they were easy to use, easy to understand, and easy to move if you need to move a few inches over. I would recommend these to any one and already have.
Date published: 2012-12-01