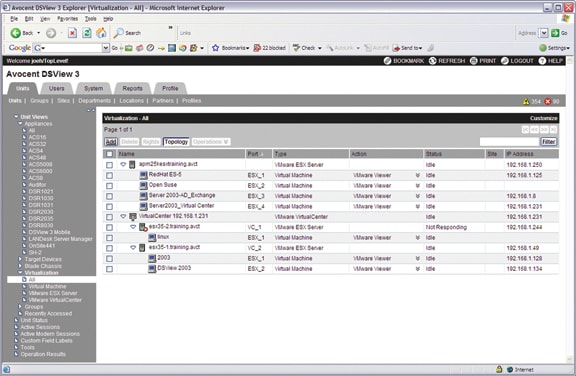 Know your gear
Avocent's DSView 3 management software provides data centers with secure, centralized management for physical and virtual IT assets. By allowing administrators to remotely diagnose and modify any managed device, regardless of the health or status of the OS or network connection, DSView 3 software makes data center management and remote offices more accessible, extensible and secure.

Data centers evolve. Whether migrating to blades, experimenting with SANs or testing a router, DSView 3 software helps data center managers maintain control by integrating with technologies and providing a consistent interface. DSView 3 software offers deep pre-built integration with HP software, NetClarity, Uptime Devices, VMware and others, and provides an API to enable integration with other applications.

DSView 3 software also provides custom views for each user, graphical report building and task automation tools, and enables a holistic view of network assets. The DS zones feature offers greater administration control for improved asset accountability and remote office and departmental autonomy.

The "hub and spoke" architecture of DSView 3 software allows for high availability and distributed access across locations. Out-of-band features allow administrators to diagnose and repair problems even when gateways, routers, or other IP connectivity is down.

DSView 3 software easily integrates with existing security infrastructure, authenticating against internal or external standards-based services. All traffic is encrypted and the detailed activity logs provide a critical audit trail for issue resolution and regulatory compliance. Remote management capabilities allow physical lock down of sensitive machines for greater peace of mind.
Contact Sales Assistance
(800) 808-4239
,
Monday-Friday 7am-7:30pm CT
Software Details
License
500 devices
Linux
Solaris
View Tech Specs