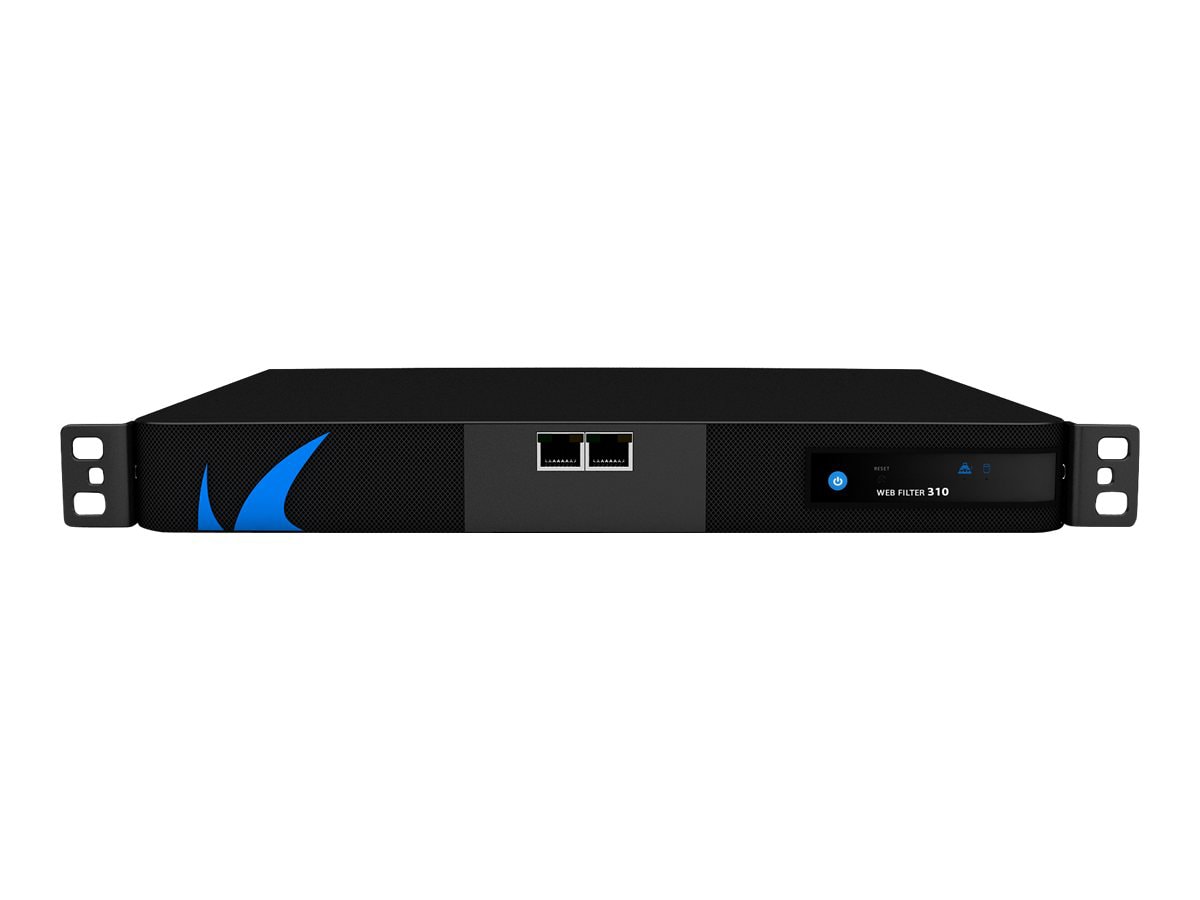 Quick tech specs
The Barracuda Web Filter 310 is an integrated content filtering and spyware protection solution. NO PER USER FEES.
View All
Know your gear
The Barracuda Web Filter 310 is an integrated content filtering, application blocking and Malware protection solution that is powerful, easy to use and affordable for businesses of all sizes. It enforces Internet usage policies by blocking access to Web sites and Internet applications that are not related to business, and it easily and completely eliminates spyware and other forms of malware from your organization. No more productivity loss trying to repair computers or make computers usable again.
The Barracuda Web Filter enables you to set up custom policies for a particular users and groups across customizable time ranges by integrating with popular LDAP directory servers, such as Microsoft Active Directory. For organizations that do not utilize directory servers, policies can be defined for unauthenticated users as a whole, locally defined users and groups, or network IP address ranges.
•Blocks access to Web sites based on domain, URL pattern, or content category
•Blocks downloads based on file type
•Blocks applications that access the Internet, including IM, music services, and software update utilities
•Integrates with "safe search" filters built into popular images search engines
•Provides integrated gateway and desktop spyware protection
•Intelligent Reporting

With no client software to install and no modifications required to your network, the Barracuda Web Filter is easy to deploy. It has an intuitive user interface for maintenance and monitoring, making it a virtually maintenance-free solution.

Model 310

•1U rack mount mini chassis
•1 x 10/100 Ethernet Passthrough
•10 Mb/sec Throughput
•Content Filtering by category, URL, or file type
•Application Blocking for IM and other applications
•Global, Group, User, and IP-based Policy Definition
•Integration with authentication schemes like LDAP / Active Directory, NTLN, Kerberos
•Virus protection at the gateway
•Spyware protection at the gateway
•Integrated desktop spyware removal with included Barracuda Spyware Removal Tool
•Web Caching
•Syslog
•Ethernet Bypass Hardware
•1yr Energize Updates Subscription for hourly updates of content filter, application blocking, spyware, and virus definitions

The Barracuda Networks' difference

•Up-and-running in 15 minutes: With no software to install or network modifications required, all Barracuda Networks products are easy to deploy and use.
•No IT expertise required: All Barracuda Networks products feature an intuitive Web user interface that ensures smooth product management and does not require your IT staff to be "experts" in a particular solution.
•No support phone trees: Specially trained Barracuda Networks support technicians are available 24/7 to answer customer calls and provide superior support.
•Automatic product updates: Barracuda Central is the 24x7 operations center operated by Barracuda Networks to monitor and block the latest Internet threats. Data collected at Barracuda Central is analyzed and used to create definitions for automatic Energize Updates that fuel the Barracuda Networks products.
•No per user/server/port/option fees: Barracuda Networks does not charge licensing fees per user, per server, per port, or for additional feature options - making its products the most affordable, integrated solutions available.

Contact Sales Assistance
(800) 808-4239
,
Monday-Friday 7am-7:30pm CT