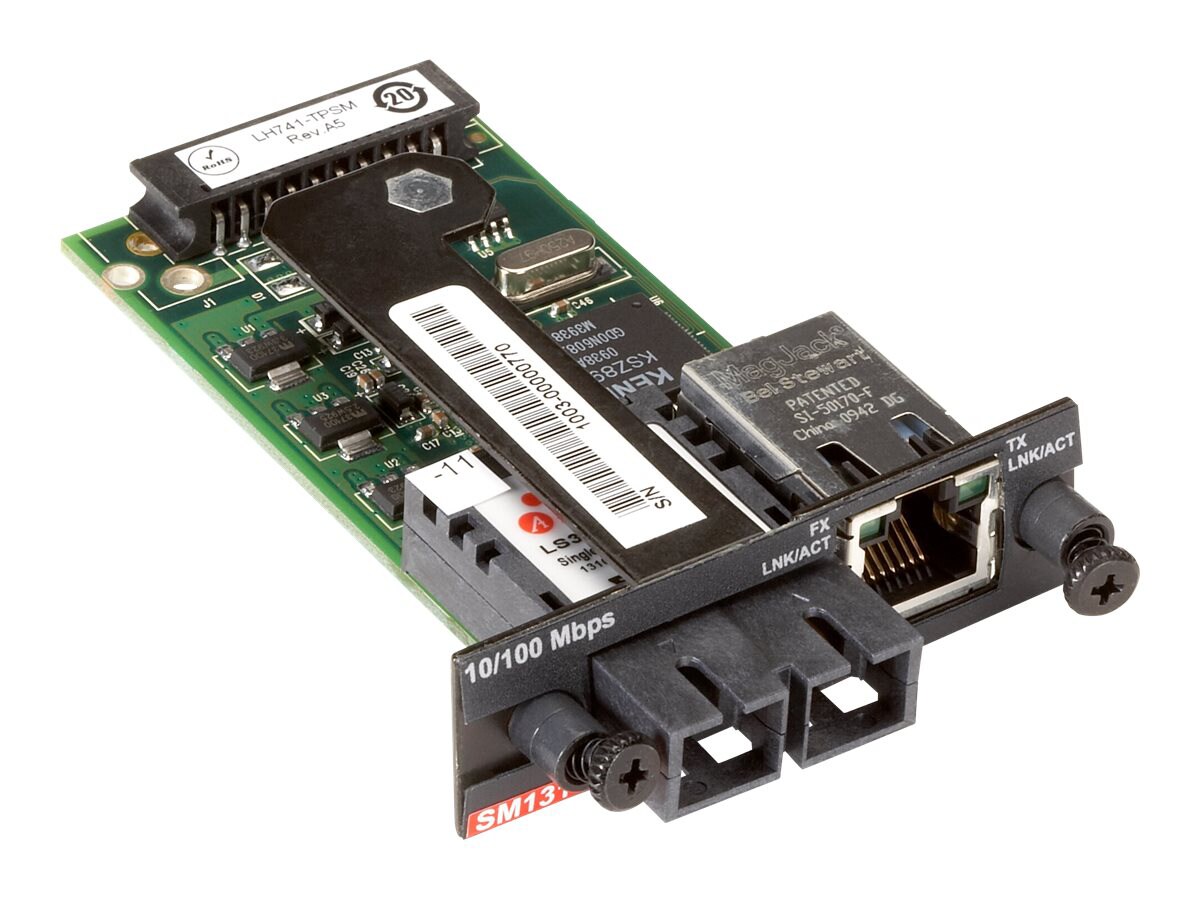 Quick tech specs
T/100BASE-TX/Single-Mode
SC-40 km
View All
Know your gear
Features
* LinkLoss™ provides instant notification of fiber segment link problems.
* FiberAlert minimizes the problems associated with the loss of one strand of fiber cable.
* Fiber multimode to single-mode protocol-independent modules support ATM and Gigabit Ethernet applications.
* All copper ports feature autocross so you never need a crossover cable.

Convert 10-, 100-, or 1000-Mbps segments between twisted-pair and single- or multimode fiber in half- or full-duplex mode. You can even convert single-mode fiber to multimode fiber! Choose from 27 converter modules for exactly the right configuration. House the modules in your choice of five chassis (LE7401A-R2, LE7404A, LE7408A, LE7412A, LE7412A-DC)

You can install any combination of modules in any chassis, giving you complete flexibility.

Use the 10BASE-T/BNC module to integrate legacy ThinNet Ethernet into today's UTP Ethernet network.

Choose from fiber modules that support 10-, 100-, or 1000-Mbps Ethernet on the copper side and multimode or single-mode on the fiber side. Use these modules to add distance—up to 40 kilometers—to your network. Autosensing 10BASE-T/100BASE-TX modules connect to either 10BASE-T or 100BASE-TX networks and automatically sense and adapt to network speed.

Single-strand fiber modules send and receive over one single-mode fiber strand, so you save on infrastructure costs.

All modules with copper ports feature an internal two-position switch on the twisted-pair port, which eliminates the need for a crossover cable. Just move the switch to the appropriate setting on the module before installing the card.

For the fiber models, the LinkLoss feature enables you to identify problems on the fiber segment from the twisted-pair side. You can also identify problems on the twisted-pair segment from the fiber side.

The FiberAlert feature minimizes the problems associated with the loss of one strand of fiber cable. If a strand goes out, the local site administrator is notified of a fault and can quickly determine where it is located.
Contact Sales Assistance
(800) 808-4239
,
Monday-Friday 7am-7:30pm CT