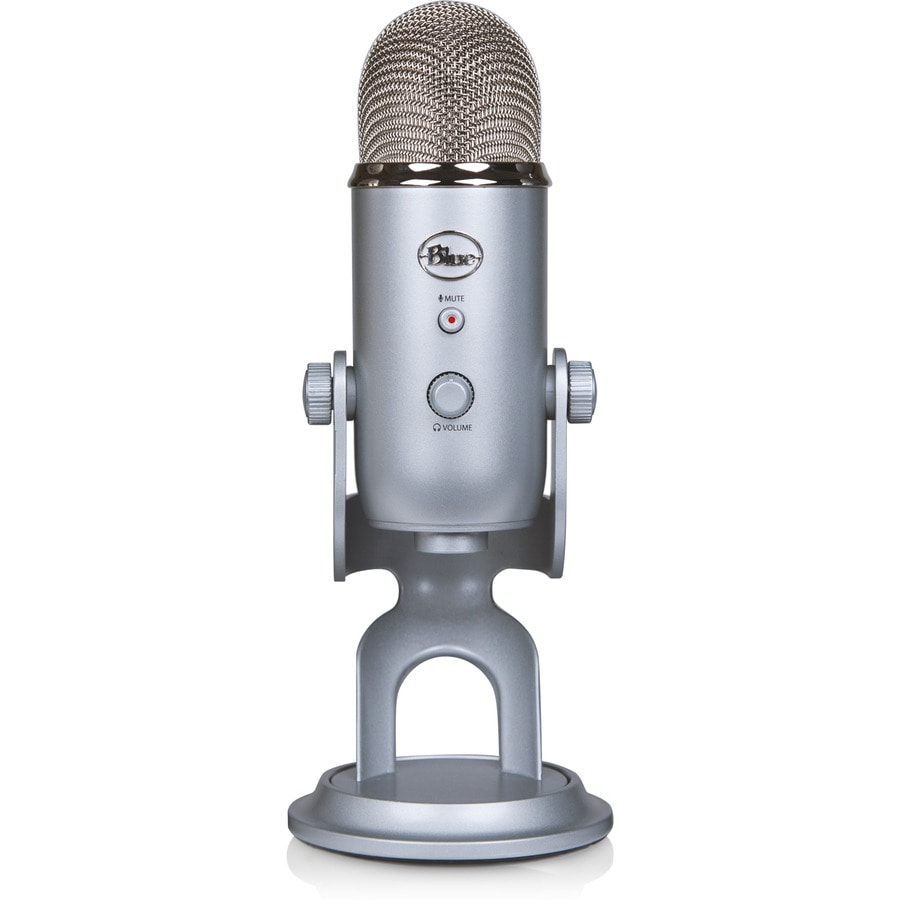 Know your gear
The Yeti is an advanced and versatile multi-pattern USB microphone. Combining three capsules and four different pattern settings, the Yeti is the ultimate tool for creating amazing recordings, directly to your computer. THX Certified for exceptional sound and performance, the Yeti can capture anything with a clarity and ease unheard of in a USB microphone.

The Yeti features Blue's innovative triple capsule array, allowing for recording in stereo or your choice of three unique patterns, including cardioid, omnidirectional, and bidirectional, giving you recording capabilities usually requiring multiple microphones.

The Yeti utilizes a high quality analog-to-digital converter to send incredible audio fidelity directly into your computer, a built-in headphone amplifier for zero-latency monitoring, and simple controls for headphone volume, pattern selection, instant mute, and microphone gain located directly on the microphone. The Yeti's exceptional performance and fidelity have earned it the distinction of being the first THX Certified Microphone, a validation of Yeti's incredibly low distortion, high fidelity, and balanced frequency response. There are no drivers to install, simply plug the Yeti into your PC or Mac, load up your favorite recording software, and record something amazing.

4 Settings, Endless Possibilities: You can quickly select from each of Yeti's four pattern settings by simply rotating the pattern selector knob:
•Stereo mode is great for capturing a realistic stereo image
•Cardioid is the most commonly used mode and can be useful in most any situation. If you are recording vocals, a podcast, or a voiceover, cardioid is likely your best choice.
•Omnidirectional means the microphone picks up sound equally from all directions
•Bidirectional means the microphone picks up sound at the front and rear of the microphone, while the sounds to the sides are "rejected", or not picked up

The Yeti features tools and recording capabilities usually requiring multiple microphones and devices, all with the simplicity of a plug play USB microphone.

•Proprietary Tri-Capsule Array: Three condenser capsules in an innovative configuration to enable great recordings in most any situation
•4 Polar Pattern Selector: Omni, Cardioid, Stereo, Bidirectional
•Mic Gain Control
•Master Volume Control
•Mute Button
•Zero Latency Headphone Output with Amplifier and Volume Control: Standard 1/8" (3.5mm) headphone jack
•USB Connection: To perform at its best, Yeti should be plugged directly into a powered USB port; avoid connecting through USB hubs or other USB multipliers
•Standard Thread Mic Stand Mount
•Custom Base with Cable Management
•Mac and PC compatible

Microphone Specifications:
Power Required/Consumption: 5V 150mA
Sample Rate: 48 kHz
Bit Rate: 16bit
Capsules: 3 Blue-proprietary 14mm condenser capsules
Polar Patterns: Cardioid, Bidirectional, Omnidirectional, Stereo
Frequency Response: 20Hz – 20kHz
Sensitivity: 4.5mV/Pa (1 kHz)
Max SPL: 120dB (THD: 0.5% 1kHz)

Headphone Amplifier Specifications:
Impedance:16 ohms
Power Output (RMS): 130 mW
THD: 0.009%
Frequency Response: 15 Hz – 22 kHz
Signal to Noise: 100dB

Dimensions (extended in stand): 4.72" x 4.92" x 11.61"
Weight (mic): 1.2 lbs
Weight (stand): 2.2 lbs

System Requirements:
PC: Windows 7, Windows Vista, XP Home Edition or XP Professional ; USB 1.1/2.0; 64MB RAM (minimum)
Macintosh: Mac OSX ( 10.4.11 or higher ), USB 1.1/2.0, 64MB RAM (minimum)

Includes USB cable

Warranty: 2 years



Blue Microphones Yeti USB Mic for Professional Recording
is rated
4.67
out of
5
by
3
.
Rated

5

out of

5
by
Kotlx
from
null
I've been using this microphone for about a year now for streaming and general communication. This microphone shines once you get the basics down and can be finely tuned to reflect studio quality audio. I switched from a standard headset to a Blue Yeti and instantly found the difference to be phenomenal. The directional input works wonders for cutting out zone specific background noise.One note, however. I did not really like how the cable and stand interacted. If you wanted to re position it, it sometimes would tug at the cable. I alleviated this problem with switching to a mic arm.Overall, I would definitely recommend this product and company. I had an issue early on when a shock mount for this microphone and not only did they send me a replacement, they also sent me parts that would be included in the next version of the mount as well. Kudos to Blue.
Date published: 2015-03-18T00:00:00-04:00
Rated

5

out of

5
by
Tool Imperator
from
null
One of the best microphones (for the money) for videos. I don't even like my own voice, but the Yeti makes even it sound good.
Date published: 2016-03-18T00:00:00-04:00
Rated

5

out of

5
by
Kevin (SystemTools Software)
from
Would not make a video without it
Given the time you put into making a video, get the best microphone for the voice portion. Adds a degree of professionalism to any video.
Date published: 2017-12-27T00:00:00-05:00