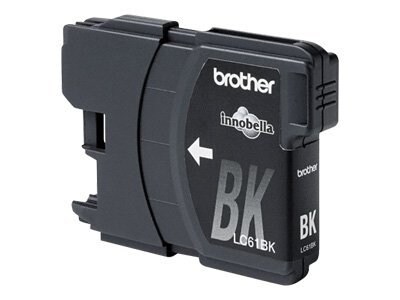 Brother LC-61-BK - black - original - ink cartridge
Mfg.Part: LC61BK | CDW Part: 1520207 | UNSPSC: 44103105

Brother LC-61-BK - black - original - ink cartridge
Product Details
Marketing description is not available.
Brother LC61-BK - black - original - ink cartridge is rated4.67 out of5 by15.
Rated 5 out of 5
by
dtaurus
from
Nice Little all-in-one
This printer meets my needs. It is fast printing and when copying, prints come out ledgeable. Tried the Fax and the process is easy and quick. Had no problem understanding the precedure. The only negative I found was that sometimes when printing, the colors tend to get a little pale. I just had to do a little cleaning of the nozzles and everything was fine. Have not set-up the wireless portion yet. I would recommend this all-in-one for those on a budget.
Date published: 2011-01-23T00:00:00-05:00
Rated 5 out of 5
by
blkhawks1
from
Best value
Its easier to list the cons as this printer has so many pros. No multi sheet feeder [obvious from the picture] but for me I would choose a flatbed scanner over a sheet feeder anytime. Smart card reader will only read the smaller cards. Not a problem though as it reads the most popular cards and that is enough. Ive only had this a month so I cant evaluate the life of the unit but so far its the best printer ive had at any cost. The printer cartridges are so inexpensive I can say so long to refills and non-oem cartridges. Its a win-win printer
Date published: 2011-08-30T00:00:00-04:00
Rated 5 out of 5
by
RealNeal
from
Very Good Printer
The Brother MFC-J265w works very well. I am quite pleased with its print quality, size, speed and versatility.However, it lacks one function I really would like to have. If I had realized that two-sided printing was such a chore, I would have chosen a different brand of printer.
Date published: 2011-01-22T00:00:00-05:00
Rated 5 out of 5
by
SHAH
from
An excellent machine
Does everything it is supposed to. Setup was very easy. I own another Brother all-in-one but it is not wireless.I have two suggestions to make the experience even better: The printer already came with several (useless) stickers on the top cover. A small sticker to remind (the first couple of steps regarding) how to send /receive fax would be extremely helpful.Second suggestion is to remove the cover of the paper-tray, so that you can easily load paper as well as you can see how much paper is available without completely removing the paper tray.
Date published: 2011-10-15T00:00:00-04:00
Rated 5 out of 5
by
Soonersrtops
from
Great Printer!
I purchased this printer several months ago and have been very pleased with it. I haven't had any issues, and it is perfect for what I need it to do - love the wireless capabilities. I have used the printer, copier, fax, and scan options and they all work quite well. I also like having the color ink in separate cartridges rather than all in one like some printers. Great printer, easy to setup, and use.
Date published: 2011-10-14T00:00:00-04:00
Rated 5 out of 5
by
TobyG
from
Quiet, small footprint
I really like this printer for four reasons:* It's very compact, which is important in my small home office. It's less than 6 inches high, and unlike most printers, there is no paper sticking out of the top of the printer; it's all hidden inside. This makes the printer seem quite small.* It doesn't shake my desk when it prints, unlike my ancient old Dell.* It's very quiet when printing.* You can use it either wirelessly or via a USB cable.No idea as yet how long the print cartridges will last, but I like the three separate cartridges for color: If you happen to do a lot of printing with red content, for example, you would only need to change the red cartridge.
Date published: 2011-07-22T00:00:00-04:00
Rated 5 out of 5
by
nedguy0
from
Only one flaw
This is a superbly designed well functioning machine that does virtually everything, does it well and does it simply (i.e., it operations are less complex than most and transparent). The only thing lacking on this machine is a document feeder, but I use that operation rarely. I have owned four other brands of all-in-ones: This one is by far the best and, of greatest importance to me, it performs[ quite economically. It is truly a 5 star product which I gave four stars because of its lacking a document feeder.
Date published: 2011-10-03T00:00:00-04:00
Rated 5 out of 5
by
Angelinwaiting
from
Its okay
It gets the job done. It would be nice if u could scan more than one page at a time. I scan lots of big documents onto my computer and this will only scan one page at a time and each page is its own file. Sucks
Date published: 2011-01-25T00:00:00-05:00
Rated 5 out of 5
by
Jamesisit
from
Very Good Printer!
This All In One Printer, Copier, Fax with Wireless connectivity has Surpassed my expectations. First, it Prints Very well, in Normal for everyday printing it Sips at the Ink. I've also Printed out some 8.5 X 11.0 Full Color High Resolution Photographs on Photo Paper and all I can say, is WOW! They are Excellent ! The Included Software and Drivers make this Printer Easy to use too. The Fax Function works very well for Simple Home use. and the Scanner does a Great Job as well. Want to Copy something, just place it under the top cover, and select color or black and white. No Computer needed.Best of all I can Print or Scan Pictures or Documents from my Cell Phone when connected to the WiFi Network the Printer is on. Set up with either a USB cable or Just WiFi is a Breeze. Easy to read Instructions, just follow step by step. The Footprint is Smaller than other All In One Printers I've owned, so it fits my Desk space Better also. My Favorite Part is how much I have printed already and used so little Ink. Set the Quality where you need it for Photos, and lower for Day to Day use, and this is Hands Down the Nicest, All in One I've owned. Good Going Brother !!!
Date published: 2011-08-09T00:00:00-04:00
Rated 5 out of 5
by
KCinTC
from
great all in one
I purchased this as a replacement to another Brother all in one, which I loved and had, it seems forever, for some time. This was a great choice, same functions and ease of understanding. Looks cute too!
Date published: 2011-09-05T00:00:00-04:00