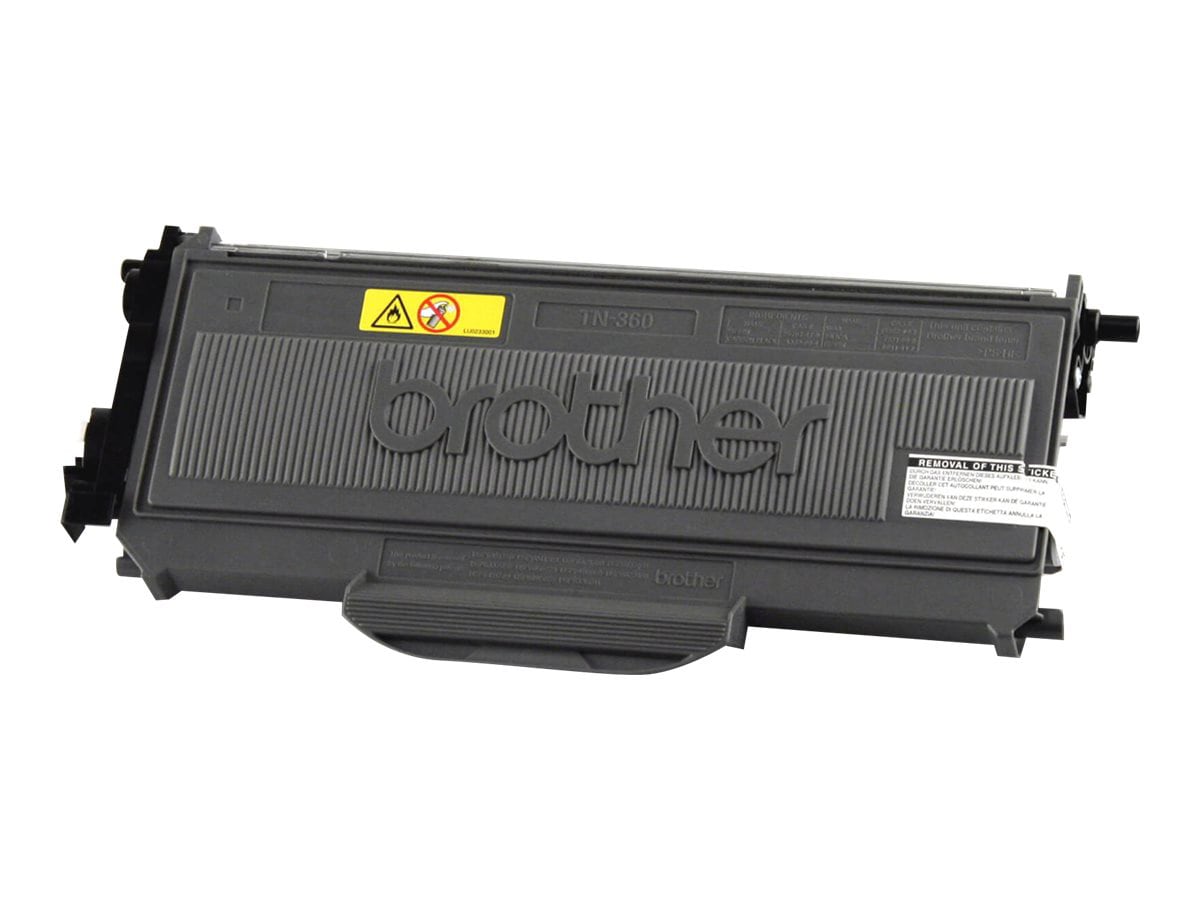 Brother TN360 High Yield Black Toner Cartridge
Mfg.Part: TN360 | CDW Part: 1381902 | UNSPSC: 44103103
Brother TN360 High Yield Black Toner Cartridge
Product Overview
Main Features
2140
HL-2170w
MFC7340
7345N
7440N
7840W
DCP7030
7040
Laser Printing Technology
Brother TN360 High Yield Black Toner Cartridge is rated4.54 out of5 by28.
Rated 5 out of 5
by
cdavis
from
Good Product
We currently have 3 of these copiers and are quite satisfied with their capabilities. Good product for a great price. We would buy another one.
Date published: 2011-04-04T00:00:00-04:00
Rated 5 out of 5
by
bpowell317
from
Excellent Printer!
I am a teacher who frequently needs multiple copies and scans. This printer is perfect for my needs. It is easy to operate and maintain and always delivers. Add the lower than average cost of toner and it is ideal!
Date published: 2011-04-05T00:00:00-04:00
Rated 5 out of 5
by
Jenni
from
Best Copier Scanner Printer I have ever owned
I purchased this printer after having owned several HP printers that did not last very long. It has excellent quality and I love the fact that it does not have all the different color cartridges that were always going out on my HP printers. It does a great job at scanning and copying also. Thumbs up Brother. I will definitely not ever buy another kind of printer.
Date published: 2011-04-11T00:00:00-04:00
Rated 5 out of 5
by
lawyerscientist
from
Achilles heel = manual feed
The printer presents excellent value, overall. However the manual feed device is very poorly engineered. There is no support for the paper. Basically you stick it in the slot and hold it until the rollers grab it. This has caused several "retry" attempts when feeding in manual feed items like checks. If I had known of this, I probably would have opted for a different machine. If this is not an issue for you, then it is an excellent value.
Date published: 2011-04-02T00:00:00-04:00
Rated 5 out of 5
by
isoenzyme
from
High Value Laser Multi-Function
This is a great value for a laser multi-function! Printing is great, copying is clear! The only downside is the multi-button routine for scanning; it gets really old when doing a lot of scanning in a row.
Date published: 2011-04-11T00:00:00-04:00
Rated 5 out of 5
by
Griffin
from
Fills the bill
I am not a big fan of all-in-one products. But copying is a process that naturally combines scanning and printing and the DCP-7040 does both admirably. The installation was hassle-free. The software controls are clear and straightforward. The results are excellent. I've had it for 9 months...no jams, no stalls, no problems.
Date published: 2011-02-27T00:00:00-05:00
Rated 5 out of 5
by
Julie
from
Excellent and just as described.
Excellent product. High quality as I have come to expect from this brand.
Date published: 2018-05-08T00:00:00-04:00
Rated 5 out of 5
by
ladyet1
from
Best Printer Yet
Got it on sale; was tired of always buying inkjet refill cartridges. Performs efficiently and effortlessly, no jams in the 6 months of use. I use the 300 dpi toner saver option and am still on the original starter toner cartridge. I don't print much, just coupons and airline tickets; I just save data in folders online. It took some effort to scan some lotto tickets for our office group, but copying and printing was easy. I would recommend this if bought on sale and I would purchase from Brother again. I don't have a landline so I did not want or need Fax.
Date published: 2011-04-21T00:00:00-04:00
Rated 5 out of 5
by
attyTX
from
iffy
The price was right, and it is lazer, so I bought it. It puts a verticle line down the pages of copies when the originals are fed through the top, for copy mode. It sometimes goes on printing rampages, and other times will "print" unlimited blank pages until you pull the tray out. Then you have to uninstall, and reinstall, which takes an hour and is difficult to do correctly. I came online today again, hoping for a software patch or something to fix this...
Date published: 2010-04-13T00:00:00-04:00
Rated 5 out of 5
by
GoPack
from
Happy Downsizing
After years of leasing or owning large multi-feature copiers, I was hesitant about venturing into a small desk-top model, but I have been pleasantly surprised and very satisfied with the 7040. When the home construction market revives and I'm working with plans on 11 x 14 paper, I'll have to adjust to that, but for now, all I've missed is occasionally being able to reduce an 8.5 x 14 document to 8.5 x 11.
Date published: 2011-04-02T00:00:00-04:00