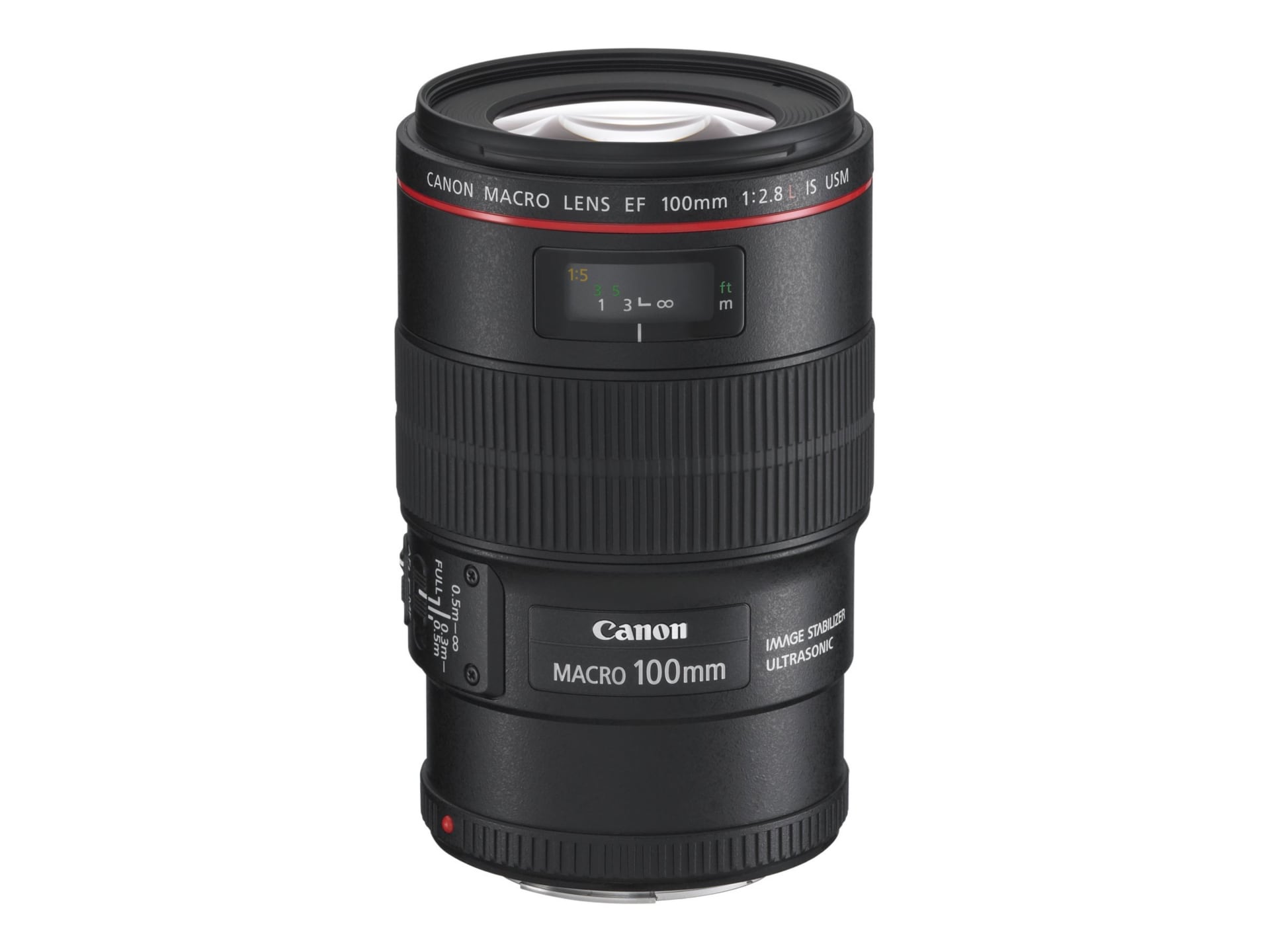 Quick tech specs
View All
Know your gear
Canon's "L" series lens is its first mid-telephoto macro lens to include Canon's sophisticated image stabilization. With the highest quality optics available, combined with near-silent ultrasonic focusing and life-size close-up capabilities without an adapter, the EF 100mm f/2.8L Macro IS USM is simply unrivaled.

This is the first lens on the market to incorporate Canon's Hybrid Image Stabilization technology. Hybrid IS effectively compensates for both angular and shift camera shake during close-up shooting. The lens was developed to expand users' photographing range and allow a wider range of users to easily enjoy macro photography.


Canon EF macro lens
is rated
4.71
out of
5
by
35
.
Rated

5

out of

5
by
Go Photos
from
Ultra Versatile Lens
I have used this lens for more than intended. I have shot sports, outdoor location photos, blacklight situations and even some macro stuff. It is a very versatile lens. The depth of field make you focus on your subject an makes stunning life size photos for sports and glamour photos. This lens really brings out the details in subjects. I generally shoot with a monopod and have some really cool sports pictures. I think it is one of canons best priced lenses and a true value.
Date published: 2012-09-11T00:00:00-04:00
Rated

5

out of

5
by
OsKy6116
from
Superb lens
At first I thought it was a little pricey but then I was like OMG best macro lens ever invented!!!The best part it that it has IS and USMtotally worth it
Date published: 2012-02-17T00:00:00-05:00
Rated

5

out of

5
by
LisaatTheCreek
from
One of My Top Favorite Canon Lenses
This lens is in my top two to decide between when leaving the house to obtain excellent portraits and get great candid shots, etc...you may want to watch the review on YouTube: Canon 100mm f/2.8L vs 135mm f/2L - These are both my absolute favorite lenses EVER! I have plenty more Canon lenses, a ton! that is all I buy, Canon only however, I keep going back to these two lenses!
Date published: 2017-04-08T00:00:00-04:00
Rated

5

out of

5
by
Mindcontrol
from
Compelled to write a review
I also own the Tamron 90mm macro. Wow this Canon is lightyears ahead of the competition. In fact this lens has no competitor. It is super sharp, very fast, and the IS is flawless. I've recently been increasing my L lens lineup and I couldn't recommend this one enough. Very satisfied customer.
Date published: 2018-07-19T00:00:00-04:00
Rated

5

out of

5
by
Gary C
from
Fantastic upgrade
The addition and slight redesign to an already great lense has made it even better. Image Stabilization has provided me the ability to do Macro on the move without being bound to a tripod. This is a fantastic lense, the image quality is crystal clear and focusing is virtually instant. This lense compliment's my 85mm 1.8 Portrait lense. If you are walking have this 100mm macro on your camera and you won't go far wrong
Date published: 2009-11-25T00:00:00-05:00
Rated

5

out of

5
by
pnl1948
from
Amazing
I just bought this lens based on reviews from FM and other good reputation sites. They are all correct, this is an amazing lens, fast AF, very easy to use and what a quality of picture. A little bit heavy, but when you see the pictures, it makes it more acceptable. Great lens
Date published: 2011-06-05T00:00:00-04:00
Rated

5

out of

5
by
Marty K
from
Great Lens
This lens takes fantasic close-up images. It replaces my 100mm Canon lens without image stabilization (IS). The IS allows for more hand held shots. The resolution is excellent. I use it on a Canon 5D Mark III (full frame), which allows me to crop the images significantly. I would have liked to see less plastic used, but it does not seem to take away from the quality images. The benefit is a lighter lens. It also is a great portrait lens.
Date published: 2012-04-05T00:00:00-04:00
Rated

5

out of

5
by
BobbyD
from
First "L" lens
This is my first L series lens but I have used others and I must say that this one is my favorite! The sharpness of the images is amazing and I love it. And I have gotten many complements about how sharp the images look. It's a very good portrait lens so you're getting 2-for-1, awesome macro and portrait. BUY THIS LENS! and I think this is my lucky lens. Ever since I got it I did one photoshoot with it and put the images online and since then I have gotten MANY requests for photoshoots haha
Date published: 2011-02-15T00:00:00-05:00
Rated

5

out of

5
by
JC
from
Plastic lens barrel
The lens does everything they claim it will do but in my opinion lenses with L designation and price should never be made of plastic. Lens barrel flexes if you grip firmly. Focus is smooth but has slight amount of play. I'm kind of disappointed. No plastic!
Date published: 2009-11-03T00:00:00-05:00
Rated

5

out of

5
by
callaesthetics
from
It's wonderful!
This lens is awesome. I've used it to shoot bugs and people and it's a very sharp lens. The bokeh and sharpness is so nice ill prob use this lens to shoot portraits more often. Color and contrast is very good.The lens is made of plastic and is no bother to me at all. I wouldn't be surprise if this plastic is stronger than metal. Being plastic prob helps with the weight also, which is important for keeping it stable. Feels very sturdy. Im not used to this type of quality, this is my first L lens.
Date published: 2010-08-19T00:00:00-04:00