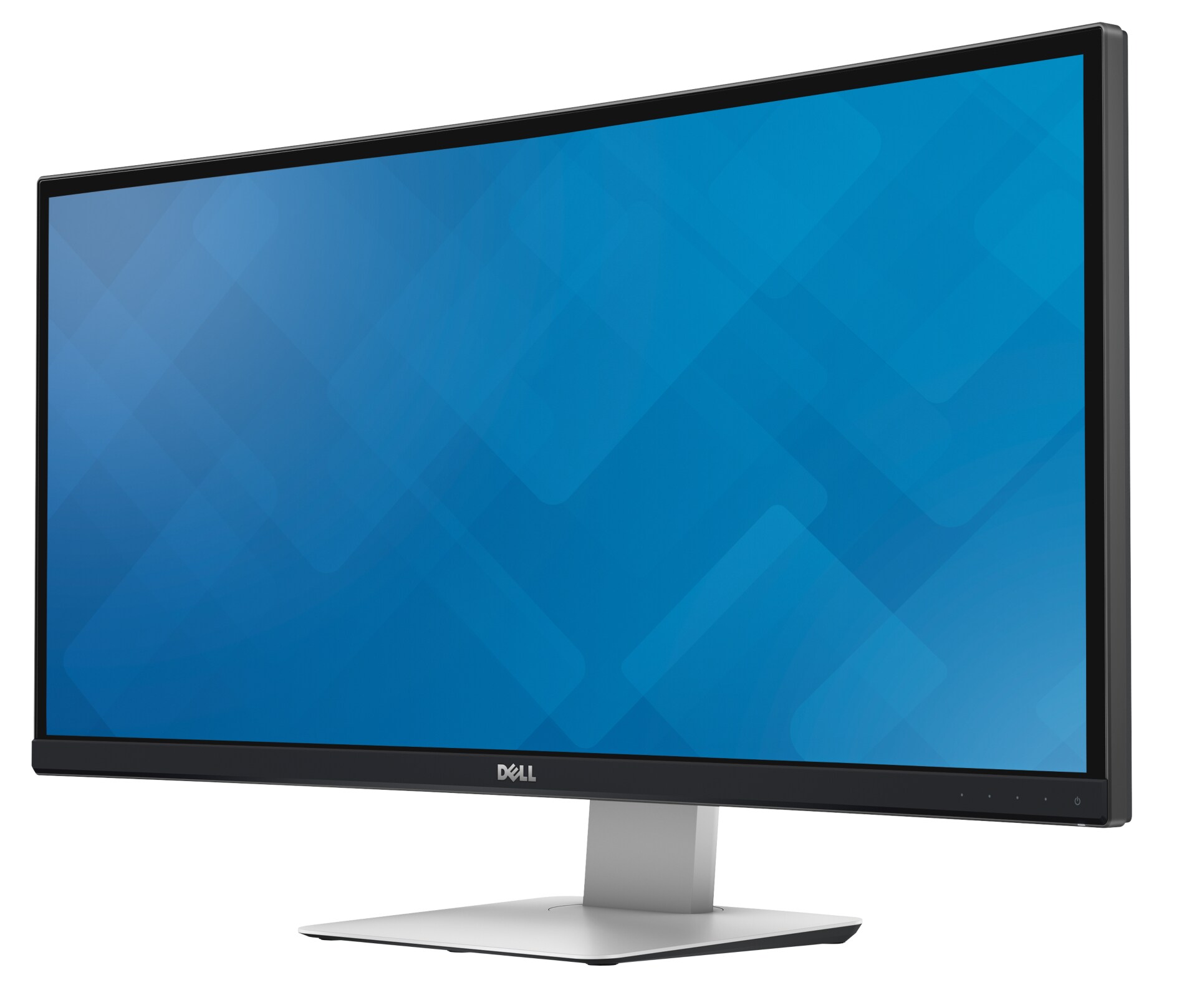 Quick tech specs
LED monitor
34" (34" viewable)
IPS
1000:1
2xHDMI
Mini DisplayPort
speakers
with 3-Years Advance Exchange Service
7370; OptiPlex 7040
curved
3440 x 1440 @ 60 Hz
300 cd/m²
5 ms
DisplayPort
MHL
black
for Latitude 13 7350
View All
Know your gear
Discover one of the world's first 34 inch 21:9 curved monitors with a panoramic view, cinematic WQHD resolution and superb sound. The Dell UltraSharp 34 inch Curved Monitor engages you in a wrap-around viewing experience with a 21:9 ultra-wide curved screen that offers more display area and enhanced viewing comfort. Navigate across multiple applications and video inputs with Picture by Picture and Picture in Picture features.
Contact Sales Assistance
(800) 808-4239
,
Monday-Friday 7am-7:30pm CT
Dell UltraSharp U3415W - LED monitor - curved - 34" - with 3-Years Advance
is rated
4.37
out of
5
by
41
.
Rated

5

out of

5
by
Menny M
from
Excellent Monitor
This monitor is amazing! It is like having 3 monitors in one with the Dell Display Manager, but you can also use it as one huge monitor for demanding applications and watching widescreen movies! This monitor comes comes professionally calibrated, with a USB KVM switch for two computers, and the trusted Dell 3 year warranty! It passed all my tests with flying colors, no dead pixels and perfect color/luminance uniformity! Clearly the best computer purchase I have ever made!
Date published: 2017-05-04T00:00:00-04:00
Rated

5

out of

5
by
Mark
from
Right amount of workspace
I keep multiple applications opened on this screen and put conference calls on my laptop screen. Can work with two items at once and compare or develop using one as a source. The resolution is awesome as are the many ports and methods to connect to it. Very small criticisms; the stand allows the screen to wobble from side to side, sometimes with it off kilter by just a small fraction of an inch. Also, when on a conference call and sharing your screen, you will want to do this on the laptop and not on this large screen. The people viewing will see a smaller document if done on this monitor.
Date published: 2019-08-24T00:00:00-04:00
Rated

5

out of

5
by
iride
from
great, elegant monitor; better than having double monitors on my desk
I use this monitor at home and I open several applications at the same time and see them side by side; it is much better than having 2 monitors
Date published: 2019-04-07T00:00:00-04:00
Rated

5

out of

5
by
dyoakum
from
Was hesitant due to price and size , but I have no regards
Was hesitant due to price and size, but I have no regards. I've always liked using Dell UltraSharp monitors for my documentation work. My old configuration was two 24" UltraSharp side-by-side; which I thought was pretty good. I can now do on one monitor (U3415W what I use to do on two monitors. If you do a lot of documentation and/or spreadsheet work - you'll be surprised how this monitor can enhance your productivity.
Date published: 2017-01-08T00:00:00-05:00
Rated

5

out of

5
by
stevenzac
from
Phenomenal monitor
This 34" curved monitor is a beauty. It's sharp from edge to edge and when I walk into my office it just looks stunning. I liked it so much that I bought a second for my office at home. Great job Dell.
Date published: 2016-05-17T00:00:00-04:00
Rated

5

out of

5
by
Just Me
from
UltraSharp Only Begins to Describe It
Phenomenal is the only way to describe this monitor. I had been using an all-in-one and a second monitor. It was a little aggravating having to look back and forth due to the space I had to work with. This one monitor replace both screens. I can size multiple documents to where I can read them all with just a slight glance. Also, love the fact I can open a spreadsheet with numerous columns. At a column width of 20, you can see A-Z and at 17 A - AA. AWESOME!!!
Date published: 2018-08-01T00:00:00-04:00
Rated

5

out of

5
by
suedePoppaBaggins
from
nice for office
This is replacing two monitors for all 2D work, zero gaming. It's real nice to have the no bezels in the middle and the 1440 height is cushy. Only negative is the controls are not as good as the 24 inch I have because there are not profiles to switch between and I have to change the contrast and brightness separately each time. The focal depth is pretty far out. It could be cheaper too. Next time I would get one with better controls since I do that every day. So 3 stars: Average. Get it if on sale and not too picky.
Date published: 2019-09-15T00:00:00-04:00
Rated

5

out of

5
by
Stras
from
Wow
Was a little concerned about $'s, but put it up against our Thunderbolt Display and overall would take the dell, it is diffenately worth the cash if you're in the market for a top end monitor!
Date published: 2015-02-19T00:00:00-05:00
Rated

5

out of

5
by
Michael N
from
Crisp, ultra-wide monitor looks spectacular
Assembling and setting up the monitor was easy. The display is fantastic and works well with my Dell XPS 15 laptop over the HDMI connection.
Date published: 2019-12-22T00:00:00-05:00
Rated

5

out of

5
by
james laqui
from
Too expensive monitor for year 2016 and up
I have bought this Monitor and I was surprisingly amazed how good it was. I'm saying this because it is really a very good monitor. until I found out that other gaming monitor with the same price have more features better quality. More gaming features etc. This is only big and crisp but the price should drop already after new monitors came up with more features already.
Date published: 2017-02-05T00:00:00-05:00
Rated

5

out of

5
by
Joe
from
I love this monitor.
Worth the price. Allows the user to open multiple files and read all of the open files simultaneously. Also, has much room in the tray so that multiple instances of the same program do not stack up on top of each other. I love this monitor for Office programs, for AutoCad, and other CAD programs.
Date published: 2018-07-06T00:00:00-04:00
Rated

5

out of

5
by
Fred Bursch
from
Wide Screen increases productivity
I bought 5 of these for my employees. They love them and rave about the amount of information that they can see simultaneously.
Date published: 2019-11-22T00:00:00-05:00
Rated

5

out of

5
by
Country Lady
from
Love my monitor, but..
I was finally updating my computer and monitor. My son, (works for that big company) helped me with the decision making, and we both decided this would be good. Wow - it's great, and I love the size and slight curve. I will caution that the instructions aren't the best. It took my son less than 30 seconds to see what the 'issue' was, and did his best not to laugh. When initially setting up, it loads with a message of "no Dp cable". It's because they use an 'mDp' cable. Same thing, but if you aren't totally tech savvy, it can cause a 'bit' of stress. The default message needs updating. I would recommend this to anyone. For those of us older users, used to smaller flat screen monitors, this does take a bit of learning, and adjustment. Still great overall, and I'm happy with my purchase.
Date published: 2019-10-23T00:00:00-04:00
Rated

5

out of

5
by
David
from
Overall excellent monitor with a good set of features
I've had this monitor for about 3 months now. I use it for code development, office applications, entertainment and gaming. It is connected to both Windows 10 and Linux boxes. Overall, I have appreciated the performance, image quality, colours, screen real estate, and particularly the capability to switch the monitor usb hub to different computers via the monitor menus. This last feature is essentially a built in kvm switch if you plug the keyboard and mouse into the monitor. The only drawbacks I have experienced are the following. The monitor has significant IPS glow, the whole screen is faintly lit and this is noticeable under lower ambient light conditions. The corner backlighting is also quite noticeable under the same conditions. The darker the image being displayed, the more easily noticed is the corner glow. However, under normal office lighting conditions or with typical non dark screens, the back lighting is not an issue for me.
Date published: 2016-12-18T00:00:00-05:00
Rated

5

out of

5
by
Paul Krupka
from
Very Impressive!
After a few weeks of use I am very impressed with my new monitor. Great picture quality and crispness, and nice speakers. The large curved screen has improved my life big time!
Date published: 2020-01-21T00:00:00-05:00
Rated

5

out of

5
by
mrossco
from
Excellent monitor...with a few minor issues
I struggled with purchasing an ultra-wide display. I've used dual monitors for a very long time, but now that I have my desktop and a work laptop to juggle, getting both monitors to work consistently across both devices was proving to be a pain. I looked into docking stations, but ones that support two displays are very expensive, and I decided I would rather put that kind of money towards a better monitor anyways. All in all, I am very happy with my choice. Moving from dual 24" monitors to this 34" wide screen gives me all the real estate I need in a single screen! The built-in KVM works well, and I have no issues connecting my MacBook Pro when I need it. I simply connect using an Apple adapter that includes HDMI, USB and power, and boom, my keyboard, mouse, monitor and camera are all connected! Some words of caution, though, as there are a few things to consider before buying this monitor. First, it does take up a lot of space, I was very surprised at how large it was even though I knew the dimensions. My wife had to call me the day it was delivered to tell me she couldn't carry it into the house! Be sure to check that you have enough room on your desk. Second, my wife misses the USB connector on the side, and she does have a hard time finding it along the back. Dell says they moved it to make the monitor look cleaner. I wish they had just put it under the cable management cover with the others. Speaking of which, cable management is clean, especially if you're using the built-in speakers. My cables run out the back in a bit of wire-wrap and stay out of the way. The built-in speakers are good for windows alerts and sounds, web surfing and the occasional YouTube video. I switch to a headset when I want better quality audio for music and games. The buttons on the front do take some getting used to. There is no tactal feedback on them, and the management interface can be slow at times. This leads to you not being quite sure if the button press registered or not. Overall, I will say again that I am very happy with my purchase! I love the real-estate, and the display quality is perfect for the multitude of spreadsheets, code windows and terminal sessions I run.
Date published: 2019-12-23T00:00:00-05:00
Rated

5

out of

5
by
EHunt
from
Fantastic Monitor
The curved nature of the monitor begins to immerse you into the environment in the display. Games really come to life. End to end, these monitors would be outstanding for total immersion simulators, etc. I can get 3 documents side by side with no problem, plenty of space to drag and drop among them. Excellent for wide spreadsheets! Clear up close and at a distance, no headaches, excellent performance with motion video and 3D animation. This truly changes the game . . .
Date published: 2015-05-20T00:00:00-04:00
Rated

5

out of

5
by
Adam
from
too small for me
Quality and features are 5 stars but for me it is too small to be big and too big to be small, I need a 50:"
Date published: 2019-11-23T00:00:00-05:00
Rated

5

out of

5
by
CJM
from
Great monitor
A little different to set up you have to really pay attention
Date published: 2019-11-27T00:00:00-05:00
Rated

5

out of

5
by
rdr
from
good for everyday computing.
At 60 Hz, it's not good for gaming. the refresh rate will be so slow.
Date published: 2017-06-16T00:00:00-04:00
Rated

5

out of

5
by
U3415W
from
Display quality is good but comes with many issues
You can't control the volume using volume control in your OS. if you connect a headphone you have to mute the display to be able to hear only from headphone. it's not possible to turn it vertically and it's hard to turn it horizontally. ports are under a panel which makes them hard to access. although there're 2 USB ports on one side.
Date published: 2017-04-12T00:00:00-04:00
Rated

5

out of

5
by
Ed Lucci
from
CPA
It really is clear and sharp It is also very big and you'll have to get used to it
Date published: 2019-12-04T00:00:00-05:00
Rated

5

out of

5
by
Ralph Phillips
from
fantastic product
the monitor is the best and the service of getting it running was fantastic, the color is wonderful and it makes everything so much easier to see
Date published: 2019-12-25T00:00:00-05:00
Rated

5

out of

5
by
studioElon
from
Works well and it's a beautiful monitor
Overall for my graphic applications it works well and the text are very legible in all the apps I use, the one the one thing I find a problem is the bleeding of white across the boarders. During the day it's not noticeable but I can see it being an annoyance in a darker room as well if you use the monitor to watch a movie. Primarily I use it for CAD and other high end graphic apps. I haven't used it for editing video as of yet so I can't rate it on those.
Date published: 2020-01-28T00:00:00-05:00
Rated

5

out of

5
by
rickincanada
from
Best Monitor Ever!
I've owned about 30 monitors in my lifetime and not one of them even comes close to this monitor! I replaced two 24" monitors with this single one and I will never go back. Image quality it outstanding, colour representation is beautiful, and most importantly for me, the resolution allows for huge increases in productivity.
Date published: 2015-12-12T00:00:00-05:00
Rated

5

out of

5
by
WillN
from
Good Size, Bad Controls
Switching inputs is a pain, takes minutes for the controls to respond. If connected to a Dell computer, it will wake it up from hibernation if trying to switch to another connected PC. Has pros but these usabilities issues need fixing before this monitor can be recommended. Very expensive as well, for the quality of the screen.
Date published: 2019-04-27T00:00:00-04:00
Rated

5

out of

5
by
Ikon
from
Best Monitor EVER
Some would say 'Do I really need a 34" screen?' well, let me tell you.. yes, yes you do. I hesitated for a while and only one regret since getting it - not getting it sooner! The monitor is great. Beautiful matte screen, perfect curvature and an absolutely amazing experience for working or leisure.
Date published: 2016-08-02T00:00:00-04:00
Rated

5

out of

5
by
Nisey9493
from
Love my wide monitor
I am really happy with my Dell UltraSharp 34" curved monitor. It's great for working on multiple windows.
Date published: 2019-05-08T00:00:00-04:00
Rated

5

out of

5
by
JDVFranco
from
Amazing color clarity
I love it! I can have email, excel, ppt and skype all open on one screen. Makes it easy to work amongst different aps quickly and effortlessly. Love the USB-C too! super awesome.
Date published: 2019-04-03T00:00:00-04:00
Rated

5

out of

5
by
DRCol
from
I Bought a Second, Because I LOVED the First So Much!
This is my second one. I liked my first so much I bought it again. 2 monitors in a shallow V is beyond belief.
Date published: 2019-11-22T00:00:00-05:00
Rated

5

out of

5
by
Mike
from
Dell UltraSharp 34 Curved Ultrawide Monitor - U3415W
Amazing monitor. Great picture quality and a great price!
Date published: 2019-12-23T00:00:00-05:00
Rated

5

out of

5
by
TuffGirl
from
Better efficiency
Ordered this for VP that used really big Excel workbook. Increase in efficiency was instant. Great vaue!
Date published: 2020-02-07T00:00:00-05:00
Rated

5

out of

5
by
Ephil
from
Disappointing to say the least...
I researched and shopped around for an item like this. It does not display three screens adequately, in fact, I'm not sure it does so well with two screens. Even with two screens it is distorted after you set both of your screens to full. Adding a third just makes it worse. I recommend just buying a second monitor if you truly want to use it for tri or even dual screens. The directions that come with it and even the online guide does not really tell you how to set this up, and I spent three hours on the phone with tech to try to figure it out, they could not help. I had to fool around with it to make it work, you have to mess with the monitor drop down menu a bit to get it up and working. However, the color is great, so I can at least comment favorably on that. It's going back, I can't justify the price.
Date published: 2017-02-02T00:00:00-05:00
Rated

5

out of

5
by
vanka
from
Great monitor
Bought a couple of these monitors several months ago, no complaints - look awesome.
Date published: 2018-06-23T00:00:00-04:00
Rated

5

out of

5
by
mariobro
from
Great product and Great Support
Bought this monitor, had an issue and support took care of it. Monitor is great and works perfectly now.
Date published: 2019-05-29T00:00:00-04:00
Rated

5

out of

5
by
Brian69
from
Beautiful!
I have had this monitor for about 8 months now and I love it. I am only a casual gamer and photographer but to see the environment of your game expanded like this is amazing. Most of the new games support this screen size including Tomb Raider, BF1, Fifa 17 and Titanfall 2. The higher resolution makes your photo's look even more amazing. If you are on the fence, I do recommend this and would buy another. There is a marginal amount of backlight bleed in the corners but you don't even notice it. Colors are perfect and resolution is outstanding. I almost went 4k but I don't think I could give up the ultra wide now. The curve is so slight, it just feels comfortable right from the first 5 minutes of use.
Date published: 2016-11-09T00:00:00-05:00
Rated

5

out of

5
by
Veneratio
from
Awesome monitor!
I was debating whether to stay with the standard 16:9 16:10 monitors but after reading some reviews, I decided to go ahead and take the plunge. Forget 4k as I play a lot of games and the added cost to have a video card that can run those resolutions, I decided it would be better to get something that would be more feasible but still awesome. Result: No Regrets! The added space is fantastic! You are still getting a full 1440p resolution and the curve really is sweet. I was considering the LG UM95 but so glad i went with this with the curve and the extra warranty! Get it you won't regret it!
Date published: 2015-06-28T00:00:00-04:00
Rated

5

out of

5
by
ShieldSean
from
staggering
You can't really understand how nice the seamless expanse of lateral screen is until you actually experience it in person, it's awe inspiring. I got this monitor ordered for the office to show up all the 27 inch dual monitor Apple display's and they are suitably shown up! On top of which having seen this screen and then going home to my few years old 16:10 Dell 30 inch makes me feel like it's time for a replacement there as well. The little surprise on this monitor is the included speakers which are quite satisfactory for an office environment. I wouldn't say they're up to task for a movie or game, but they are far better than the computer's built in speakers. And while this is a standard monitor and will work on any OS, Microsoft's use of dynamic imagery on the login screen, just accentuates the amazement of this screen. The color depths are solid blacks are too dark to see in a bright room, whites are enough to make you blink when you immediately wake up.
Date published: 2015-04-29T00:00:00-04:00
Rated

5

out of

5
by
Michael McD.
from
Great monitor for Software Development
A pleasure to work on and much better than a multi monitor setup. Using the display port connection form my laptops and every works as expected (including Skype/Slack audio).
Date published: 2017-09-30T00:00:00-04:00
Rated

5

out of

5
by
Dave
from
Grest picture for the size of the montior fantastic colors
Great deal and bonus Warranty no dead pixels gor three years
Date published: 2018-07-04T00:00:00-04:00
Rated

5

out of

5
by
ecolson
from
Best monitor ever!
The curvature, amazing width, resolution, and total lack of glare make this the best display I've had in my 21-year career!
Date published: 2016-07-12T00:00:00-04:00