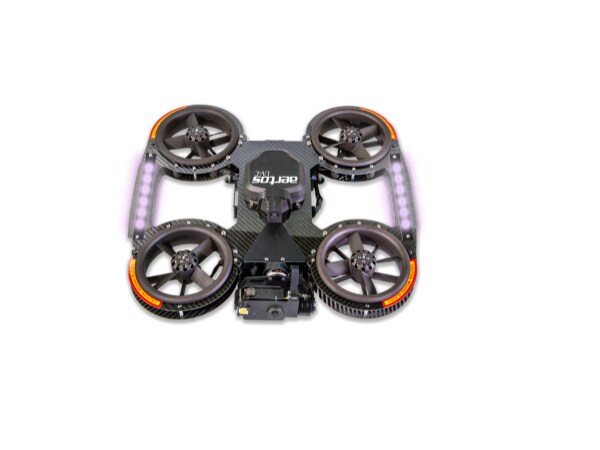 Quick tech specs
VIRB Ultra 30 imager- Full HD 4K video,12MP still camera
Duel Battery Charger
Replacement Thruster Arm
Remote Controller
iPad WiFi 9.7
LED Illuminator
(3) Batteries
Pelican® Case with Custom Foam
Aertos 120
FPV Flight Camera
Field Repair Tool
36 optical intense 265 NM LEDs
View All
Know your gear
The new Aertos 120-UVCO drone is the nexus of two technological advances, combines a proven industrial drone platform with verified UVC disinfection capabilities. The Aertos family of industrial drones are currently used in mining, power plants including nuclear, law enforcement, first responders and are utilized by government infrastructure for bridge inspections.
The Aertos 120-UVCO drone provides UVC disinfection capabilities for essential businesses in multiple areas, but there are broad applications are given the unprecedented times we live in:
Healthcare facilities - patient rooms, hospital rooms, and waiting areas
Grocery stores - checkout spaces
Warehouses and product handling areas
Airplanes and Public Transit – seats and exposed surfaces
Business common areas: restrooms, workrooms, breakroom surface areas
UVC light sanitation technology is currently used for disinfection purposes over the world. The combination of an industrial, indoor drone with small but powerful UVC lights allows more organizations to access and use UVC disinfecting tactics quickly. We believe this new product can help organizations and businesses needing immediate, deployable, and practical access to UVC disinfection technology.
UVC disinfection is a physical process that disrupts the DNA of harmful microorganisms and destroys their ability to reproduce. UVC light emitted in the wavelength range centered around 265 NM is generally considered the gold standard for effective UVC disinfection.
UVC disinfection has been used for decades for disinfection purposes The correct UVC dose is calculated using the following equation:
UVC Dose = UVC Intensity x Exposure time
There are multiple variables in every disinfection situation. As a general rule if a greater than 3 milli-Joules of energy can be delivered to a cm by cm surface, then a greater than 99% disinfection rate is achieved.
Aertos 120-UVC Disinfection Example
●The Aertos 120 UVC flies a fixed distance above a surface using 36 optical intense 265 NM LED UVC light sources
●When the drone flies at 6 feet above a surface for 5 minutes, it provides a 99% disinfection rate, more than a 2 x 2-meter surface.