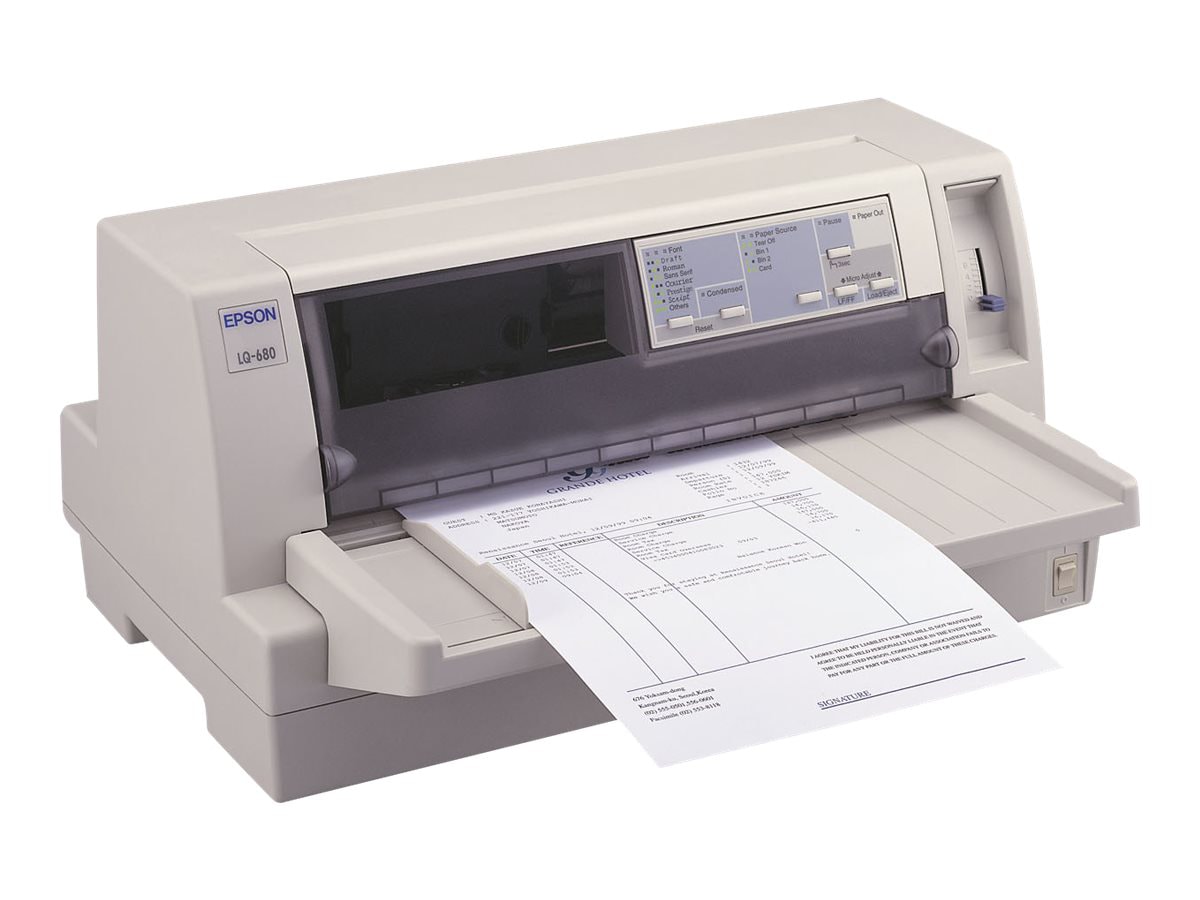 Know your gear
How would you react to a 24-pin impact printer that delivered speed, versatility, and worry-free performance, all at an affordable price? Now's your chance to find out. Printing 413 cps in High-Speed Draft mode, the EPSON LQ-680Pro creates Letter Quality results on forms up to six parts thick. Thirtyeight percent faster than its predecessor, the popular EPSON LQ-670, this economical printer races through your mission critical tasks like printing tickets, receipts, checks, labels, and more. Its straight paper path and flatbed feed design offer more efficient printing—without causing paper jams that can waste valuable time and damage high-cost forms. But, what's especially reassuring about the EPSON LQ-680Pro is its advanced APG (Automatic Platen Gap) technology. Sensing the thickness of multiple-part forms, it automatically adjusts the position of the print head to prevent damage to the
pins from unnecessary force. A perfect replacement to the EPSON LQ-670 or other flatbed printers, the EPSON LQ-680Pro is compatible with most software applications and integrates easily into most network platforms. With a mean-timebetween-failure (MTBF) rating of 10,000 power-on
hours (POH), twice that of the EPSON LQ-670, the EPSON LQ-680Pro offers extreme durability. And, it has a 400-million strokes/wire print head rating. With exceptional paper handling capabilities, dual paper paths, and eight bar-code fonts, this energyefficient printer is the perfect solution for your busy workgroup. It gives you speed and durability, without sacrificing performance. For state-of-the-art technology, application flexibility, and quality that will last, choose the EPSON LQ-680Pro. From the world leader in impact printers.

Printing Method: 24-pin, impact dot matrix

Print Speed:
High Speed Draft 413 cps at 10 cpi
Draft 310 cps at 10 cpi
Letter Quality 103 cps at 10 cpi

Physical Dimensions
Width 19.6" (497 mm)
Depth 15.2" (386.5 mm)
Height 9.0" (229.5 mm)
Weight 20.7 lb (9.4 kg)

Features and Benefits
High-speed, 24-pin printing: Printer letter quality labels, invoices, packing slips, and more up to 413 cps in high speed draft mode.

Flatbed APG (Automatic Platen Gap) adjustment technology: Automatically adjusts to accommodate the thickness of each form.

Multipart printing and font versatilitiy: Easily handles up to 6-part forms and provides a variety of built in fonts.

MTBF rating of 10,000 POH; 400 million strokes/wire print head life: Delivers Epson's legendary reliability for the most demading back office print tasks

Windows 3.1x, 95, 98, 2000, Me and NT 3.51/4.0 printer drivers: works with most Windows software applications; features EPSON ESC/P2 and IBM 2390 Plus emulation.

Unbeatable service and support: Includes two year limited warranty and access to Epson's superior technical support.



Contact Sales Assistance
(800) 808-4239
,
Monday-Friday 7am-7:30pm CT