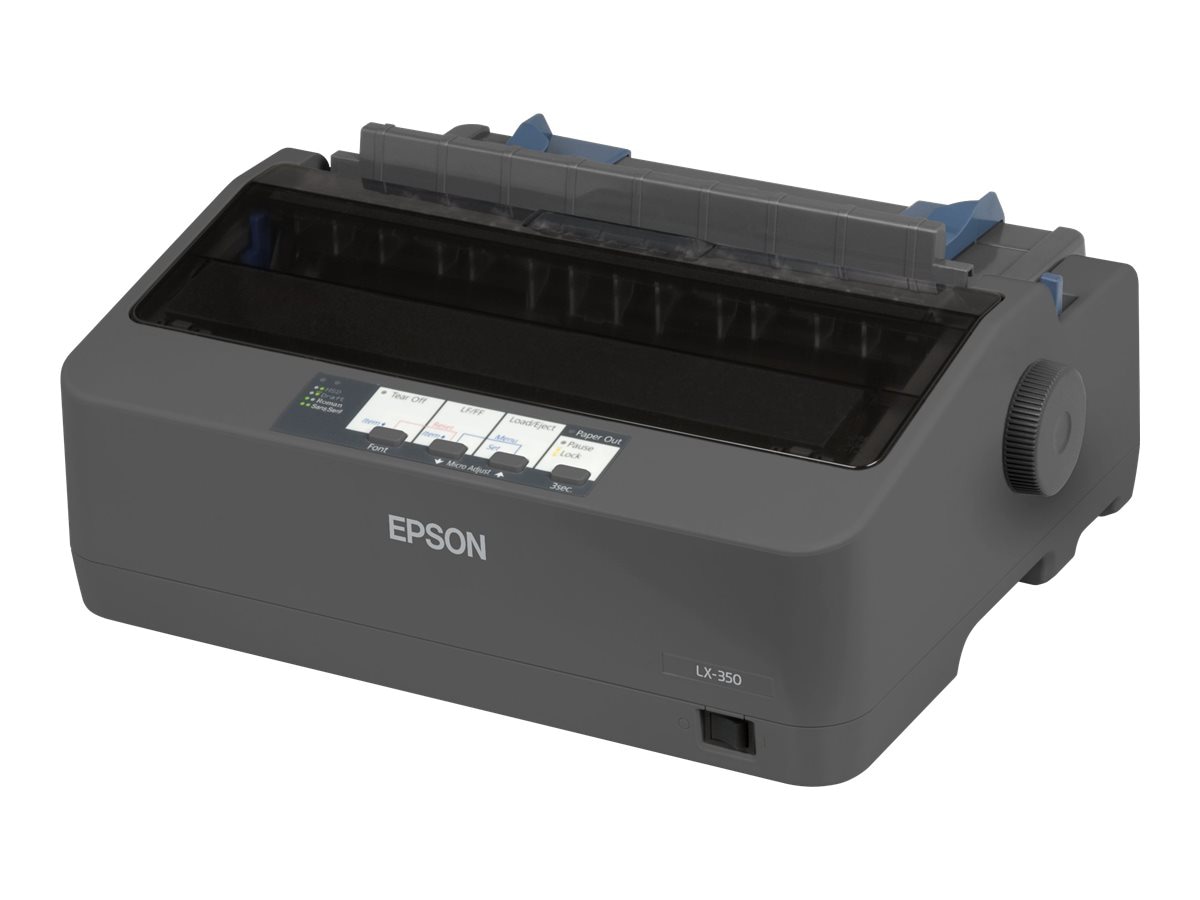 Quick tech specs
Printer
dot-matrix
up to 357 char/sec
USB
B/W
9 pin
parallel
serial
View All
Know your gear
The highly reliable Epson LX-350 has a mean time between failures of 10,000 operating hours, and is ideal for front and back office applications needing continuous paper or multi-part stationery.

A very economical printer to run, the LX-350 helps save money with its high ribbon yield of 4 million characters and its low power consumption. Using just 1.1 W in sleep mode and 27 W when powered on, the LX-350 is qualified by ENERGY STAR for its excellent energy efficiency.

Easy to integrate, the LX-350 has parallel, serial and USB interfaces as standard, and will fit neatly onto desks thanks to its compact design and cable management system.
Epson LX 350 - printer - B/W - dot-matrix
is rated
2.45
out of
5
by
11
.
Rated

5

out of

5
by
Possessed Dot Matrix
from
Not compatible with Windows 10
I couldn't get it to print correctly. I returned the product after hours of wasted time trying to get the drivers loaded. It is not compatible with Microsoft Windows 10.
Date published: 2020-01-24T00:00:00-05:00
Rated

5

out of

5
by
Makel
from
I salute Epson for still supporting legacy intefaces
I don't understand the harsh criticism of this product. If you want nice graphics and crisp text, buy a laser printer or an ink-jet printer. Back in the eighties, when I got my Epson, a dot matrix was the only affordable printer. These days laser and ink-jet printers are sold absurdly cheap, so they can hook you on the consumables. I kept my eighties dot matrix Epson to print labels, a task it excels at. I am grateful to Epson that they still make this product, supporting legacy interfaces at an affordable price for what must surely be a very limited market, because if mine fails, I'll need to replace it with this one.
Date published: 2019-09-01T00:00:00-04:00
Rated

5

out of

5
by
joestehling
from
Great for Documents; Lousy for Web Pages and Forms
I really like the printer for documents especially since it has a USB port and can be connected to a router for remote printing. Printing web pages and forms such as 1099Rs is terrible. The print is not legible. I have tried all combinations of settings on the control panel Font and print quality (dots per inch) in the Printer setup on my computer. I can tell no difference in readability no matter what combination I use. I bought the printer primarily because my wife likes to print recipes from the internet. The printer is virtually useless for that. My recommendation below is for printing the items I bought the printer for.
Date published: 2017-02-04T00:00:00-05:00
Rated

5

out of

5
by
Chamaz
from
Not impressed
Two new Epson LX350 ribbon printer bought in the last two weeks, two faulty printers. That says it all about the rubbish quality of these printers
Date published: 2016-05-13T00:00:00-04:00
Rated

5

out of

5
by
bsoz
from
chews paper
Every time it chews paper, you should push the paper, it can not seize paper itself. The text looks crooked.
Date published: 2018-08-21T00:00:00-04:00
Rated

5

out of

5
by
Tickedoff
from
Worst purchase ever
I ordered a refurbished unit thinking it wold be in perfect condition. After three days of trying to get it to work properly, I gave up on it. I followed all of the information in the manual, but it still does not print out perfectly or clearly. Since it is a "refurbished" unit I cannot return it for a refund, so I'm out the $130 it cost me. Other than this I've never had any other problems buying from Epson.
Date published: 2016-10-07T00:00:00-04:00
Rated

5

out of

5
by
Deb
from
LOVE EPSON, but missing PC connecting device
LOYAL EPSON CUSTOMER of all-in-ones, and IMPACT printers for 20 years. The printer is great, well, when I borrowed a USB cable to plug it in, it worked great and was user friendly on set up instructions. The serial connector did not fit the printer (it was too small for the connection). I would like the company to make sure all connection devices are shipped with the printers so others will not encounter this problem. A USB connector was preferred. Now, the printer is still great. Prints fast, etc. printing the separator page which is unnecessary. We all print the same thing (invoices!)
Date published: 2015-07-20T00:00:00-04:00
Rated

5

out of

5
by
DocChristian
from
with win 8.1 and my office-program not usable
I have a LQ-570+ and had to renew all of the computers in my medical-office (family doctor)because Microsoft not any more supporting XP. But there is no driver for the LQ-570+ running under win 8.1. So I had to buy a new needle-printer for my third workplace and selected the LX-350. The quality of prints from MS-Word or other is bad, the letters unclear - not representative for my patients. Even worse are the prints of forms (e.g. prescriptions, advices, papers for the insurances or government with several copies). The printer is not able to communicate with my office-program. It is not possible to adjust the printer, that it uses the given fields (no problem with the LQ-570+ under XP). The printer LX-350 is useless for me.
Date published: 2014-08-20T00:00:00-04:00
Rated

5

out of

5
by
ROCARR
from
Good Purchase
Printer is really user friendly, size is perfect and not heavy. We use it to print out a good amount of invoices per day, the quality is good.
Date published: 2019-07-24T00:00:00-04:00
Rated

5

out of

5
by
irspro
from
Returned
After hours of trying to make it work properly I gave up and sent the printer back. I will review other printers and purchase one that is more expensive.
Date published: 2014-06-11T00:00:00-04:00
Rated

5

out of

5
by
American T.
from
Use to use Okidata printers but know use Epson Printer
Date published: 2022-07-27T16:20:09-04:00