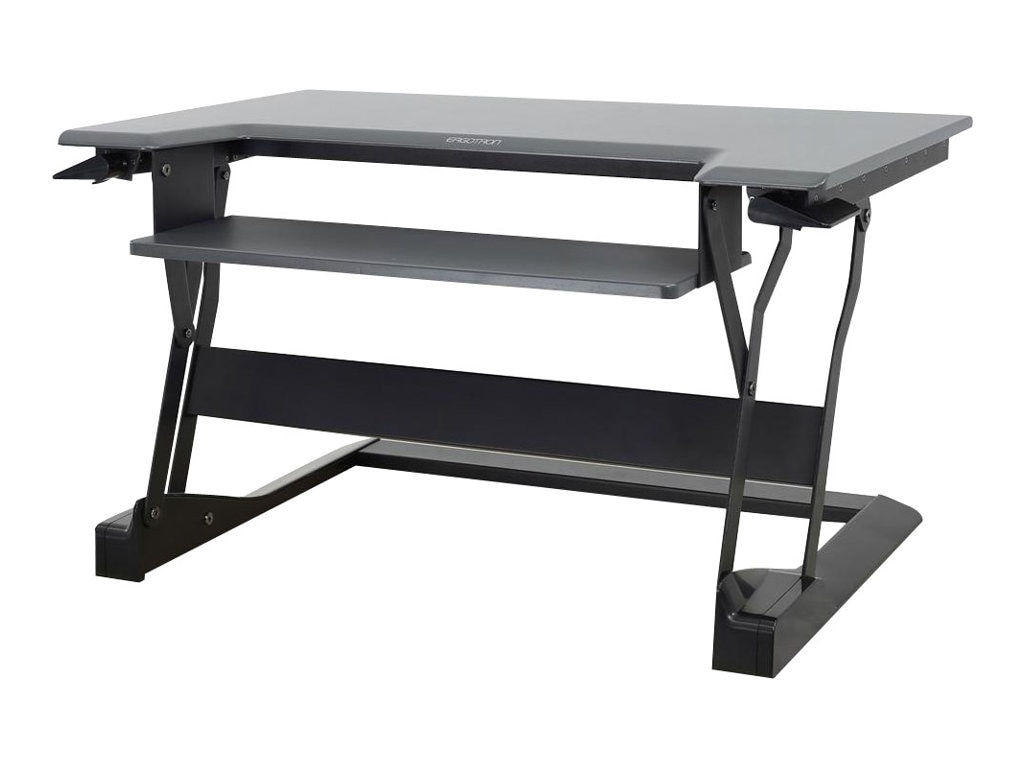 Quick tech specs
Standing desk converter
black base
black
View All
Know your gear
With its slimmer width, a WorkFit-T standing desk workstation is well-suited for transforming a tight space into a sit-stand desk. Simply place the WorkFit-T on an open surface, stand up and you're ready to work!
Ergotron WorkFit-T - standing desk converter
is rated
4.56
out of
5
by
9
.
Rated

5

out of

5
by
Julia
from
So far, I am loving the desk add-on
It was really easy to setup, I pretty much just pulled it out of the box and set it on my desk. It is a bit heavy so my spouse helped me but I'm sure I could have done it alone if I needed to. It's got a lot of surface area on the top which is awesome. I haven't felt cramped in the space I have available for my notebook or coffee, etc. and I've got a 25" monitor plus my 15" laptop on a laptop stand. The selling factor for me was the surface area AND the fact that this sit-stand desk converter goes straight up and down and doesn't come out over the edge of the desk when its raised. I have a limited space for my desk and chair and if this came out, forward into the space, I would have almost no room behind me to stand freely. It's also very smooth up and down and I haven't had any trouble setting it to the height I want and make small adjustments as needed. As far as aesthetics, I got the white version and it looks pretty clean on my medium-light wood grain desk top. So far, I am really loving this sit-stand converter and its been the perfect addition to my home office space.
Date published: 2020-09-02T00:00:00-04:00
Rated

5

out of

5
by
DBrand
from
Very Good Standing Desk Option
Bought this for a co-worker after having used another brand. This desk worked much better for the depth of desk, works well, and user is very satisfied.
Date published: 2018-09-05T00:00:00-04:00
Rated

5

out of

5
by
Jirecs
from
Bought for a co-worker, He likes it
Bought for a co-worker, He likes it, the fact that you can move it up and down, not one of the stands that you will need to spend the whole day trying to assemble. Will recomend to any body that needs one.
Date published: 2015-10-13T00:00:00-04:00
Rated

5

out of

5
by
lp222fret
from
Just fine.
First time using one of these, but not blown away by anything in particular. Works as expected.
Date published: 2017-07-19T00:00:00-04:00
Rated

5

out of

5
by
LindaN
from
Ready to Use!
I ordered this for myself and a few of my colleagues and we all love it. It came right out of the box and was ready to use. Its smooth, and stable. Its big enough for me to have 2 monitors and my laptop on it without using the monitor holder. The whole company is planning to use this item.
Date published: 2017-08-02T00:00:00-04:00
Rated

5

out of

5
by
karanbazaz
from
comfortable, strong and easy to use
The workstation is good for quickly switching from standing to sitting position. You can even lean on it and rest your elbow, as it is strong enough. PROS Stand is stable and easy to move. The material is sturdy and strong and seems to be of good quality. Easy to switch from sitting to standing position. Has enough space for laptop and monitor CONS The keyboard slab doesn't move. Would be great if it could be extended or pulled/pushed. Sometimes if the grooves are not properly fit, it might make a sudden sound. While moving from standing to sitting position, there is a chance of wires being crushed if not laid out properly. Can be prevented by being a little mindful about wire positions while moving.
Date published: 2018-05-01T00:00:00-04:00
Rated

5

out of

5
by
BoJangles
from
Great buy
My staff love these - very stable and secure. Fantastic raised work space. Only draw back is the weight of the stand to raise and lower - can take a bit of getting used to how to handle the weight and lock/unlock it at the same time.
Date published: 2017-07-11T00:00:00-04:00
Rated

5

out of

5
by
Vera6655
from
Excellent Product for Ergonomic Program
I started ordering the Ergotrons in 2015 because I wanted to reduce my injuries and DART rate. The Ergotron has reduced the number of back injuries and has increased productivity among our users. I have also tried other equipment similar to Ergotron and they have not been the same quality or easy to use. I always come back to Ergotron. Thanks again for always providing me the best customer service and turnaround time.
Date published: 2018-03-20T00:00:00-04:00
Rated

5

out of

5
by
LCole
from
This is a great Product!
After comparing many different types of sit/stand desks, I decided on this one because to me it appeared to be the most stable of all of them. I have 2 monitors sitting on the surface. They are not attached, they just sit on the top and when I raise the platform they barely shake. I also have a small lamp positioned between the 2 monitors, small tablets and a pen. I don't have to take anything off to raise the desk. It is very easy to raise and lower. I would recommend this product to everyone!
Date published: 2016-04-13T00:00:00-04:00