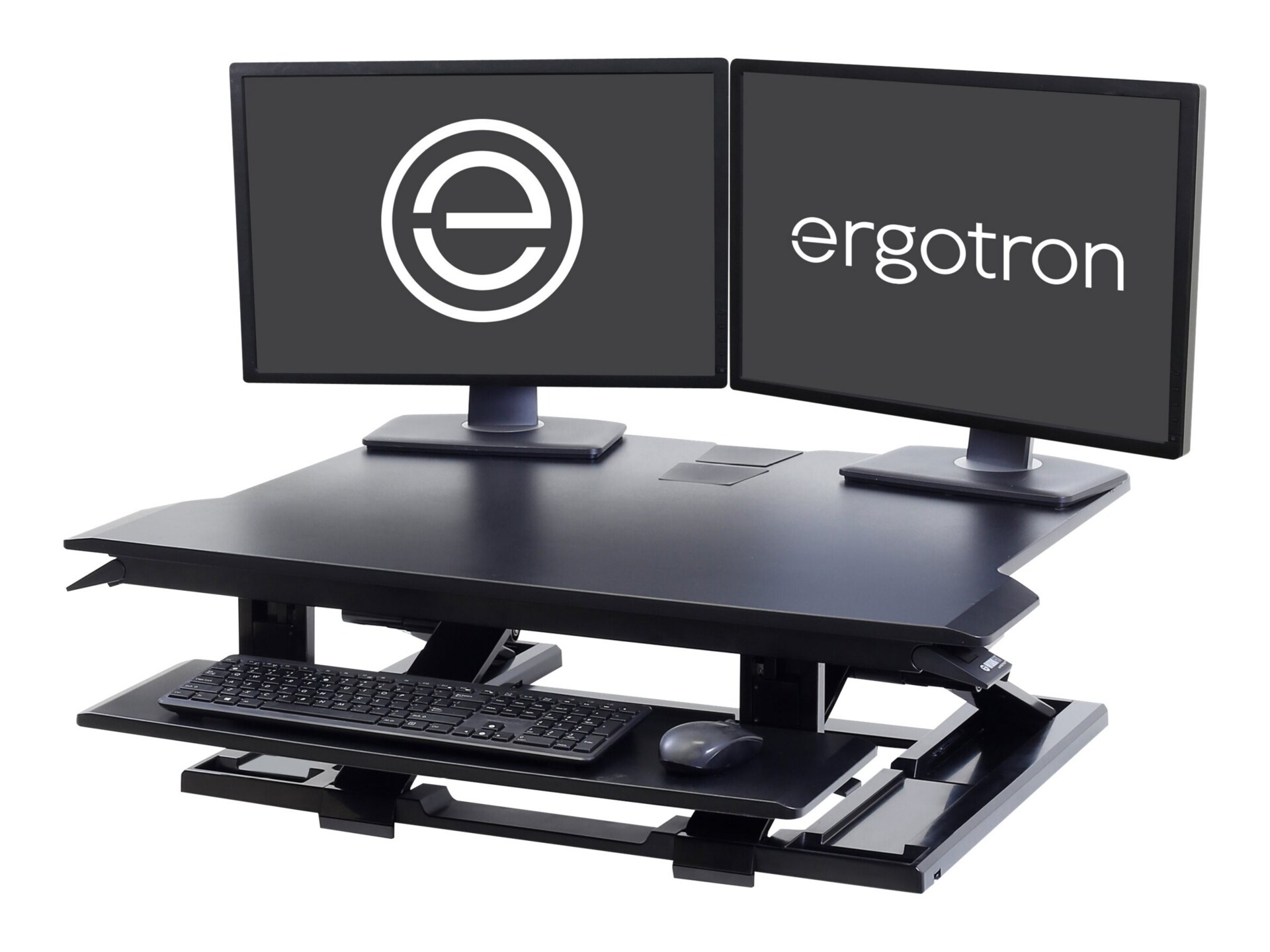 Quick tech specs
Ergonomic
Standing desk converter
black
View All
Know your gear
Thoughtfully designed to offer advanced ergonomics out-of-the box, a WorkFit-TX adjustable standing desk moves you forward with a new standard in sit-stand technology.
Ergotron WorkFit-TX - standing desk converter
is rated
4.69
out of
5
by
13
.
Rated

5

out of

5
by
Sean
from
Could use a few tweaks
I bought it for the keyboard tray. I needed something that brought the keyboard lower on my awkwardly-sized desk. In that regard it works perfectly. I have to agree with others who say the keyboard try is small. It's less of a problem for me because I use a smaller keyboard with no 10-key. Otherwise, there probably wouldn't be much room for the mouse without the keyboard being way off center. Unless you're a lefty, then you've got it made. It really needs to be wider. Could also be a little deeper. I'm always bumping the mouse against the rails attaching the keyboard tray to the desk. That's not much of an issue for me. I was always running my mouse off the pad, too. It is difficult to start moving, either direction. Maybe that's a good thing. Maybe it will loosen with time. Maybe it's the two monitors I have sitting on it. I don't move it a lot, so it's not a big deal for me, but it's something to be aware of. Overall, I'm happy with my purchase. Makes my awkward desk less of a pain. My back is grateful.
Date published: 2020-11-09T00:00:00-05:00
Rated

5

out of

5
by
Kris
from
Good low profile and high-quality desk converter
I like all the features of this desk except the keyboard tray. My standard ergonomic keyboard doesn't fit, and the mouse surface area is also tight.
Date published: 2020-10-16T00:00:00-04:00
Rated

5

out of

5
by
AC00
from
Good equipment to ensure you work in a correct ergonomic posture
The overall experience with the equipment was good. It has overcome all the shortings its predecessors had. Its good both while sitting or standing. only complaint I have is that the keyboard pad could be a bit more wider and stronger. For people with long hands like me, we tend to rest our wrists on the pad a lot and this pad feels a bit clumsy and shakes if a bit more pressure is applied. Apart from that I'm happy with all the other features.
Date published: 2019-05-21T00:00:00-04:00
Rated

5

out of

5
by
Janner13
from
Excellent Product.
Quality is good! Shipping was fast! Easy installation! The adjustable Keyboard was key for me!
Date published: 2019-12-27T00:00:00-05:00
Rated

5

out of

5
by
Noj
from
The Best!!
Truly a much needed and enjoyable addition to my desktop!!
Date published: 2020-07-28T00:00:00-04:00
Rated

5

out of

5
by
Jon
from
Low profile, good for both sitting and standing
All other sit/stand converters I researched made the minimum monitor height too high for proper ergonomics while sitting. The keyboard tray dropping below desk height is also key. 5 stars for function. It is pricey likely because they currently are the only game in town that can do this.
Date published: 2020-08-05T00:00:00-04:00
Rated

5

out of

5
by
Howie
from
Solid, high quality and ergonomically perfect
Great addition to my home office. Coupled with an ergonomic standing pad, I can spend many hours at the computer without the cramps and sore back I had been experiencing. Ordering was easy, shipping quick and installation was easy. The surface easily fits two monitors leaving room for note pads, etc. The unit is very robust and the lifting mechanism feels solid -high quality, well engineered. The shelf was perfectly adequate for my keyboard and mouse, but might be a problem for a larger keyboard.
Date published: 2020-08-04T00:00:00-04:00
Rated

5

out of

5
by
Kktt
from
Huge upgrade
I had wanted this sit stand converter from the beginning of my pandemic work at home situation, but I instead opted for a cheaper one. Huge mistake! The whole thing tilted towards me, so much so that a pencil would roll off of it. Things that I love about this -no tilting -easy enough to lift manually if you don't have upper body issues (my previous converter was electric) -big enough for two monitors -the keyboard tray is fantastic, there aren't many models around that offer both an adjustable height and angle tray -I find that the keyboard tray is large enough for my ergo keyboard and mouse, but I don't have a number pad incorporated into my keyboard so it is a little narrower than standard keyboards.
Date published: 2021-05-15T00:00:00-04:00
Rated

5

out of

5
by
Catherine
from
Perfect for a tall person
I really like it! Easy to install and to change positions.
Date published: 2021-01-09T00:00:00-05:00
Rated

5

out of

5
by
Michele
from
Great product!
Outstanding quality, very easy to set up and use.
Date published: 2021-06-07T00:00:00-04:00
Rated

5

out of

5
by
Yannick
from
Big work surface, sturdy and lot of adjustments
I had another model for 5 years (Workfit-S) and I enjoyed to work both sitting and standing. But I must admit that this model is a nice improvement. A bigger work surface that make it easy for two screens or screen+laptop. The mechanism seems also more sturdy and easier to work not all the way up. It is very slick on the desk and all the adjustments for the keyboard may it very ergonomic. With its reasonable price and great warranty, it is an hard to beat standing desk.
Date published: 2020-11-16T00:00:00-05:00
Rated

5

out of

5
by
Janet
from
WorkFit-TX
Sturdy unit, easy to use.
Date published: 2021-04-05T00:00:00-04:00
Rated

5

out of

5
by
Chad
from
Works as advertised. I love the large work area.
Works great for my home office. I have my 49" curved monitor, laptop and 14" mobile monitor on the raised platform. Gets me off my butt!!!
Date published: 2022-04-05T00:00:00-04:00